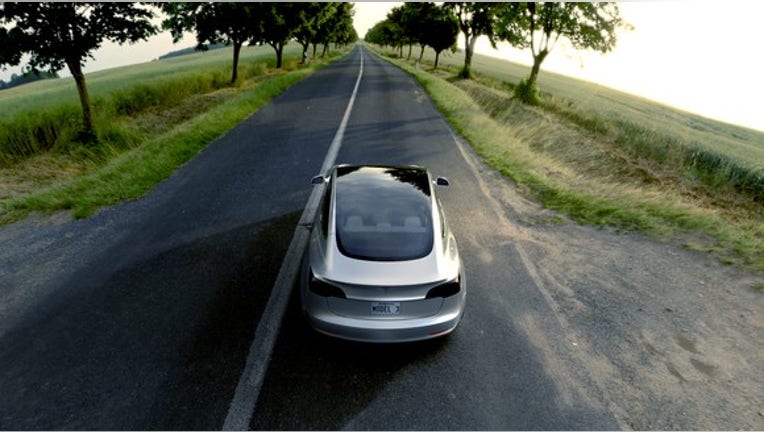 Expectations were high ahead of Tesla's (NASDAQ: TSLA) fourth-quarter earnings report, with investors particularly eager to get an update on the company's important upcoming Model 3. In the three months leading up to the results, Tesla stock soared about 51%.
Tesla's fourth-quarter report seems to deliver on high expectations, with the company reporting strong growth across its business and management providing an optimistic update on Tesla's important Model 3 program.
Image source: author.
Here's what investors should know about the report.
The raw numbers
| Metric | Q4 2016 | Q4 2015 | Change |
| --- | --- | --- | --- |
| Revenue | $2.3 billion | $1.2 billion | 88% |
| Automotive revenue | $2.0 billion | $1.1 billion | 79% |
| EPS | ($0.78) | ($2.44) | $1.66 |
| Non-GAAP EPS | ($0.69) | ($2.02) | $1.33 |
| Vehicle production | 24,882 | 14,037 | 77% |
Data source: Tesla fourth-quarter shareholder letter. Table by author.
The results
Tesla's 88% year-over-year increase in fourth-quarter revenue was driven primarily by a 79% jump in the company's automotive business, as vehicle production and deliveries climbed 77% and 27% year over year, respectively.
Notably, Tesla's reported revenue benefited from the inclusion of six weeks of SolarCity's operations, since the solar company was acquired in November.
While losses narrowed year over year, the company's Jan. 3-reported "short-term production challenges" associated with its transition to new Autopilot hardware for its vehicles in Q4 weighed on deliveries and made it impossible for Tesla to sustain the profitability it achieved in Q3. The company delivered 22,400 vehicles -- about 3,000 below its initial guidance and down from 24,821 deliveries in the third quarter of 2016.
What management had to say
Tesla was optimistic about Model 3, saying it was on plan for the initial production of the $35,000 vehicle in July and volume production in September. Further, Tesla said it expects Model 3 production to "exceed 5,000 vehicles per week at some point in the fourth quarter and 10,000 vehicles per week at some point in 2018."
Model 3. Image source: Tesla.https://teslamotors.app.box.com/v/pressfiles/1/7248453397
Also, Model S and Model X seem to remain in high demand ahead of Model 3. Tesla said fourth-quarter Model S and X orders reached a record high, increasing 49% year over year.
Tesla said its integration of SolarCity's operations is going well, stating that the company is "on track to generate $500M in cash (including growth of non-recourse project financing) by 2019 and achieve the cost synergies we committed to upon acquiring SolarCity." To meet that goal, Tesla is taking the ax to SolarCity's high advertising expenses and will be selling solar products at Tesla stores. In addition, Tesla will continue shifting SolarCity's system sales away from leasing.
Tesla provided more details on how it is already on track with this target:
For guidance, the company opted to refrain from a full-year outlook, focusing instead on the first half of the year.
Further, Tesla says it expects to invest about $2 billion to $2.5 billion in capital expenditures "ahead of Model 3 production."
10 stocks we like better than TeslaWhen investing geniuses David and Tom Gardner have a stock tip, it can pay to listen. After all, the newsletter they have run for over a decade, Motley Fool Stock Advisor, has tripled the market.*
David and Tom just revealed what they believe are the 10 best stocks for investors to buy right now... and Tesla wasn't one of them! That's right -- they think these 10 stocks are even better buys.
Click here to learn about these picks!
*Stock Advisor returns as of February 6, 2017
Daniel Sparks owns shares of Tesla. The Motley Fool owns shares of and recommends Tesla. The Motley Fool has a disclosure policy.