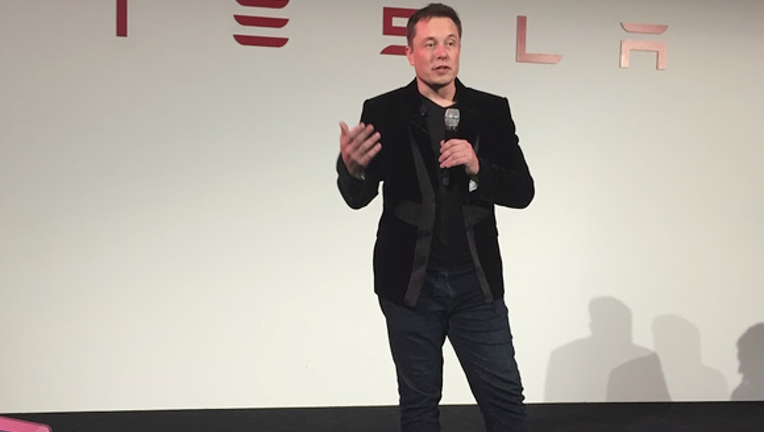 After the market closes today, Tesla (NASDAQ: TSLA) will update investors on its fourth-quarter results and will probably provide forecasts for first-quarter and full-year expectations. Further, the quarterly shareholder letter may include an update on the company's important lower-cost Model 3, which is slated to launch in the second half of 2017.
But some of the most notable takeaways from Tesla's update tomorrow may not come from the quarterly shareholder letter, but rather its earnings call following the letter's release. Known for extra-long question-and-answer sessions, CEO Elon Musk often fields questions from analysts for about an hour during the live call. In previous calls, commentary has ranged from insights into meaty details on the company's gross margin to updates on how Tesla is anti-selling the Model 3 so demand doesn't get too far ahead of the company's ability to ramp up supply.
Tesla CEO Elon Musk. Image source: author.
So, what are some topics likely to surface during Tesla's earnings call on Wednesday afternoon? Here are three questions, along with some relevant background, that analysts are likely to ask Musk.
1. Will Tesla need to raise capital in 2017?
In Tesla's third-quarter earnings call (via a Reuters transcript), Musk said the company's ambitious Model 3 program currently didn't require any capital raises. But Musk was also careful to emphasize that this didn't mean the company wouldn't want to raise capital:
Tesla's first quarter is more than halfway over, and the company hasn't announced any capital raises yet. But Tesla stock is also trading significantly higher than it was during the company's last earnings call. Tesla stock is up 50% in three months, making an equity capital raise far more attractive than it was toward the end of 2016.
2. When will Tesla share more details on the Model 3?
Tesla's Model 3 will obviously be the center of attention in Tesla's fourth-quarter update. Investors will want to know if the vehicle is on schedule and how many units management expects to deliver in 2017.
Model 3. Image source: Tesla Motors.
But investors may be particularly antsy to get another update on how the vehicle's development is faring, given that Tesla's first unveiling of its Model 3 was a prototype more than a year before planned production. So investors may want to know when the company is planning to share more details on the vehicle. Musk said in November during the company's shareholder meeting about its SolarCity acquisition that the next announcements regarding the key vehicle could come around April.
3. When will solar begin positively affecting results?
With Tesla closing its acquisition of SolarCity in November, investors will want to know whether the company could begin being a positive cash contributor in 2017. As of Musk's last forecast for SolarCity's impact on overall financials, he was optimistic:
Tesla solar roof. Image source: Tesla Motors.
Tesla's fourth-quarter results will be released shortly after the market closes on Wednesday, Feb. 22. Its live earnings call will follow, at 2:30 p.m. PST. Investors can find the release and the call on the company's investor-relations website.
Stay tuned at The Motley Fool for a Foolish take on the company's fourth-quarter update.
10 stocks we like better than TeslaWhen investing geniuses David and Tom Gardner have a stock tip, it can pay to listen. After all, the newsletter they have run for over a decade, Motley Fool Stock Advisor, has tripled the market.*
David and Tom just revealed what they believe are the 10 best stocks for investors to buy right now... and Tesla wasn't one of them! That's right -- they think these 10 stocks are even better buys.
Click here to learn about these picks!
*Stock Advisor returns as of February 6, 2017
Daniel Sparks owns shares of Tesla. The Motley Fool owns shares of and recommends Tesla. The Motley Fool has a disclosure policy.