Tesla Downshifts and Fitbit Inc. Slumps on a Flat Day for Stocks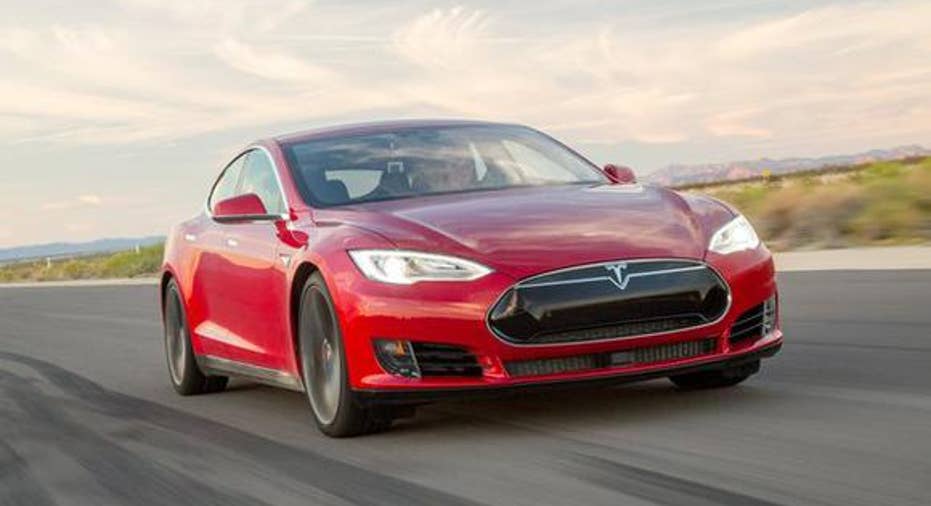 Stocks stayed in positive territory through much of Thursday's trading session, but an afternoon drop left indexes right where they started the day. The Dow Jones Industrial Average closed down by a scant 9 points, and the S&P 500 was unchanged at 2,051 points:
Among the individual stocks making the biggest moves on Thursday were Tesla and Fitbit , which both slumped after posting their Q1 numbers.
Tesla's aggressive build targetTesla investors went on a wild ride Thursday, with the stock jumping by as much as 3% before falling by 5% -- in the wake of its Q1 earnings report. 11 million shares traded hands, or roughly twice Tesla's daily average.
Image source: Tesla.
Investors clearly don't have a settled reading on CEO Elon Musk and whether he's likely to achieve his master plan of pioneering the globe's transition away from gas-powered transportation. The Q1 results were solid, with non-GAAP revenue meeting expectations. A $0.57 per share loss actually beat consensus estimates thanks to early efforts at controlling costs. Tesla set a new manufacturing record of over 15,000 vehicles but fell short of its Model X delivery pace target. "Continuing to ramp high quality production is the top priority at Tesla right now," Musk said in a shareholder letter.
What sent Wall Street into a tizzy, though, was the company's new build plan that calls for 500,000 units of annual production by 2018 -- two years earlier than the initial (already aggressive) goal. Tesla made the shift in response to surprisingly high indicated demand for the mass market Model 3, which is good news for shareholders. However, the company will be facing substantial risks in ramping up its engineering at that pace, and the sped-up target makes it more likely Tesla will need to access more cash from outside sources, either through debt or another stock issuance.
Fitbit's spiking expenses Wearable tech specialist Fitbit plunged 19% to push its 52-week loss to over 50%. The company's first-quarter results trounced management's February forecast: Revenue was $505 million (50% higher, year over year) compared to the $430 million it projected, and adjusted gross margin was 46.6%, or just above the 46.5% target. Fitbit is seeing healthy demand for its newest products, the Blaze and Alta -- they accounted for nearly half of all Q1 revenue.
However, the profitability decline that CEO James Park and his team warned about in February still appears set to hurt results, especially over the next few quarters. Operating expenses already surged to 39% of revenue -- up from 22% a year ago. Executives project continued elevated spending on a range of priorities including R&D and marketing, so the company can "accelerate the pace of innovation to deepen its competitive moat" and "drive revenue from new products in 2016," management said.
Park and his team sounded confident that the investments will yield must-have gadgets that can keep its device sales climbing. They even raised their full-year profit guidance slightly. "The strong growth and defensibility of our business continues to be powered by product innovation, the network effects of our community, our expanding global distribution, and investment in our brand," Park explained.
Investors decided to take a step back from the stock anyway on Thursday, choosing instead to focus on the weakening short-term profit outlook and concerns around Fitbit keeping its leadership position in a fast-changing product market.
The article Tesla Downshifts and Fitbit Inc. Slumps on a Flat Day for Stocks originally appeared on Fool.com.
Demitrios Kalogeropoulos owns shares of Tesla Motors. The Motley Fool owns shares of and recommends Tesla Motors. Try any of our Foolish newsletter services free for 30 days. We Fools may not all hold the same opinions, but we all believe that considering a diverse range of insights makes us better investors. The Motley Fool has a disclosure policy.
Copyright 1995 - 2016 The Motley Fool, LLC. All rights reserved. The Motley Fool has a disclosure policy.