Tesaro Inc. Is Flying High Today (and Could Go Higher From Here)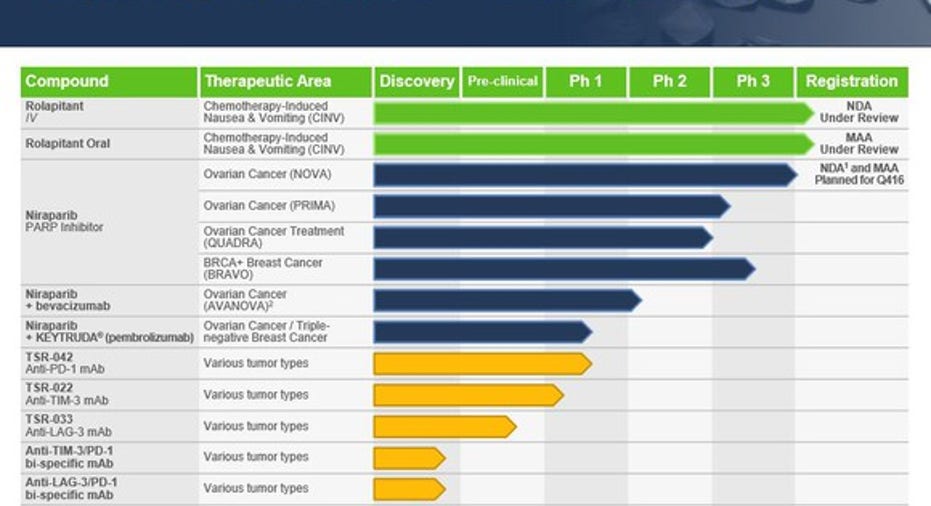 Image source: Getty Images.
If you're looking for a biotechtoadd high-flying gains toyour portfolio,check outTesaro Inc. (NASDAQ: TSRO). Tesarocould be headed for lift-offafterrival Clovis Oncology (NASDAQ: CLVS)releasedtroubling safety data on itscompetingcancer-fighting PARP inhibitor. ThatcedesTesarobest-in-class status, meaningitsexperimental once-a-day ovarian cancer pill, niraparib, shouldbe able to direct a large portion of thatblockbustermarket to the company'sbalance sheet.
How big is themarket? Estimates vary, but the lowest I've seen indicates that ovarian-cancer medsshouldreach at least$1.9 billion bythe close of this decade.That's a significant chunk of money, but what makes Tesaro exciting is thatPARP inhibitors have applications far beyond that disease.In fact, thispromisinggroupcould well be the next major class of therapeutics in oncology.
While I'dwait for a pullback tojump in,here'showTesaro'sexperimental medsand their broad opportunity could make this stock a long-term winner.
After Medivation buyout, Tesaro could benext on the M&Ahit list
The potential of companieswith PARP inhibitorsalready inspired thebiggest M&A battle this year in biotech. I'm referring to thedoozy of a bidding war that led toPfizer's (NYSE: PFE) $14 billion acquisition ofcancer biotechMedivation (NASDAQ: MDVN). Whileprostate cancer drug Xtandi was the main target,Pfizer was also hot to trot after Medivation'sinvestigational PARP inhibitor, talazoprabib.In fact, Pfizer CEO Ian Read toutedtalazoparbib's potential as asignificantreason for thedeal.
With Medivation buttoned up, acquirable companies with late-stage PARP inhibitors number just two -- Tesaro and Clovis.Tesaro'sniralapibhas a new drug application (NDA)planned for the fourth quarter of this year. Thatputs itfurther alongthe development pathway than talazoprabib, with Pfizer's new drugstillenrolling in its phase 3 trial.Nipping at Tesaro'sheels,Clovis Oncology's PARP-inhibiting medis in stage 3 clinical trials.
What makes PARP inhibitors so important?
PARP inhibitorshaveshown tremendouspotential in ovarian, breast, and prostate cancers, particularly in those exhibitingBRCA1 or BRCA2 genetic mutations.BRCAmutationsnot only dramatically raise the riskofcancer, but theycan also maketumorshighly resistant totraditional treatment.But PARPs are not onlyeffective with asubset of mutated cancers. Theyhave broad applications, with some estimatesputtingthe overall addressable PARP market at $20 billion a year, across all the indications.
Adding a bit of credence to that mind-blowing number,clinical trial resultsreleased in JuneonTesaro's niraparib werehugely exciting.Patients taking niraparib achieved21 months ofprogression-free survival (PFS) inBRCA-mutated recurrent ovarian cancer and nine to 13 months in various categories of non-BRCA mutated ovarian cancers. Those kinds of resultsin a late-stage trialarea validation of thepotency of this class of drugs, sinceimprovement in cancer survival isoften measured in a month or two. Comparatively,Tesaro's drug tripledPFS survivalfor these women, with the placebo groupseeingonly5.5 months PFS inBRCA segmentand 3.8 to 3.9 months in the non-BRCA group.
So whichBig Pharma might findTesaro snackable?
Healthcare titanJohnson & Johnson (NYSE: JNJ)has beenquietof late when it comes to acquisitions. ButJ&JboughtcollaborationrightsonTesaro's PARP inhibitora while back that focus on prostate cancer. Withresults in other applications showing so much promise, the Goliath of healthcaremightwell decide it wants to control the entire drug, as well as the company.
M&A interestcould also come fromthe losers in theMedivation bidding war. That list includes not justSanofi but also Gilead Sciences, Inc., which recently saidit'slooking forthe right PARP inhibitor.Merck, Celgene, Amgen, and AstraZeneca are alsopossible bidders,as all these companieswere rumored to be interested in buying Medivationat one point or another.
ButTesaroisn't going to go cheap or easy.The biotech'smarket cap is already $5.9 billion,which is eye-poppinglyhefty for a biotech with only one drug on the market -- rolapitant for chemo-induced nausea. Thatdrug just finished its second quarter of commercialization, andit's doing well -- unit volume grew30% sequentially. But chemo side-effect pillslack thepricing powerand clinical importance requiredtoreachblockbuster status. Its niraparib and the company'sotherinvestigationaldrugs will probably have it holding out fortop dollar:
Image source: Tesaro.
In terms of cash burn, despite a $35 million payout of licensing revenue from J&J on its prostate cancer agreement,Tesaro reported a net loss of $58.4million last quarter. But that's not going to lead to any urgency on Tesaro's part to do adeal.Tesarohad cash and cash equivalents of approximately $320 million at the end of June.And it raised an additional $409 million in a follow-on offering one month later.That willget the biotechcomfortablythroughlaunch on niraparib.
Could Clovis also be a target?
As I see it, Big Pharma may decide topay up for Tesaro and itssuperior PARP inhibitor,or it might seek adiscountwithClovis. Clovissuffered an implosion last year, losing73% of its value in two daysin November, after theFDA questioned the reliability ofdata on itsPARP inhibitortargetinglung cancer, a program Clovis ended up shuttering.Since then,Clovis has been bouncing around, havingrecaptured 31% of its value on Aug. 23, when theFDA accepted Clovis' NDA for its new lead drug,rucaparib. Butitdropped 14.5% just last week, based on recently released data showing that 63% of patients had a severe adverse event to that drug.
I can't count Clovis out as an acquisition target, butTesarolooks like a much better long-term investment.M&A activity is always justthe icing on the cake, andTesarodoesn'tneedto be acquired to be aworthwhilestock.While Tesaro has been bid up on its ovarian-cancer hopes,what hasn't been accounted for yet in the stock price is the possiblewidespreadpotential ofPARP inhibitors.Make no mistake: Tesaro isin the high-risk zone, with multiple hurdles ahead.Butit's apotentially exciting stock andwell worth investigating further.
A secret billion-dollar stock opportunity The world's biggest tech company forgot to show you something, but a few Wall Street analysts and the Fool didn't miss a beat: There's a small company that's powering their brand-new gadgets and the coming revolution in technology. And we think its stock price has nearly unlimited room to run for early in-the-know investors! To be one of them, just click here.
Cheryl Swanson owns shares of Johnson and Johnson. The Motley Fool owns shares of and recommends Gilead Sciences. The Motley Fool has the following options: short October 2016 $85 calls on Gilead Sciences. The Motley Fool recommends Johnson and Johnson. Try any of our Foolish newsletter services free for 30 days. We Fools may not all hold the same opinions, but we all believe that considering a diverse range of insights makes us better investors. The Motley Fool has a disclosure policy.