Tesaro Inc Bulls Need a Reality Check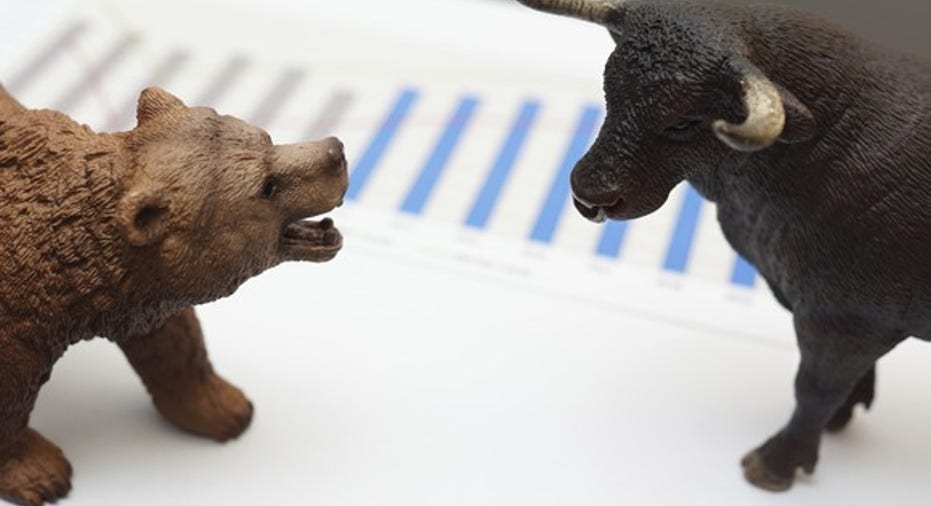 Tesaro Inc (NASDAQ: TSRO) enjoyed its best summer ever last year, but lately, this biotech has had a case of the blues. Following a peak in February, the stock has lost more than a quarter of its value.
Despite the recent slide, investors should remain braced for further downside. The company's recently launched cancer therapy has plenty of potential, but its success is far from certain. Available drugs of the same class from Clovis Oncology Inc (NASDAQ: CLVS), and AstraZeneca plc (NYSE: AZN) might put up more of a fight than expected. Plus, Pfizer Inc. (NYSE: PFE) has a candidate in development that could become an even bigger hurdle along Zejula's path to success.
Image source: Getty Images.
At the moment, it's hard to say whether or not Tesaro's drug will become a multibillion-dollar blockbuster. The company's market value, though, is still high enough that anything less than a rousing success could lead to serious losses from present levels.
How expensive?
Compared to established businesses with positive, predictable cash flows, pinning a price tag to Tesaro is nearly futile. Last year, the company lost $387.5 million, and management expects operating expenses to rise further this year.
For companies still losing money, the price-to-sales ratio comes in handy. On average, biotech stocks trade at prices about 5.8 times higher than their annual sales. Measured with this yardstick, Tesaro's recent market cap of about $7.3 billion suggests around $1.2 billion in annual sales.To meet this expectation, Tesaro's salesforce has a lot of catching up to do. The company's only other FDA-approved drug generated just $6.9 million in product sales last year.
Analysts expect Zejula to generate around $2 billion in sales each year at its peak, but it's important to realize that Tesaro needs to send a large chunk of that revenue to Merck. The big pharma sold Tesaro exclusive rights to develop and market Zejula years ago in return for milestone payments and a royalty percentage on global sales that will probably end up in the mid-teen percentage zone.
Leadership qualities
Expectations that Zejula will quickly become a leading treatment for ovarian cancer are the main pillars holding Tesaro's stock price aloft right now. The efficacy data supporting its approval is impressive, and you can't blame investors for expecting sales to rocket upwards.
Image source: Getty Images.
Ovarian cancer patients who relapsed after two or more rounds of standard chemotherapy survived much longer than those given placeboes during clinical trials supporting Zejula's approval. Those with inherited BRCA mutations, generally associated with more aggressive disease activity, survived 3.8 times longer without signs of disease progression. Progression-free survival among patients without the mutation was a surprising 2.4 times longer than the placebo group.
These results led to a couple of important features on Zejula's broader-than-expected prescription label that should help it hit the ground running. First, AstraZeneca's and Clovis Oncology's drugs of the same class are indicated for patients with BRCA mutations, while Zejula can be administered regardless of BRCA mutation status.
Zejula will also benefit from its place in the pecking order. Patients in the middle of their first round of chemo can take Tesaro's drug. According to their labels, oncologists shouldn't treat patients with Rubraca unless they've relapsed after two rounds of chemotherapy, and Lynparza becomes an option after three rounds.
Focus on safety
A broad prescription label could fuel Zejula's launch, but too many side effects could also hold it back. During trials leading to its approval, 29% of patients treated with Zejula experienced a loss of platelets severe enough to require hospitalization, versus just 5% during Rubraca's clinical trials.
Destruction of red blood cells, or anemia, looks like an issue across all three PARP inhibitors. About 25% of clinical trial participants treated with Rubraca and Zejula reported severe anemia, and this figure dropped to 18% for trial patients treated with Lynparza.
AstraZeneca has already submitted an application to the FDA that would push Lynparza from fourth to second-line treatment status. Plus, another expansion to the front of the line could be possible depending on results expected later this year. If Lynparza can move up in the pecking order, a superior safety profile could make it difficult for Zejula to contend with.
Image source: Getty Images.
Look out for the late entry
Further ahead, all three currently available PARP inhibitors might be upended by related candidate Pfizer acquired last year. Talazoparib operates along the same lines as Zejula, but it appears effective at a far lower dosage.
Lower dosages generally lead to fewer side effects, and available clinical trial data suggests this is the case for Pfizer's candidate. It's early still, but it looks like talazoparib patients report fewer side effects across the board. Pfizer has aimed its candidate at the breast cancer indication first, and we can expect data from a late-stage study intended to support its first new drug application this summer.
Although it could be years before we know if Pfizer's talazoparib will compete with Zejula in the ovarian cancer indication, right now, the breast cancer indication looks like an uphill battle for Tesaro. The company recently scuttled a mid-stage breast cancer study testing the drug on its own.
What this Fool believes
It's still too early to know how well Tesaro's drug can compete with Clovis Oncology's and AstraZeneca's for ovarian cancer patients. Zejula's label is an advantage now that could quickly evaporate in light of incoming data from competitors.
That's a big problem because any hints that Zejula might not meet lofty expectations will almost certainly send the stock plummeting from present levels. With Pfizer, Clovis, and AstraZeneca aiming to provide those hints, buying Tesaro stock at recent prices would be an exercise in anxiety management.
10 stocks we like better than TesaroWhen investing geniuses David and Tom Gardner have a stock tip, it can pay to listen. After all, the newsletter they have run for over a decade, Motley Fool Stock Advisor, has tripled the market.*
David and Tom just revealed what they believe are the 10 best stocks for investors to buy right now...and Tesaro wasn't one of them! That's right -- they think these 10 stocks are even better buys.
Click here to learn about these picks!
*Stock Advisor returns as of April 3, 2017.
Cory Renauer has no position in any stocks mentioned. The Motley Fool has no position in any of the stocks mentioned. The Motley Fool has a disclosure policy.