Terex Corporation Posts a $74 Million First-Quarter Loss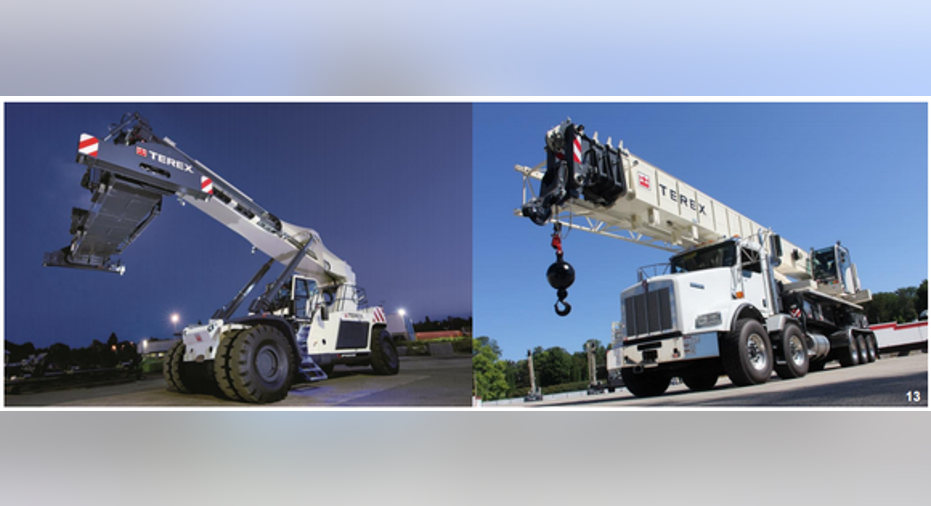 As it prepares for a merger with Finland-based Konecranes Plc (while evaluating a competing offer from Chinese crane giant Zoomlion), Terex Corporation posted declining first-quarter sales on April 26. The lifting machine specialist also flipped to a net loss compared to a slight gain in the year-ago period.
Here's a look at the top- and bottom-line results:
The raw numbers
| | Q1 2016 Actuals | Q1 2015 Actuals | Growth (YOY) |
| --- | --- | --- | --- |
| Sales | $1.27 | $1.5 | (5%) |
| Net income (loss) | $(74) million | $1 million | N/A |
| EPS | $(0.68) | $0.01 | N/A |
Data source: Terex financial filings.
What happened to Terex this quarter?Many of the industries that Terex serves, including oil and gas, commodities, and construction, struggled during the quarter, which made for a challenging operating environment. The company's $74 million loss was mostly driven by restructuring charges and expenses related to preparing for the Konecranes merger, though. On an adjusted basis, Terex lost about $6 million, or $0.05 per share, compared to an adjusted $0.02-per-share loss a year ago.
Image source: Terex.
Key highlights of the quarter include:
The crane business was the biggest drag on overall results, with sales sinking 13%. That division suffered from a weak U.S. market and only soft growth in Europe. Operating margin dropped to -5% from 1%.
The materials handling business shrank by 8% as operating loss expanded to $62 million from $4 million last year.
Geographically, falling sales in the U.S. and Eastern Europe regions were partially offset by gains in the Asia/Pacific and Western Europe markets.
Overall operating margin declined to 2% from 3% a year ago.
Return on invested capital slumped to 5% from 10%.
Order backlog fell 20%, indicating further weakness ahead.
What management had to say"Our customers remain cautious in the current global environment," CEO John Garrison said in a press release. Still, Terex's results were within management's expectations and so the executive team left their full-year sales and profit forecasts in place.
While two key operating units, cranes and materials handling, are slumping, other categories are showing more encouraging trends. "Overall the markets are challenging, but there are pockets of opportunity," Garrison said. The materials processing division, for example, expanded its profitability despite weakness in the mining sector. Terex's aerial work platforms also generated healthy earnings and a small uptick in revenue.
The company is prioritizing cost cuts as it adjusts to the smaller overall market opportunity. "We remain focused on what we can control and have initiated a broad-based restructuring program in the quarter to reduce our costs and align production capacity with demand," Garrison told investors.
Looking forwardGarrison and his team see sales declining by about 10% this year, which should produce adjusted earnings of about $1.45 per share. Neither of those targets changed from the forecast issued three months ago.
Meanwhile, merger preparations continue even as executives explore the potential for a better competing bid: Zoomlion's recent offer to buy Terex for $31 per share in cash constitutes a potentially more attractive deal than the all-stock transfer with Konecranes.
Terex's management is still proceeding with its Konecranes merger agreement, but it may ultimately go with Zoomlion if it can craft a binding, definitive proposal that provides certainty around any proposed closing date.
The article Terex Corporation Posts a $74 Million First-Quarter Loss originally appeared on Fool.com.
Demitrios Kalogeropoulos has no position in any stocks mentioned. The Motley Fool recommends Terex. Try any of our Foolish newsletter services free for 30 days. We Fools may not all hold the same opinions, but we all believe that considering a diverse range of insights makes us better investors. The Motley Fool has a disclosure policy.
Copyright 1995 - 2016 The Motley Fool, LLC. All rights reserved. The Motley Fool has a disclosure policy.