Teradata Keeps Moving Forward With Another Solid Quarter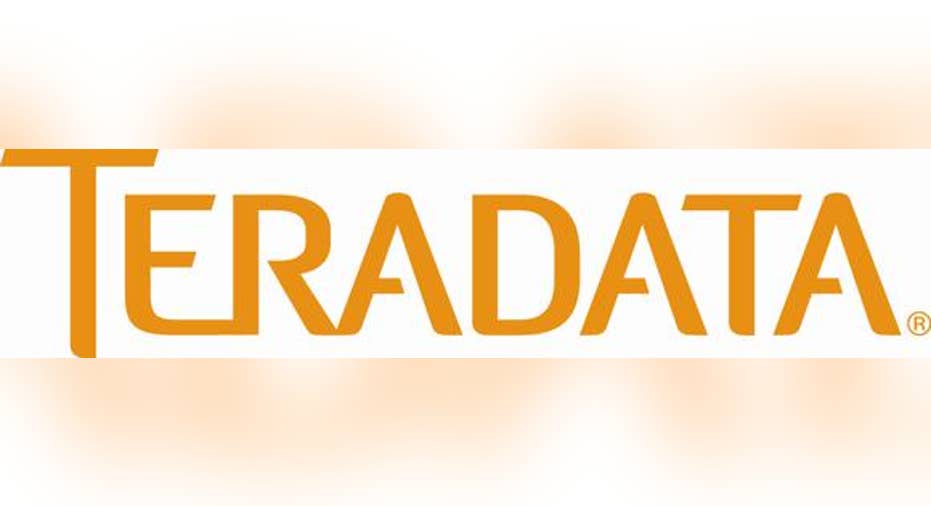 IMAGE SOURCE: TERADATA CORPORATION.
Teradata Corporationreleased first-quarter 2016 results on Thursday after the market close. Though its declining top and bottom lines don't look encouraging at first glance, there's a reason why shares of the enterprise-data-warehousing company climbed as much as 13.2% early Friday. Let's take a closer look at what drove Teradata's performance in Q1:
Teradata Corporation results: The raw numbers
| | Q1 2016 Actual | Q1 2015 Actual | Growth (YOY) |
| --- | --- | --- | --- |
| Revenue | $545 million | $582 million | -6% |
| GAAP Net Income (Loss) | ($46) million | $22 million | N/A% |
| GAAP Earnings Per Share (Loss) | ($0.36) | $0.15 | N/A% |
Data source: Teradata Corporation.
What happened with Teradata this quarter?
On an adjusted (non-GAAP) basis, which offers perspective by excluding items like stock-based compensation and goodwill impairment, net income increased 40.9% year over year, to $62 million, and jumped 56.7% on a per-share basis, to $0.47.
Teradata didn't provide specific financial guidance for the quarter, but the market was much less optimistic; consensus estimates called for revenue of $517.5 million, and adjusted earnings of $0.37 per share.
As reported, Teradata's revenue included a6% decline (4% at constant currencies) from the data and analytics segment, to $511 million, and an 11% drop in marketing applications revenue, to $34 million
Consulting revenue grew 4% year over year (6% at constant currencies), to $179 million, while maintenance services grew 2% (4% at constant currencies), to $172 million.
Products revenue declined 20%, to $194 million.
By geography:
Americas data and analytics revenue declined 12% (11% at constant currency), to $295 million
International data and analytics revenue rose 4% (7% at constant currency), to $216 million
Expanded the Think Big consulting unit into China, helping big data consulting revenue grow in the double-digit percentage range.
Announced availability of managed cloud offerings in Europe in the second half of this year, to build upon its early success in the Americas.
Keep in mind,per its strategic plans revealedlate last year, Teradata has made "good progress" in its ongoing business transformation, which includes the impending sale of the marketing applications business for $90 million. The transaction is expected to close around June 30, 2016, and should generate net proceeds of roughly $55 million to $60 million.
Generated cash from operations of $251 million, up 13% year over year.
Generated free cash flow of $225 million, up 18.4% year over year.
Repurchased 2 million shares of stock for roughly $47 million, leaving $528 million remaining under Teradata's current repurchase authorization.
Sales, general, and administrative expenses declined 23% year over year, to $131 million, largely driven by cost-reduction initiatives.
Used $100 million of domestic cash balance to pay down its revolving credit facility
Ended the quarter with $917 million in cash, more than 95% of which is held outside the U.S., and total debt of $673 million, including $80 million on the revolver, and $593 million on a term loan.
Announced Mike Koehler has stepped down as the company's CEO, effective immediately. He has been replaced by board member Victor Lund, who, according to Teradata board chair Jim Ringler, "has been instrumental in the Board's oversight of Teradata's transformation."
What management had to sayKoehler elaborated on his departure, stating, "It has been a privilege to leadTeradata'stalented employees for the past 14 years, and I am extremely proud of the many accomplishments achieved by theTeradatateam during my tenure. I believe now is the right time for new leadership to take the company forward."
Lund added:
Looking forwardFor the full-year 2016, Teradata now expects GAAP revenue of $2.32 billion to $2.39 billion, up from its previous guidance provided three months ago for a range of $2.315 billion to $2.36 billion. Excluding marketing applications, revenue will fall in the range of 2% to 5%, or $2.25 billion to $2.32 billion. Interestingly, Teradata no longer expects currencies to have a significant impact on year-over-year revenue comparisons.
On the bottom line, Teradata expects 2016 GAAP earnings per share of $0.97 to $1.12, which includes the results of marketing applications through roughly the end of the second quarter. Teradata also reiterated its previous guidance for adjusted earnings per share to be in the range of $2.35 to $2.50, up 14.1% to 21.4% over 2015.
In the end, Teradata investors are most pleased that their company continues to show progress in its transformation initiatives, and management did an admirable job defusing any tension that may have been caused by the CEO transition. If it can continue to show progress going forward -- and once it's free of the marketing applications business toward the end of next quarter -- it's clear Teradata should emerge as strong as ever in its efforts to return to sustained, profitable growth over the long term.
The article Teradata Keeps Moving Forward With Another Solid Quarter originally appeared on Fool.com.
Steve Symington has no position in any stocks mentioned. The Motley Fool recommends Teradata. Try any of our Foolish newsletter services free for 30 days. We Fools may not all hold the same opinions, but we all believe that considering a diverse range of insights makes us better investors. The Motley Fool has a disclosure policy.
Copyright 1995 - 2016 The Motley Fool, LLC. All rights reserved. The Motley Fool has a disclosure policy.