Tennant Company Loses Money as Sales Growth Speeds Up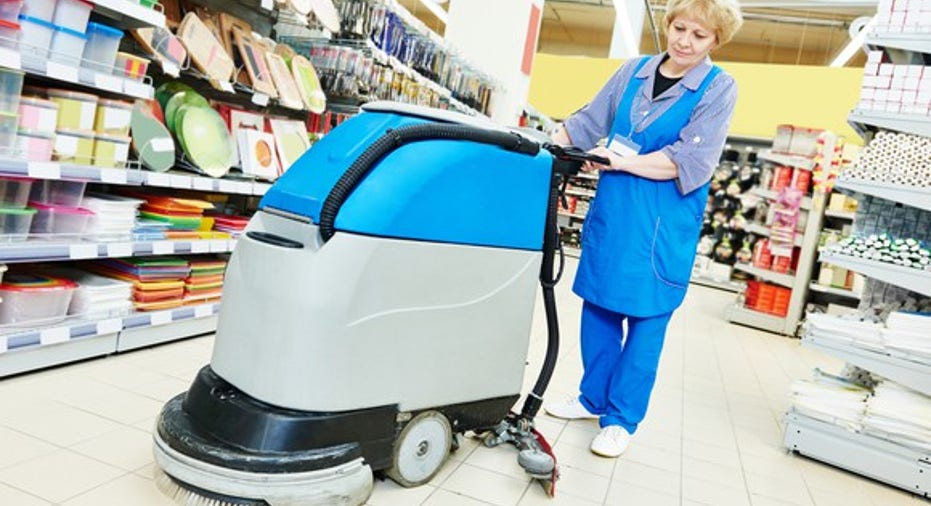 On Monday morning, cleaning machine specialist Tennant (NYSE: TNC)posted quarterly earnings results that paired strong sales growth with a sharp decline in earnings.
Here's how the headline figures stacked up against the prior-year period:
| Metric | Q1 2017 | Q1 2016 | Year-Over-Year Change |
| --- | --- | --- | --- |
| Revenue | $191 million | $180 million | 6% |
| Net income | ($4 million) | $4.4 million | N/A |
| EPS | ($0.22) | $0.25 | N/A |
Data source: Tennant financial filings.
What happened this quarter?
Tennant's sales growth pace accelerated for the second straight quarter even as a few temporary events pulled both operating and bottom-line profits far lower.
Image source: Getty Images.
Here are the key highlights of the quarter:
Organic growth came in at 5% to mark a solid improvement over last quarter's 3% uptick. The gains were driven by strong demand in the U.S. market and in the company's European segment. Its Asia-Pacific region was the only one to post declines as robust gains in Japan and Korea were more than offset by lower sales in Australia and China.
Gross profit margin fell to 41.7% of sales from 43.1%, which management blamed on a temporary pinch from restructuring changes and rising raw material costs.
Research and development spending held steady at 4.4% of sales as the company continued to plow investments into building up its new product pipeline.
Expenses spiked to 39% of sales from 33% due to Tennant's restructuring initiative and transaction expenses tied to its acquisition of IPC Group. These contributed to an operating loss of $2.6 million, or 1.4% of sales, compared to a profit of $7 million, or 3.9% of sales a year ago. Excluding the one-time expense, operating profit would have risen to $8.3 million, or 4.3% of sales.
What management had to say
Executives said they were pleased with increased selling pace they managed. "During the quarter," CEO Chris Killingstad said in a press release, "we continued to pursue strategies designed to further ignite the company's growth and increase profitability."
A few of these moves included the purchase of IPC Group, which doubles the company's market access in the Europe, Middle East, and Africa geography, and the launch of popular cleaning devices like a new line of commercial walk-behind scrubbers. "Our new products are being well received by customers," Killingstad noted, which is why the company is focused on "developing innovative new products and technologies that fuel our revenue growth."
Looking forward
Tennant's expansion pace is highly dependent on its success at rolling out improved products that resonate with the customer base. That's why it's particularly good news that the company is executing well on this score. Just under half of this past quarter's revenue, for example, came from products that Tennant has introduced in just the last three years. That performance beat management's 30% target by a wide margin.
The surprising popularity of new releases helped give Tennant confidence to raise its 2017 outlook to a growth range of between 1% and 3% compared to the 0% to 3% range the company issued in late February. Executives see steady growth in the U.S., modest improvement in Europe, and continued challenges in the China segment.
Restructuring charges and expenses tied to the IPC Group purchase will push earnings down to between $1.05 and $1.25 per share this year to represent a sharp drop from 2016's $2.63-per-share result. However, the company believes both moves will lead to faster, more profitable growth over the long term.
10 stocks we like better than Tennant CompanyWhen investing geniuses David and Tom Gardner have a stock tip, it can pay to listen. After all, the newsletter they have run for over a decade, Motley Fool Stock Advisor, has tripled the market.*
David and Tom just revealed what they believe are the 10 best stocks for investors to buy right now... and Tennant Company wasn't one of them! That's right -- they think these 10 stocks are even better buys.
Click here to learn about these picks!
*Stock Advisor returns as of April 3, 2017
Demitrios Kalogeropoulos has no position in any stocks mentioned. The Motley Fool owns shares of and recommends Tennant Company. The Motley Fool has a disclosure policy.