Teck Resources Ltd: The Bear Case From a Bull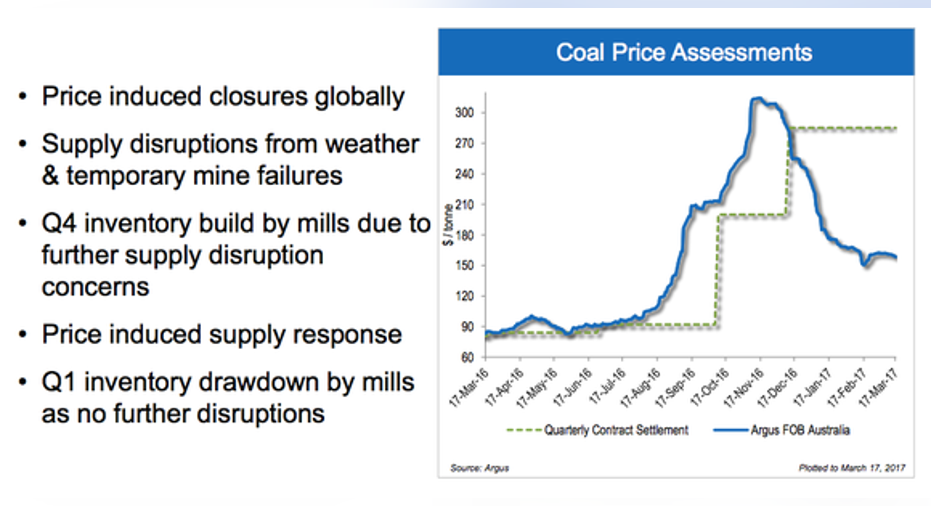 Teck Resources Ltd. (NYSE: TECK) is a diversified Canadian miner. Like most in the mining industry, the company got hit during the commodity downturn, but has worked hard to get itself back on track. Now that the outlook is starting to look up again, investors have taken a more positive view of Teck's future. But what about the downside? For that you need to consider the bear base. Here are two things that could derail Teck Resources.
1. Fort Hills
When commodity prices started to crater, one of the big concerns was Teck's ability to afford the costs of an expansion into oil. The Fort Hills project, which was given the green light when oil prices were notably higher than they are today, was years away from completion and Teck had a heavy debt load to deal with. That's no longer an issue, with the company paying down debt and pushing out debt maturities. At this point, the company has no major debt due until 2021.
Image source: Teck Resources Ltd.
Better yet, it has roughly $600 million in cash and around $3 billion available on a credit facility. That should be more than enough liquidity to get Fort Hills up and running on schedule by the end of 2017. The project is nearly 85% complete today and Teck's share of project costs is less than $1 billion.
But it's not complete yet. And delays or cost overruns could result in Teck having to pay out more than expected. That would clearly be a headwind for the stock and it's one risk investors have to consider. The massive fires in the Canadian oil sands region last year is proof that things could still can go wrong, even though that event had a minimal impact on the Fort Hills project itself. However, the bigger risk may be persistently low oil prices.
Teck has been paying down debt and extending debt maturities. Image source: Teck Resources Ltd.
Fort Hills is expected to have a 50-year reserve life, so there's a lot of time for the volatile oil market to bounce around. But Teck has been presenting forecasts based on oil priced at $60 a barrel on the low side. At that price, the project is expected to have a free cash flow yield of 6% -- not much to write home about. The problem is that oil has had a hard time getting above even $50 a barrel.
If oil stays lower for longer, Fort Hills could be much less profitable than Teck was expecting. And that has the potential to turn this diversification opportunity into an albatross.
2. China
The other big risk that could be bad news for Teck is China. China is one of the largest commodity consumers and producers on the planet. The decisions it makes have a massive impact on the prices that commodity producers like Teck receive, both good and bad.
For example, toward the end of 2016 metallurgical coal prices skyrocketed, partly because of a Chinese decision to trim production. That's allowed Teck to lock in high contract prices in the near term. But coal prices are falling again as market participants react to high prices and China looks to balance its cuts against their price impact. It's a complex interplay, but the important takeaway is that China has a big impact on commodity markets.
Met coal prices have been very volatile, partly because of Chinese decisions. Image source: Teck Resources Ltd.
The longer-term problem is that China's growth is slowing. For example, between 2010 and 2015, the country's growth slowed by roughly 35%. To be fair, China is still growing faster than developed nations like the United States, but if growth continues to slow in China, it will likely reverberate around the world's commodity markets. That, in turn, could mean tough times ahead for Teck's coal, copper, and zinc mines.
The downside
The Fort Hills project looks like a great investment in many ways, most notably on the diversification front. However, it was conceived at a time when oil prices were much higher than they are today. If oil prices remain as low as they are now, Fort Hills could turn out to be much less beneficial than hoped and, ultimately, it could become a drag on the miner's shares. It's a risk investors should keep in mind.
From a bigger-picture perspective, supply and demand in the commodity markets is what will drive Teck's business. China plays an outsize role in that and the country's heady growth is starting to temper. If Chinese growth continues to slow, it could create a huge headwind for Teck (and every other miner). It's kind of a wild card, but it's pretty much the ultimate bear case to consider.
10 stocks we like better than Teck ResourcesWhen investing geniuses David and Tom Gardner have a stock tip, it can pay to listen. After all, the newsletter they have run for over a decade, Motley Fool Stock Advisor, has tripled the market.*
David and Tom just revealed what they believe are the 10 best stocks for investors to buy right now... and Teck Resources wasn't one of them! That's right -- they think these 10 stocks are even better buys.
Click here to learn about these picks!
*Stock Advisor returns as of April 3, 2017
Reuben Brewer has no position in any stocks mentioned. The Motley Fool has no position in any of the stocks mentioned. The Motley Fool has a disclosure policy.