Teck Resources Ltd.'s Q1 Hints at a Brighter Future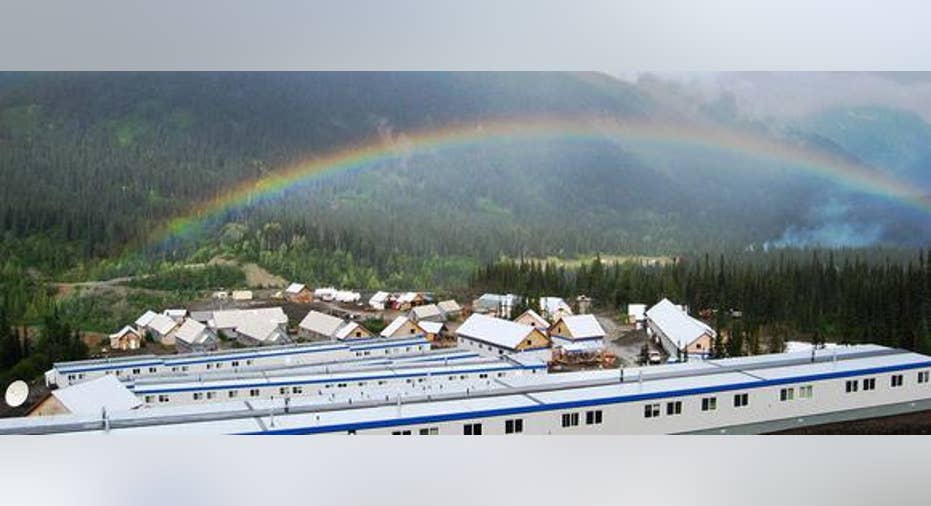 Now that's a big truck! Image source: Teck Resources.
Teck Resources Ltd. posted adjusted earnings of $0.03 a share in the first quarter, down from last year's $0.11. However, it was much better than the $0.04 loss analysts had been calling for. Revenues of nearly $1.7 billion, meanwhile, were just a touch under the $1.73 billion analyst forecast. So it was hardly a good quarter, yet not as bad as it could have been.
But those are just the headline stats. There were some interesting things going on underneath those numbers that you'll want to know about.
A tough marketThere's no question that the first quarter was a continuation of the difficult commodity market environment that's been punishing Teck and its mining peers. Freeport McMoRan (NYSE: FCX), for example, just posted an adjusted loss of $0.16 a share. The big problem for both companies remains low commodity prices. Teck's main products -- steelmaking coal, copper, and zinc -- saw prices fall 29%, 20%, and 19%, respectively, year over year. Freeport, which is focused on copper, gold, and oil, saw copper prices decline 20% and oil prices drop 45%, more than offsetting a roughly 3.5% increase in the price of gold. So it's easy to see why Teck's revenues and earnings both fell and to see that this isn't unusual int he mining space.
What's a little more impressive, however, is that Teck managed to trim expenses enough to turn a slight profit -- a feat that analysts weren't expecting it to pull off, and a better outcome than some competitors were able to manage. Putting some numbers on that, Teck managed to trim its coal costs by nearly 18% year over year. In fact, all but one of the company's mining operations was cash flow-positive in the quarter. So there really is some good news hidden in the mix.
A brighter futureThere are also some hints of silver appearing on the clouds that have dotted the horizon since the commodity downturn started in 2011. Case in point -- the pricing of coal is up nearly 4% sequentially from the first quarter as the second quarter gets under way. So the second quarter could be even better than the first.
Is that a rainbow forming on the horizon? Image source: Teck Resources.
Teck is also benefiting from low oil prices and a strong U.S. dollar. On the oil front, the miner is seeing low costs for all the diesel fuel it burns. That helps to keep operating expenses low, a welcome blessing. And since much of the company's expenses are denominated in currencies other than the U.S. dollar (the big one is the Canadian dollar) and what it sells is priced in U.S. dollars, Teck benefits from the opposite of what's hurting so many U.S. companies with big foreign businesses. Basically, it's turning U.S. dollars into more of its home currency while U.S. companies often have to turn foreign currencies into fewer U.S. dollars.
Then there's the company's investment in an oil sands project that's around 55% complete. This is a big-ticket item, with roughly a billion dollars more spending to go for Teck before it's done. The project is progressing on plan, which is good. But the better news is that Teck has $1.3 billion in cash and around $3 billion available on a credit facility. In other words, it has the money to keep building.
Longer term, this project will add a new, and long-lived, commodity to the company's portfolio. Although the low price of oil today has led many to suggest an oil sands investment is a mistake, if oil prices head higher again this "mistake" could quickly start to look like a brilliant move.
Mixed bagIt would be hard to call the first quarter good. But it would be equally hard to say it was all bad. So let's cut the middle and say it was "mixed." The really exciting takeaway from the three-month span, however, is that there are a number of bright spots appearing on the horizon. It's way too soon to sound the all-clear, but if you're a contrarian looking for a mining turnaround story, Teck's tale is starting to sound more and more compelling.
The article Teck Resources Ltd.'s Q1 Hints at a Brighter Future originally appeared on Fool.com.
Reuben Brewer has no position in any stocks mentioned. The Motley Fool owns shares of Freeport-McMoRan Copper & Gold,. Try any of our Foolish newsletter services free for 30 days. We Fools may not all hold the same opinions, but we all believe that considering a diverse range of insights makes us better investors. The Motley Fool has a disclosure policy.
Copyright 1995 - 2016 The Motley Fool, LLC. All rights reserved. The Motley Fool has a disclosure policy.