TechnipFMC Comes Together but Still Faces Tough Conditions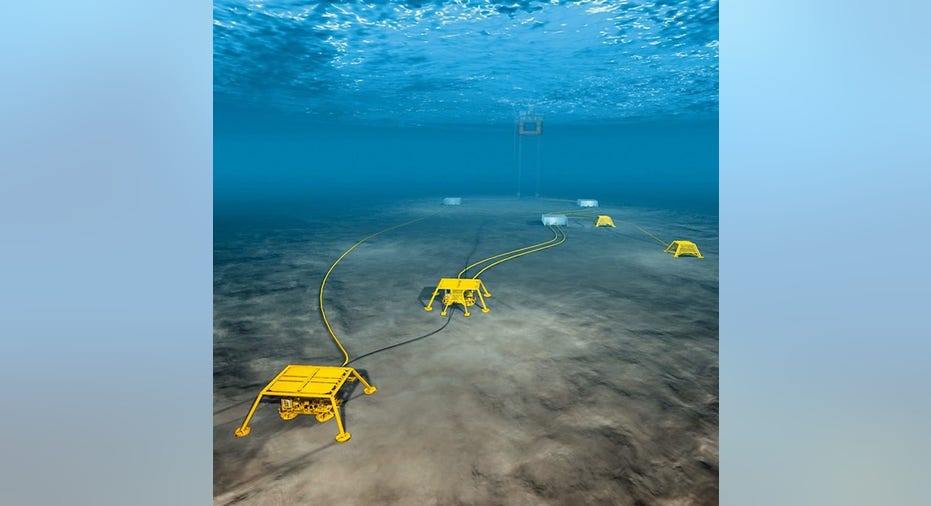 Consolidation has been increasingly common in the energy space recently, as companies aim to improve efficiency and cut costs in an industry environment featuring low oil prices and substantial challenges. FMC Technologies and Technip came together earlier this year, joining their energy-project expertise and creating TechnipFMC (NYSE: FTI), and many have hoped that the combination would improve their joint prospects going forward.
Coming into Thursday's first-quarter financial report, TechnipFMC investors were looking to see exactly how things would pan out in the combined company. Even though the companies are still happy about having merged, TechnipFMC's results reflected the ongoing challenges the industry faces right now. Let's take a closer look at TechnipFMC to see what its numbers look like and how the company shapes up going forward.
Image source: TechnipFMC.
An introduction to TechnipFMC
TechnipFMC's first-quarter financial report continued to indicate the tough situations the combined company faces. Using pro-forma financials that reflect both companies' results before the merger, revenue was down 31% to $3.39 billion. However, adjusted operating profit rose substantially, climbing more than 55% to $573.2 million. Adjusted earnings came in at $0.71 per share, excluding extraordinary items.
A look at TechnipFMC's various segments shows the widespread challenges the company faces. In the subsea technologies segment, the company reported revenue of $1.4 billion, which was down more than 40% from year-ago pro forma levels. The company said reduced activity in Europe and Africa was primarily responsible for the decline, with Asia-Pacific gains failing to fully offset the drop. Vessel utilization rates fell 10 percentage points in just the past three months to 68%. However, adjusted pre-tax operating earnings were higher from year-ago levels because of efforts to reduce costs and restructure operations.
The onshore/offshore segment showed similar dynamics. Sales of $1.8 billion were down 19% from the year-ago quarter, and TechnipFMC blamed reduced project activity in the Americas and the Middle East for the slump. Project profitability improved, though, helping to boost adjusted pre-tax operating earnings.
For the surface technologies unit, things looked a bit worse. Revenue declines of 29% suffered thanks to competitive pricing condition internationally and lower product sales, and the company reported an operating loss for the quarter. But the company was still pleased that the loss was less than expected, citing more favorable cost structures in driving performance.
Inbound orders came in at $1.59 billion, reflecting the merged companies' total figures. Backlog was $16.1 billion, most of which is in the onshore/offshore business.
What's ahead for TechnipFMC?
Company executives were focused on the future of the combined business. In explaining what it means to have become one company, CEO Doug Pferdehirt believes TechnipFMC is "now uniquely able to leverage our industry-leading, front-end engineering capabilities [and] our culture of innovation that is bringing to market next-generation solutions." Solid project management is also a competitive advantage Pferdehirt believes TechnipFMC can use to differentiate itself going forward.
TechnipFMC was fairly optimistic about the projections it made about its future. The company believes full-year revenue for the subsea business will be at least $6.1 billion, and TechnipFMC predicts minimum revenue of $7.3 billion for the onshore/offshore business and $1.4 billion in surface technologies. CFO Maryann Mannen stressed the efforts the company is making to drive cost savings and synergies, but more importantly, she sees the market improving. In her words, "The North American recovery is well underway, and we're seeing the greatest impact in our business."
Nevertheless, investors in TechnipFMC weren't entirely satisfied with the report, and the stock dropped 7% in the opening minutes of trading following the announcement. With the energy industry still facing substantial obstacles, it will take a lot more work before TechnipFMC can feel entirely confident about the future of its business.
10 stocks we like better than FMC TechnologiesWhen investing geniuses David and Tom Gardner have a stock tip, it can pay to listen. After all, the newsletter they have run for over a decade, Motley Fool Stock Advisor, has tripled the market.*
David and Tom just revealed what they believe are the 10 best stocks for investors to buy right now...and FMC Technologies wasn't one of them! That's right -- they think these 10 stocks are even better buys.
Click here to learn about these picks!
*Stock Advisor returns as of April 3, 2017.
Dan Caplinger has no position in any stocks mentioned. The Motley Fool recommends TechnipFMC. The Motley Fool has a disclosure policy.