Tech selloff spreads to Europe and Asia, politics lifts euro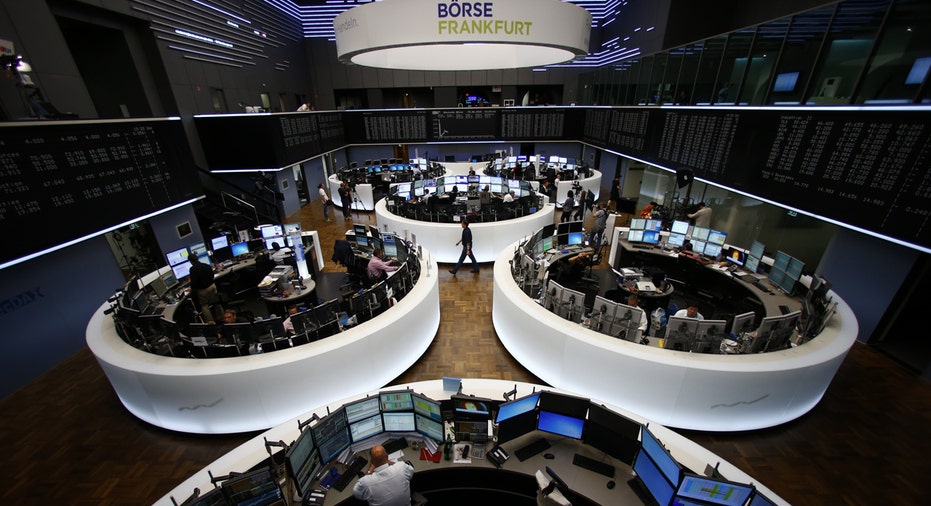 Technology stocks fell across Europe and Asia on Monday after the worst day for Apple shares in more than a year, while the euro and its bonds rallied after a bumper weekend for pro-EU and pro-business politics in France and Italy.
It was a groggy start to the week for shares as the hangover of Apple's near 4-percent dunking on Friday hit Asian rivals including Samsung and Europe's big chipmakers STMicro and Dialog.
Europe's tech index fell 2.8 percent to put it on track for its biggest one-day loss since October. The index had reached a 15-year high earlier this month and has soared around 40 percent over the last year.
The pan-European STOXX 600 was down a more manageable 0.6 percent, mildly supported by modest gains in oil prices which lifted shares in energy stocks and by the first round of parliamentary election results in France which look set to give President Emmanuel Macron a huge majority to push through his pro-business reforms.
Italy also offered some comfort after the eurosceptic 5-Star Movement suffered a severe setback in local elections after failing to make the run-off vote in almost all the main cities up for grabs.
It spurred on debt markets. Italian government bond yields, which move inverse to price, fell to their lowest since January, Portugal's tumbled to nine-month lows while France's bonds closed the gap on benchmark German Bunds.
"Macron doing well in the first round of the French parliamentary elections bodes well for him getting a majority," said Lyn Graham-Taylor, fixed income strategist at Rabobank.
"The fact that 5-Star did poorly in local elections in Italy also suggests a setback for populism in Europe."
The euro rose back to $1.1220 in the currency markets where anticipation is also building ahead of Wednesday's conclusion of a two-day meeting of the U.S. Federal Reserve.
The central bank is widely expected to nudge up U.S. interest rates by another quarter point, but economists will be watching to see whether the recent dip in economic data and wave of uncertainty surround Donald Truump has weighed on confidence.
Britain's sterling also remained in focus as it began to backslide again. It was hovering at $1.2730 and 88.08 pence per euro as Prime Minister Theresa May attempted to prop up her position after her party's last week's damaging election.
"The political risks are mounting," said Kathleen Brooks, head of research with City Index in London.
FEDS UP
The dollar was a shade lower at 110.040 yen. The Bank of Japan also meets this week and it too will be closely following the yen's 4 percent gain since mid-May.
The dollar index against a basket of currencies nudged down to 97.118, easing back from a nine-day high hit at the end of last week after U.S. President Trump navigated the testimony of ex-FBI chief James Comey.
On Tuesday, Attorney General Jeff Sessions will face questions at a Senate hearing about Comey's firing and about undeclared meetings with Russian officials, though it is unclear whether he will testify in public or in private.
In commodities, crude oil prices extended gains after rising on Friday when a pipeline leak in major producer Nigeria overshadowed supply worries weighing on the market.
U.S. crude and Brent were both 0.6 percent higher at $46.10 and $48.45 a barrel, respectively, while copper rose for a fourth straight session and gold snapped a three-day losing streak to climb to 1,269 an ounce.
(Additional reporting by Dhara Ranasinghe and Patrick Graham in London; Editing by Andrew Heavens)