Tech, Materials Shares Buoy Wall Street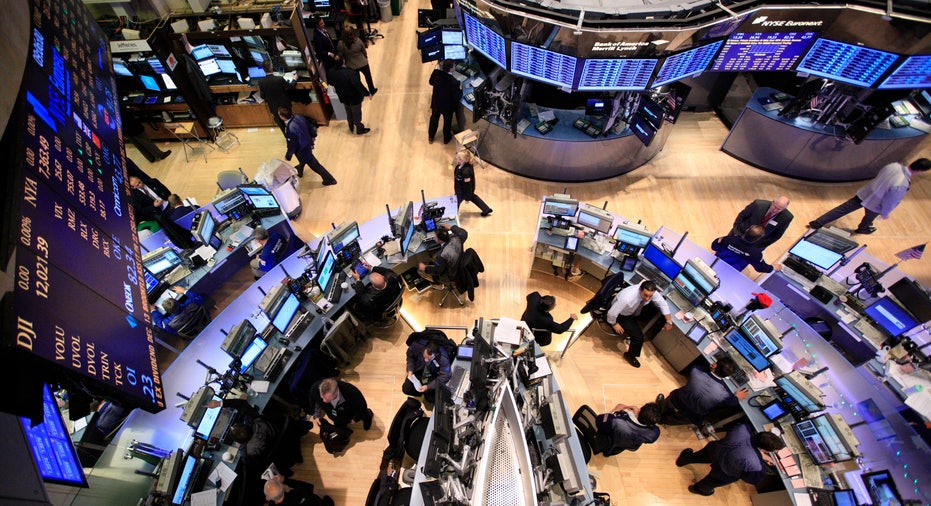 FOX Business: The Power to Prosper
The markets posted mild gains on Thursday as rallying technology and materials shares helped to offset steep losses taken in the telecommunications sector.
Today's Markets
The Dow Jones Industrial Average climbed 34.66 points, or 0.27%, to 12943.36, the S&P 500 gained 3.73 points, or 0.27%, to 1376.51 and the Nasdaq Composite rose 23.30 points, or 0.79%, to 2965.90.
With earnings season in full swing, there is no lack of corporate news for traders to digest. IBM (NYSE:IBM) unveiled second-quarter profits that topped Wall Street's expectations after the closing bell on Wednesday. The Armonk, New York-based company also pushed its full-year guidance up beyond the analysts' expectations.
IBM was the best performer of the blue chips by a wide margin, contributing more than 50 points to the Dow's overall performance on the day. On the other end of the spectrum, telecommunications giants AT&T (NYSE:T) and Verizon Communications (NYSE:VZ) struggled. American Express (NYSE:AXP) and Bank of America (NYSE:BAC), both big-name financials, fell sharply as well.
Despite IBM's strong showing, other earnings released on the day were mixed.
Morgan Stanley (NYSE:MS) revealed a second-quarter operating income of 28 cents a share on revenues of $7 billion, including a debt valuation adjustment. Excluding DVA, the investment bank earned 16 cents on $6.6 billion. Analysts were looking for an EPS of 43 cents on $7.7 billion in sales.
Travelers (NYSE:TRV) revealed adjusted second-quarter profits of $1.26 a share, well short of the $1.35 analysts expected. The blue-chip insurer's revenues came in at $6.36 billion, better than the billion expected.
Verizon Communications (NYSE:VZ) unveiled a second-quarter EPS of 64 cents on sales of $28.6 billion, nearly exactly matching Wall Street's expectations.
Traders also got several important economic reports. New claims for unemployment benefits rose to 386,000 from an upwardly revised 352,000 the week prior, according to the Labor Department. Claims were expected to rise to 365,000 from a previously reported 350,000. A Labor Department spokesperson said claims are more volatile than usual due to differences in the timing of auto layoffs that normally occur this time of year, according to Reuters.
The Philadelphia Federal Reserve's gauge of manufacturing activity in the mid-Atlantic region inched up to -12.9 from -16.6 in June. The index was expected to check in at -8. Readings above zero point to expansion, while those below zero indicate contraction.
U.S. existing home sales fell 5.4% in June from May to a 4.37 million unit annualized rate, the slowest pace in 8 months, according to the National Association of Realtors. The results missed estimates of a 4.63 million unit annualized rate.
Wall Street was also confronted with worrisome news out of embattled Spain. The country saw tepid demand, and was faced to pay dramatically higher yields, at an auction of two-year, five-year and seven-year bonds, according to data from the Wall Street Journal. There have been fears brewing that it would get locked out of the private debt market, potentially necessitating a bailout for Europe's No. 4 economy.
The German parliament did, however, approve Spain's $122 billion bank bailout deal, according to multiple media reports. The results were expected, but the measure still represented a significant milestone.
Oil prices climbed for the seventh day in a row. The benchmark contract traded in New York jumped $2.79, or 3.1%, to $92.66 a barrel. Wholesale New York Harbor gasoline rose 1.9% to $2.939 a gallon.
In metals, gold rose $9.60, or 0.61%, to $1,580 a troy ounce.
Foreign Markets
The Euro Stoxx 50 climbed 0.78% to 2302, the English FTSE 100 gained 0.5% to 5714 and the German DAX jumped 1.1% to 6758.
In Asia, the Japanese Nikkei 225 rose 0.79% to 8796 and the Chinese Hang Seng rallied 1.7% to 19559.