Tech ETFs Setting Up Nicely For Year-End Rally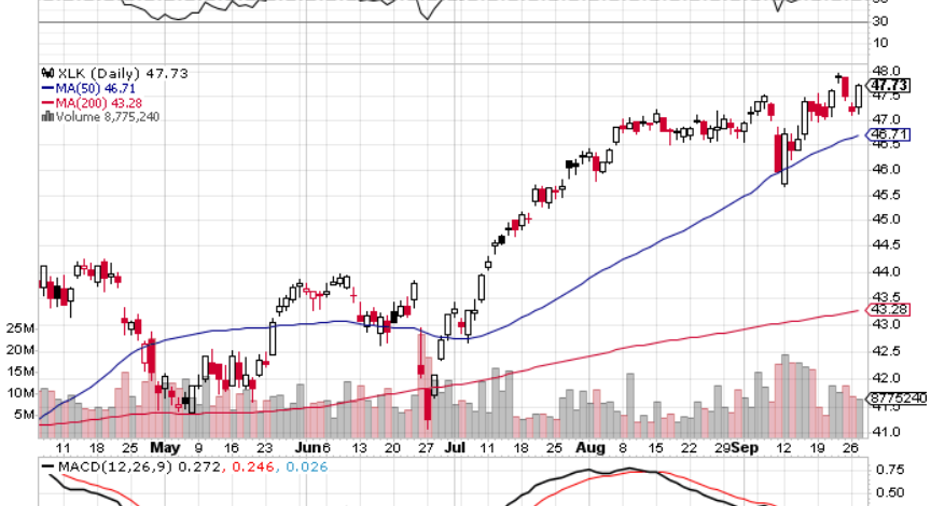 The technology sector, the largest sector weight in the S&P 500, has been a solid performer for much of that year. Heading into the fourth quarter, it looks like tech stocks and exchange traded funds such as the Vanguard Information Technology ETF (NYSEArca: VGT) and the Technology Select Sector SPDR (NYSEArca: XLK) can keep delivering for investors.
Semiconductor stocks and ETFs have recently been durable performers as semiconductor stocks are rebounding to steady the broader technology sector, but that does not mean the gains are over for this suddenly hot group.
SEE MORE: 46 Tech ETFs to Tap Into Big Growth Names
The technology sector's recent bull run is lifting Nasdaq-related exchange traded funds to new highs and some traders believe that trend can continue such as the broad market ETFs like the PowerShares QQQ (NasdaqGM: QQQ), which tracks the tech heavy Nasdaq-100 Index, have recently been in rally mode and some market observers do not see the party ending in the near-term.
QQQ, one of the largest U.S. ETFs, has equal-weight equivalents equal-weight equivalents such as the Direxion NASDAQ-100 Equal Weighted Index Shares (NYSEArca: QQQE) and the First Trust NASDAQ-100 Equal Weighted Index Fund (NasdaqGS: QQEW).
"Historically, the stock market trades defensively prior to the election if the race is thought to be tight. Optimism best describes expectations for third-quarter profits, which is far different than the pessimism that was apparent prior to the release of second-quarter results. The strongest sectors in the market include technology and the industrials. These areas have remained resilient during a period of rapidly shifting leadership," according to See It Market.
Rising payouts are another reason to consider tech ETFs. Traditionally, tech companies have not considered paying back their investors. Instead, many firms opted to reinvest cash back into the company or buy back stocks. However, times are changing, and the technology sector of the S&P 500 is now among the top dividend issuers. Technology companies began to compensate shareholders during the financial crisis, and the habit stuck.
SEE MORE: Tech ETFs with Exposure to Hardware, Internet Segments
Looking ahead, growing optimism for the upcoming earnings season is also fueling the rally in tech as many market observers anticipate a turnaround in corporate profits. Historically, after a profit falloff, the technology sector has been among the best areas in a rebound.
For more news and strategy on the Technology market, visit our Technology category.
Technology Select Sector SPDR
The opinions and forecasts expressed herein are solely those of Tom Lydon, and may not actually come to pass. Information on this site should not be used or construed as an offer to sell, a solicitation of an offer to buy, or a recommendation for any product.
This article was provided by our partners at ETFTrends.