Tech Companies Are Forcing Utilities Into Renewable Energy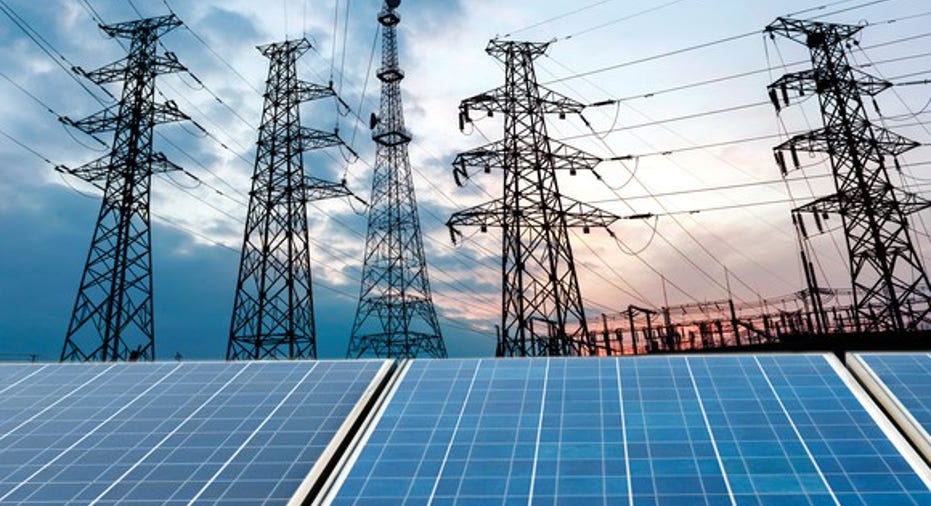 Image source: Getty Images.
No one is doing more to force utilities to build renewable energy more than corporate customers across the U.S. If a homeowner or a few thousand in a utility's territory decide to install rooftop solar systems and reduce demand from the grid, it'll hurt a little, but business will go on as usual.
But if big corporate customers demand renewable energy and threaten to take their business elsewhere if they don't get it, the impact can be huge. In Nevada, MGM Resorts recently said it would leave the grid, despite an exit fee of $87 million, and take 4.9% of NV Energy's demand with it. I imagine that got the attention of executives all the way up to utility owner Warren Buffett in Omaha.
MGM isn't the only company looking for alternatives to the grid, whether it's for the public relations boost from "going green" or the cost savings that may come with on-site generation. Corporate customers are looking at energy more closely than ever before and utilities have to find ways to accommodate those needs. And tech may be leading the charge more than you think.
Amazon.com's renewable energy push
Tech companies like Microsoft , Google , and Apple have long been worried about their environmental footprint, but until recently, they've had few options to go green. They often bought renewable energy credits, which are a little like planting a tree for every gallon of gas you consume and patting yourself on the back.
Image source: Getty Images.
The next step was to own renewable energy projects or buy energy from third-party builders. Apple owns solar assets in the U.S. and China that directly, or indirectly, powerdata centers and even its new headquarters. Microsoft and Google have also signed multiple power purchase agreements with wind and solar projects to provide energy. They're all moving from an arm's length transaction, where renewable energy could be hundreds of miles away from the point of consumption, to attempting to get closer to producing the actual electrons produced by renewable energy. But they've primarily done the legwork on their own.
Amazon.com's AWS recently used its muscle in Virginia to force Dominion to buy the state's largest solar farm, an 80 MW project. It also set up a unique rate structure that allows Amazon to benefit from the fixed contracted price from renewable energy and makes sure the utility can bid energy into the PJM, or wholesale, market. If it goes well, this could be a model for more data centers in the Virginia area.
One problem, two winners
As corporations, particularly in technology, push to consumer more renewable energy close to their demand sources, they can either build projects themselves or work with utilities to build them. If you're a cash-rich company like Apple, Microsoft, or Google, it may make sense to build on-site generation or own a power plant nearby, if regulatory rules allow it.
But Amazon and many other corporations don't have tens of billions of dollars on the balance sheet that could be put into renewable energy projects. If they want to go green, they need to do so through utilities. Finding innovative rate structures that meet corporate goals along with utility needs for consistent returns could be a win-win for both sides, too.
Utilities are waking up to the fact that corporate customers have environmental goals and are going to get renewable energy from wherever they can, whether utilities help or not. So, playing ball with big customers is in their best interest, leading to a surge in renewable energy growth in the U.S. If utilities don't start finding ways to adapt to the new market realities, we could see more grid defections like MGM -- and no utility wants to see that happen.
The article Tech Companies Are Forcing Utilities Into Renewable Energy originally appeared on Fool.com.
Suzanne Frey, an executive at Alphabet, is a member of The Motley Fool's board of directors. Travis Hoium owns shares of Apple. The Motley Fool owns shares of and recommends Alphabet (C shares), Amazon.com, and Apple. The Motley Fool owns shares of Microsoft and has the following options: long January 2018 $90 calls on Apple and short January 2018 $95 calls on Apple. The Motley Fool recommends Dominion Resources. Try any of our Foolish newsletter services free for 30 days. We Fools may not all hold the same opinions, but we all believe that considering a diverse range of insights makes us better investors. The Motley Fool has a disclosure policy.
Copyright 1995 - 2016 The Motley Fool, LLC. All rights reserved. The Motley Fool has a disclosure policy.