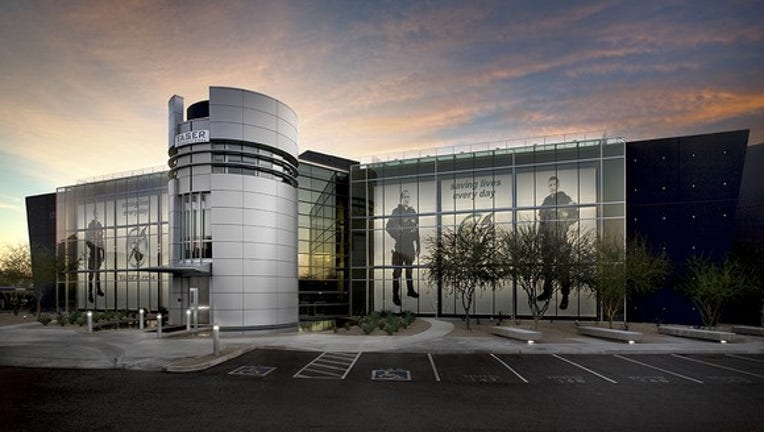 2016 ended on a high note for TASER International (NASDAQ: TASR), the manufacturer of tasers and body cameras. The company reported earnings after the market closed on Tuesday, highlighting record quarterly sales and a sizable increase in earnings, all while investing in future products.
This puts a cap on a great year for TASER International, one that made the company into a well-known name in law enforcement. And with new capabilities coming down the pipeline there's hope the company has a great year ahead as well. Here's a look at what we know about the last quarter.
TASER International headquarters. Image source: TASER International.
TASER International results: The raw numbers
Data source: TASER International.
What happened with TASER International this quarter?
The top line numbers show the broad growth story at TASER International. But diving deeper, you can see how weapons and body cameras are each separately performing well.
Weapon segment sales rose 25% to $58.3 million, which is still 71% of the business overall. Gross margin for the business was 69%, which was only one point lower than a year ago.
Axon segment revenue was up 154% to $23.7 million and gross margin was 39%, down from 49% a year earlier. The gross margin decline was largely due to a ten-fold (yes, 10x) increase in Axon Body camera sales, which are lower margin than Axon services, mainly Evidence.com subscriptions.
Future contracted revenue, which consists mainly of Evidence.com subscriptions, rose $48.8 million to $350.8 million.
Incidentally, TASER International did not report Axon service gross margins, which were 81% last quarter. This could be because it doesn't want to give away how incredibly profitable these subscription products are to customers.
What management had to say
Management pointed to the record fourth quarter revenues and record bookings as a sign of the company's momentum. And with 35 of the top 68 city law enforcement agencies using Axon body cameras, there's been a lot of success.
What CEO Rick Smith pointed to in the future was an expansion of the company's ecosystem, including things like AI capabilities and sensors like the Signal Sidearm, which turns on a body camera when a gun is drawn. These will help sell more cameras, and could become high margin offerings like the Evidence.com cloud service has become.
Looking forward
Management doesn't give guidance, but if we look at future contracted revenue figures we can project a good year ahead for TASER International. At the end of 2016 the company had $350.8 million in contracted revenue, up from $159.0 million just a year ago.
As more law enforcement agencies see the value of less lethal weapons and body cameras, the opportunity grows for TASER International. And the growth trend looks to just be getting started.
10 stocks we like better than Taser InternationalWhen investing geniuses David and Tom Gardner have a stock tip, it can pay to listen. After all, the newsletter they have run for over a decade, Motley Fool Stock Advisor, has tripled the market.*
David and Tom just revealed what they believe are the 10 best stocks for investors to buy right now... and Taser International wasn't one of them! That's right -- they think these 10 stocks are even better buys.
Click here to learn about these picks!
*Stock Advisor returns as of February 6, 2017
Travis Hoium owns shares of Taser International. The Motley Fool recommends Taser International. The Motley Fool has a disclosure policy.