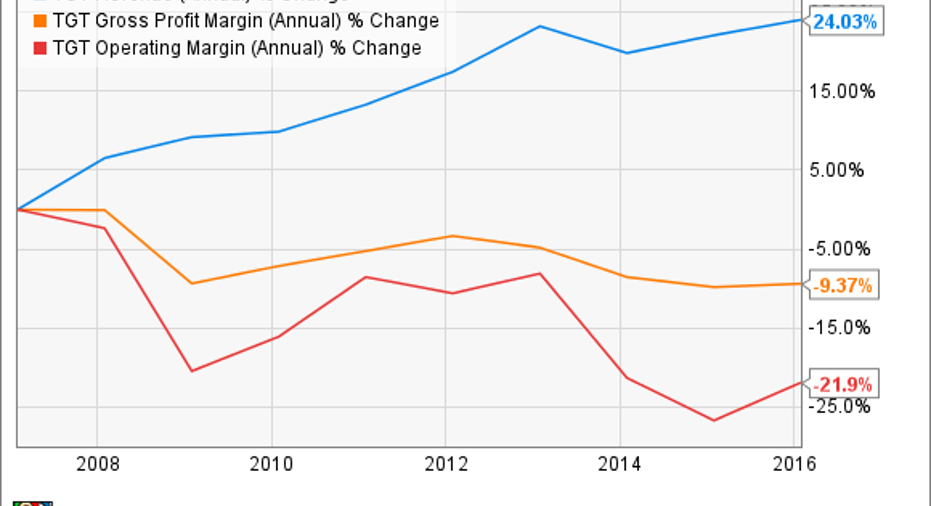 Image source: The Motley Fool.
Several major trends are negatively affecting Target's business. The following charts help to explain the risks for investors.
1. The relentless growth of e-commerce
Nothing has had a larger impact on Target's business in recent years than the staggering rise of e-commerce here in the United States.
US E-Commerce Sales as Percent of Retail Sales data by YCharts
From less than 1% of total retail sales in the early 2000s to nearly 8% today, online sales have grown exponentially over the past decade. And with the world becoming more connected every day, that's a trend that's likely to continue in the decade ahead.
2. The Amazon threat
Target has enjoyed some growth in its e-commerce operations, but its digital business accounts for only 3.5% of its total sales. The size and scale of Amazon.com's online retail business simply dwarfs that of Target, with the two rivals' growth trajectories diverging by an enormous degree over the past decade.
Amazon's incredible ascent is a major threat to Target's business. The e-commerce juggernaut's unmatched selection of goods, low prices, and convenient shipping options combine to form a value proposition that Target has found difficult to match. And with Amazon likely to continue to outpace Target's growth in the years ahead, the online titan's scale advantages should continue to strengthen over time.
3. Falling margins
Amazon isn't the only threat to Target's business. Consumers' ability to use the Internet as a whole to comparison shop for the best deals further limits Target's pricing power, the effects of which can be seen in the decline in the retailer's gross margins over the past decade.
TGT Revenue (Annual) data by YCharts
Operating margins have also fallen significantly, even as revenue has risen. For a business with relatively high fixed costs, we would expect positive operating leverage as revenue grows. The fact that Target's operating margin is down more than 20% during a time when sales rose by more than 20% is a worrisome sign.
Moreover, rising labor costs will likely continue to weigh on Target's operating profits. The company recently raised its minimum wage to $10 per hour to match an earlier wage hike by Wal-Mart Stores and remain competitive with other retail rivals.
That highlights one of Target's -- and all-brick-and-mortar retailers' -- major weakness: due to its massive store expenses, Target is at at a structural cost disadvantage to online retailers like Amazon. So Target can choose to match Amazon's prices and suffer lower margins, or raise prices and lose sales. Either way, Target loses.
4. Core business lines at risk
One factor that's worked in Target's favor is that some of its major product lines have been largely immune to the e-commerce threat. Yet that may be about to change, with Amazon beginning to make a larger push into the world of fashion. That puts Target's apparel business -- which comprised nearly 20% of its sales in 2015 -- squarely in Amazon's crosshairs.
Image source: Target.
Amazon is rapidly taking share in the apparel market. In fact, research firm Cowen & Co. expects Amazon to surpass Macy's as the No. 1 U.S. clothing retailer by 2017.
Amazon's ascent has been staggering; just five years ago, the Internet retailer's apparel sales were 1/5 the size of Macy's. Since that time, Amazon has moved aggressively to court fashion brands and expand its clothing offerings. Cowen estimates that Amazon now offers a much larger selection of apparel, with Amazon selling 343,000 different branded apparel items, compared to 292,000 for Wal-Mart, 85,000 at Macy's, and 35,000 for Target.
Cowen also noted that the loyalty inspired by Amazon's Prime membership service and the convenience of its fast shipping options are further helping to send more shoppers to Amazon. The research firm found that 11% of Target's and Wal-Mart's apparel customers also shopped for clothing at Amazon during the first six months of 2015, a three percentage point increase from the prior year.
I expect those figures are even higher today. In its first-quarter earnings release, Target said it expects its comparable store sales to be down as much as 2% in the second quarter. The company chalked it up to "the recent slowdown in consumer trends," but I can't help thinking Amazon's new apparel assault is also having an impact here.
5. No mercy in mobile
And it's not just desktop shopping where Amazon dominates; the online behemoth is also rapidly establishing a formidable presence in mobile commerce.
A June 2015 survey by Mizuho Securities showed that when it comes to shopping on a smartphone, nearly half (45%) of smartphone users start with Amazon. That compared with 16% for Google, 6% for eBay, and only 2% and 1% for Wal-Mart and Target, respectively.
Image source: Mizuho Securities.
As these results demonstrate, Amazon is often the first -- and probably last -- place people shop on mobile devices. In a world that's growing increasingly mobile everyday, that's a dangerous trend for Target and other brick-and-mortar retailers.
Investor takeaway
These charts paint a bleak picture for Target's future. Major consumer shopping trends are moving against the retail giant in favor of Amazon and other online competitors. Those who are considering an investment in Target should be aware of these risks, and investors may be best served by staying clear of the struggling retailer's stock altogether.
The article Target Stock in 5 Charts originally appeared on Fool.com.
Joe Tenebruso has no position in any stocks mentioned. The Motley Fool owns shares of and recommends Amazon.com and eBay. Try any of our Foolish newsletter services free for 30 days. We Fools may not all hold the same opinions, but we all believe that considering a diverse range of insights makes us better investors. The Motley Fool has a disclosure policy.
Copyright 1995 - 2016 The Motley Fool, LLC. All rights reserved. The Motley Fool has a disclosure policy.