Target Sales Slide but Shares Fly High Anyway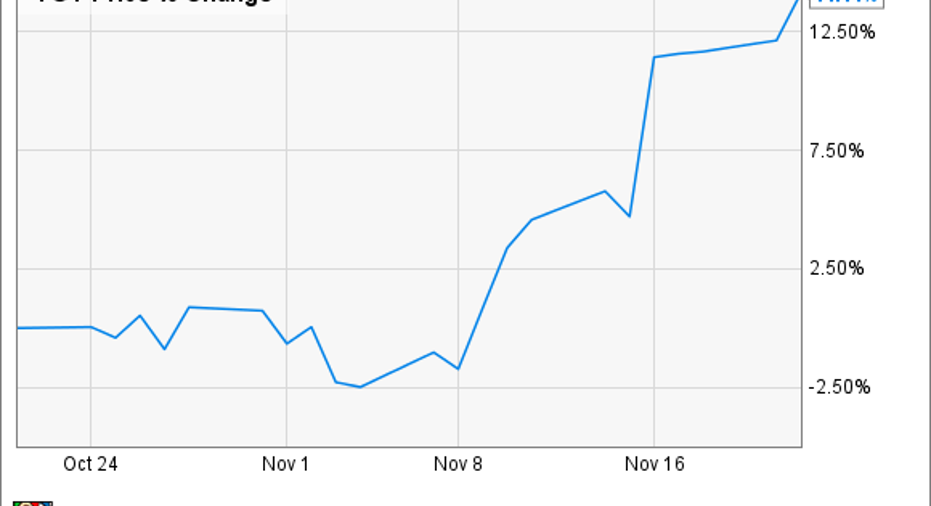 Image source: Target.
Target (NYSE: TGT) is struggling to reignite business growth, as demonstrated during its recentthird-quarter report. Yet, in spite of the lackluster results, investors have sent shares sharply higher. Target has become a classic example of market over-pessimism -- the quarter was not as bad as feared.
What happened during the quarter?
The big-box retailer's sales fell 6.7% to $16.4 billion during the third quarter compared to last year's results. Year-to-date, sales are down 6.4% compared with the first nine months of 2015. Comparable-store sales, which measures a combination of foot traffic and average customer ticket size, fell 0.2% from the same time last year.
The dismal-looking sales numbers also had tough comparisons as Target still had its pharmacy business last year, which has since been sold to CVS.And the 0.2% year-over-year decline in comparable sales was near the high end of guidance, which as flat to down as much as 2%.
Another fall in comparable-store sales still isn't off the table for the current fourth quarter. However, investors cheered management's new outlook for comps to be only 1% down to 1% up from the fourth quarter last year. Helping the comp figure is Target's growing digital store, which grew 26% during the quarter. The company's e-commerce business has been growing north of 20% for the last few years straight.
Capping off the report was the bottom-line figure. Even though revenue was down, profit was up 21% year over year from a combination of share buybacks, falling cost of sales, and tighter general and administrative expenses. CEO Brian Cornell said the company had the goal of reducing expenses and cost of merchandise by $2 billion dollars over a two-year period. The management team has actually exceeded that goal and has identified additional cost savings to work on in the years ahead.
Image source: Target.
A focus on cheap style
As mentioned earlier, Target sold off its pharmacy business to refocus on more profitable segments and other areas of growth like its new flexible-format stores. The new locations allow Target to reach new neighborhoods in dense urban and suburban markets, a departure from the traditional big-box format. Another five were opened in the third quarter, including one in the Tribeca neighborhood of New York City.
Target now operates nearly 30 flexible-format stores. Because of the ability to customize the merchandise offerings and operations of the to the individual neighborhoods in which they are located, Cornell said he sees the possibility of profitably operating hundreds of urban and flex-format stores over time.
Higher-profit signature categories, which include apparel and home, are helping offset declines in other segments like groceries. The digital channel has been key, especially for home furnishings and decor, which has become the top-selling segment online for Target. The company also saw better-than-expected interest during back-to-school season in apparel sales for kids both online and in store.
Target's foot traffic issue has yet to make a full turnaround, but signs are beginning to show that one might be right around the corner. The company's focus on stylish offerings at a value price are helping, and management sees the picture continuing to improve through the end of the year. With business suddenly not looking as terrible as once thought a few weeks ago, shares have rallied even though the merchandiser has yet to demonstrate real sales growth.
10 stocks we like better than Target When investing geniuses David and Tom Gardner have a stock tip, it can pay to listen. After all, the newsletter they have run for over a decade, Motley Fool Stock Advisor, has tripled the market.*
David and Tom just revealed what they believe are the 10 best stocks for investors to buy right now... and Target wasn't one of them! That's right -- they think these 10 stocks are even better buys.
Click here to learn about these picks!
*Stock Advisor returns as of November 7, 2016
Nicholas Rossolillo owns shares of Target. The Motley Fool recommends CVS Health. Try any of our Foolish newsletter services free for 30 days. We Fools may not all hold the same opinions, but we all believe that considering a diverse range of insights makes us better investors. The Motley Fool has a disclosure policy.