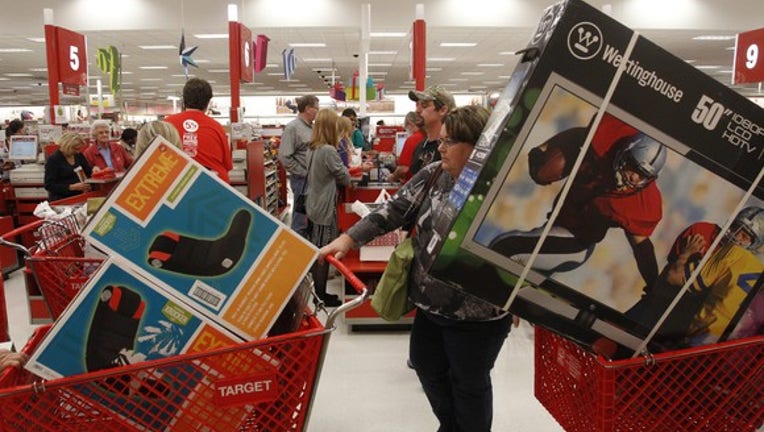 Store credit cards operate as a sort of loyalty program that keeps customers shopping at a particular chain.
Some people have more than one, but many focus on maximizing their rewards at a favorite retailer. Sometimes they pick the card based on which store they like most, but other customers make the call based on which retailer offers the best rewards. Of course, "best" can be a subjective term, because, for example, cash back on gas purchases matters little to someone who doesn't drive, while the ability to earn airline miles may not matter much to someone who rarely flies.
Now with Costco in the midst of a complicated credit-card shift, dropping American Express in favor ofVisa , the wholesale club has given its customers a reason to consider their options. Under Costco's change, the company began sending new branded Visa cards to customers in April, and as of June 20, not only will some people not like the switch, but others will also be angry that the chain no longer accepts American Express in any fashion.
It's possible that the changeover makes some Costco customers -- at least ones on the fence about sticking with the warehouse club -- consider what rival Target has to offer. Both cards come with significant perks. Here's a look a at what each one has to offer.
Target's REDcard could be a big money saver if you buy big-ticket items and then pay off your balance. Image source: Target.
Why you might choose Costco Anywhere
Costco isn't merely switching from American Express to Visa. It's also providing improved perks to members who elect to sign up for the house credit card. Those increased cardholder benefits come probably because Visa and AmEx both fought for the account, with the winner having to up the offer of the losing incumbent.
In this case, the new Costco Anywhere Visa doesn't come with an annual fee, but it does, of course, require that holders pay Costco's $55 annual membership fee. The new card increases cash back on gas purchases from 3% to 4% for the first $7,000 spent in a year, up from a $4,000 limit. It also increased givebacks from 2% to 3% onrestaurants and eligible travel, while returning 2% cash back on all Costco purchases, and offers the same 1% American Express did on everything else.
Costco Anywhere also offers global car rental and travel accident insurance. It also comes with damage and theft protection that "may cover you for repairs or refunds for items you purchased with your Costco Anywhere Card that are damaged or stolen within 120 days of purchase (90 days for New York residents), according to a card issuerCitigroup.
The case for Target RED
Target has a fairly simple proposition with its REDcard. Holders of the card get 5% off anything they buy on Target or at Target.com. There are some exceptions, but in many cases the 5% can be in addition to any savings from the retailer's Cartwheel digital coupons, Target Subscriptions, and traditional paper coupons.
REDcard holders also get free shipping from Target.com and an extra 30 days for returns. They also have the advantage that the 5% savings comes off at the register, so they don't need to do anything to claim it. The Target credit card does come with a 23.5% annual percentage rate for purchases, a number that "will vary with the market based on the prime rate," according to a Target Web page.
Which card is better for consumers?
It's worth noting that Citi hasn't made the APR public for its new card, instead directing existing members to "refer to the information you received, or will soon receive, in the mail for your account information, terms, and details," on its website. That's a bit of a red flag, but it's fair to say that with either retailer -- and really with any credit cards -- that any perks or benefits aren't worth it if you don't pay off your balance each month.
For dedicated Target shoppers -- people who buy groceries, clothes, household items, and who knows what else from the chain -- REDcard is clearly a better deal. The 5% off on pretty much anything is an impressive perk that makes sense if you spend significant money at the chain.
The Costco Anywhere card should appeal to consumers who frequent the warehouse club and will also take advantage of the other cash-back offers. The gas perk in particular could be very lucrative, and 2% off at Costco might pile up fast, given the bulk purchases made at the chain.
Responsible credit users who shop at both stores and have the discipline to pay their balances off each month may want to consider getting both cards.
The article Target REDcard vs. Costco Anywhere: Which Is Better for Consumers? originally appeared on Fool.com.
Daniel Kline has no position in any stocks mentioned. He doesn't trust himself with store credit cards. The Motley Fool owns shares of and recommends Costco Wholesale and Visa. The Motley Fool recommends American Express. Try any of our Foolish newsletter services free for 30 days. We Fools may not all hold the same opinions, but we all believe that considering a diverse range of insights makes us better investors. The Motley Fool has a disclosure policy.
Copyright 1995 - 2016 The Motley Fool, LLC. All rights reserved. The Motley Fool has a disclosure policy.