Target Is Coming to Manhattan's Herald Square: What It Means for Macy's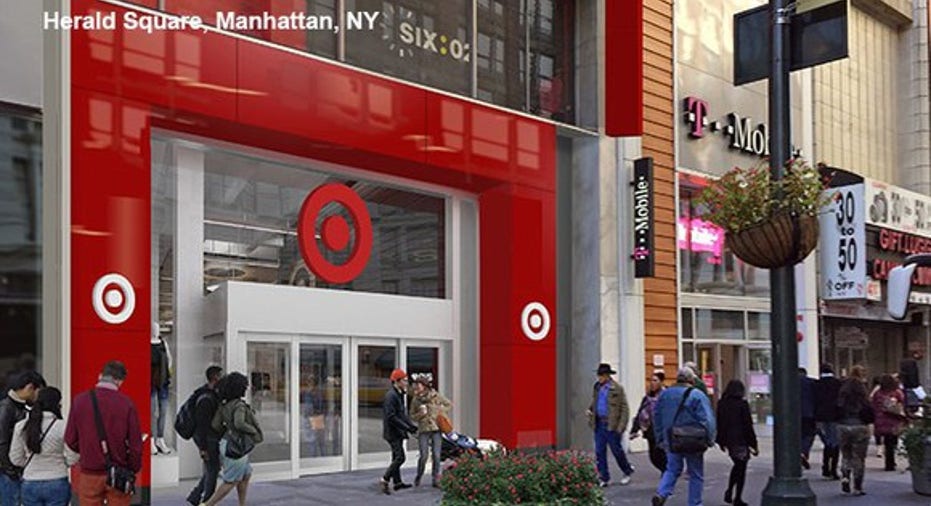 Cheap-chic discounter Target (NYSE: TGT) recently announced that it will open a new small-format store this fall near Manhattan's Herald Square. The prime location on 34th Street means that this new Target will be directly across the street from the massive Macy's (NYSE: M) flagship store.
At first, it might seem that the arrival of a new competitor across the street from its most important store would be bad news for Macy's. However, it could actually be good for the company by boosting the real estate value of Macy's Manhattan flagship store.
The Macy's flagship store in Manhattan is getting a new neighbor. Image source: Macy's.
Target: Coming soon
The new Target store at 112 W. 34th St. will become the company's second small-format location in Manhattan when it opens in October. It will have 43,000 square feet of space on two floors, with entrances on both 34th St. (opposite Macy's) and 33rd St. (opposite the Manhattan Mall).
Despite being much smaller than a typical Target store, the new Herald Square location will have a fairly wide assortment of items. Highlights include men's, women's, kid's, and baby apparel; a grab-and-go grocery section; a pharmacy department; health and beauty products; and a limited collection of home goods.
Target will certainly be competing with Macy's in certain product categories. However, the new store won't be big enough to make a dent in sales at Macy's flagship location, which has over 1 million square feet of selling space and generated annual sales of about $1 billion as of 2014. (That figure is probably somewhat lower now due to a slump in spending by foreign tourists.)
Macy's real estate just became even more valuable
Macy's is in the midst of studying ways to cash in on the real estate value of its Manhattan flagship store. Last year, hedge fund Starboard Value pegged the 2.2 million-square-foot property's valuation at nearly $4 billion. (Indeed, an 80,000-square-foot building down the street from the new Target location sold for $255 million in 2014.)
Target's arrival on 34th St. could push retail rents there even higher. Image source: Target.
Thus, even if the new Target steals some business from Macy's, it could more than make up for that inconvenience by raising the value of Herald Square real estate. The arrival of a Target store in the neighborhood will make the retail environment there even more vibrant.
One way of extracting value from the flagship store would be to lease out ground floor space along 34th St. to other retailers. Macy's is already planning to do something like this at its San Francisco flagship store.
Ground floor asking rents hit $1,000/square foot for the new Target site. (Of course, that's just a starting point in negotiations.) If Macy's can carve out 15,000-20,000 square feet of ground floor space on 34th St., it could potentially bring in more than $10 million of annual rental income.
Macy's may also consider converting underutilized space on the upper floors of the building to condos. It is even investigating the possibility of adding a new tower or two to the building, although getting the necessary zoning approvals could be challenging. In any case, having more shopping options in the neighborhood will make Herald Square more desirable as a residential area, raising the flagship store's redevelopment value.
Patience will pay off
Shares of Target and Macy's have both plummeted over the past year as retailers face a tough climate for driving traffic to their stores. For Target, opening smaller stores in high-traffic locations that focus on the "best of Target" could provide a much-needed boost to sales growth.
For Macy's, a retail revival will be harder to pull off. However, the company's vast real estate portfolio represents a huge asset. While some pundits think that Macy's should be moving faster to sell its real estate, monetizing the massive flagship stores in New York and Chicago will take time, due to the complexity of redeveloping portions of those buildings.
Macy's real estate alone is probably worth more than the company's current enterprise value of roughly $14.3 billion. As the company continues the process of extracting value from that real estate while trimming the fat from its retail operations, Macy's stock could pay off in a big way for patient investors.
10 stocks we like better than TargetWhen investing geniuses David and Tom Gardner have a stock tip, it can pay to listen. After all, the newsletter they have run for over a decade, Motley Fool Stock Advisor, has tripled the market.*
David and Tom just revealed what they believe are the 10 best stocks for investors to buy right now... and Target wasn't one of them! That's right -- they think these 10 stocks are even better buys.
Click here to learn about these picks!
*Stock Advisor returns as of February 6, 2017
Adam Levine-Weinberg owns shares of Macy's. The Motley Fool has no position in any of the stocks mentioned. The Motley Fool has a disclosure policy.