Tanaka, Yankees top Keuchel, Astros 5-0 for 3-2 lead in ALCS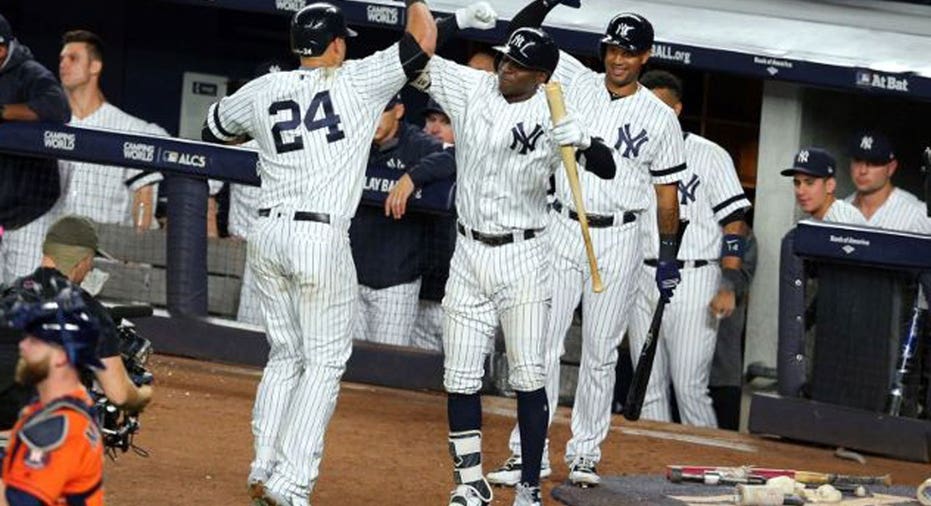 This time, it was Masahiro Tanaka who was untouchable on the mound.
 And when the New York Yankees sent Houston ace Dallas Keuchel to an early exit, their rollicking crowd let loose with a cathartic roar that must have boomed all over the Bronx.
 One more big win, and these Yankees are World Series-bound.
 Tanaka pitched seven innings of three-hit ball and New York finally solved a longtime nemesis at just the right moment, beating Keuchel and the Astros 5-0 on Wednesday for a 3-2 lead in the AL Championship Series.
 "It's a special feeling," manager Joe Girardi said.
 Gary Sanchez hit an RBI single off Keuchel and later homered to help the wild-card Yankees win for the third straight day at home, moving within one victory of their first pennant since 2009 and record 41st overall.
 The teams head back to Houston for Game 6 on Friday night, when Justin Verlander and the reeling Astros will try to regain their footing following an off day and force a decisive Game 7. Luis Severino is scheduled to start for New York.
 Just days ago, Houston was up two games to none and appeared to be closing in on its second World Series appearance. But the Astros, like defending AL champion Cleveland before them, have been unable to put away these poised Yankees, who improved to 6-0 at home in this postseason in front of their cheering, chanting fans.
 "It's been unbelievable. I haven't seen anything like it in Major League Baseball," New York veteran Chase Headley said. "Reminds me of college football games. They're going crazy the entire game. It's a huge advantage for us."
 Aaron Judge, Greg Bird and Didi Gregorius also delivered big hits as New York chased Keuchel in the fifth and handed him his first postseason loss. Keuchel had been Yankees kryptonite, entering 6-2 with a 1.09 ERA in eight career starts against New York -- including a pair of scoreless outings in playoff wins.
 Both of those came at the expense of Tanaka, who lost 3-0 to Keuchel in the 2015 AL wild-card game at Yankee Stadium and 2-1 in Game 1 of this series. The ace lefty and 2015 Cy Young Award winner with the long, bushy beard entered 4-0 with a 1.69 ERA and 31 strikeouts in 26 2/3 postseason innings overall.
 But this night belonged to Tanaka and the Baby Bombers.
 New York finally broke through against Keuchel with two outs in the second, when Starlin Castro doubled to deep left-center and scored on Greg Bird's sharp single. The sellout crowd of 49,647 almost sounded surprised by the hit -- big enough for Bird to flash both thumbs down, doubling up on the Yankees' playful sign to each other for clutch swings.
 "The most frustrating part is the fact that I didn't pick the guys up and they were looking towards me to kind of saddle up and get this thing back going again," Keuchel said. "That's a talented group over there and 1 through 9 right now the bats have woken up and it's quite a challenge."
 In the third, Judge grounded an RBI double just inside the third base line and past a diving Alex Bregman. Brett Gardner sped all the way around from first and scored with a headfirst slide.
 Bregman's throwing error on an infield single by Headley, who had three hits in the No. 9 spot, aided the Yankees in the fifth. Keuchel walked Judge with two outs before Sanchez lined a run-scoring single into the left-field corner.
 Going into that at-bat, Sanchez was 1 for 16 with seven strikeouts in the series -- and 0 for 8 with six strikeouts against Keuchel overall.
 Gregorius then grounded an RBI single up the middle that grazed the glove of diving second baseman Jose Altuve. With the score 4-0, it marked the end of the night for Keuchel and the most runs he'd ever allowed to New York.
 With the stands pulsating, fans reveled in his slow walk to the dugout as the Yankee Stadium sound system blared "Goodbye To You" by Scandal.
 "When you play at home, things like this happen and that's why it's so tough to win on the road in the playoffs," Keuchel said. "New York is no joke. Yankee Stadium is a tough place to play and it was rockin' these three games, but it's going to be rockin' on Friday for us."
 Sanchez hit his third postseason homer off Brad Peacock in the seventh to make it 5-0.
 Despite beautiful weather in the Bronx, the Astros didn't take batting practice on the field. If they were hoping that might help their slumping hitters reset, it didn't.
 The highest-scoring team in the majors this season, Houston is batting .147 in the series and Tanaka is a major reason. The normally reserved right-hander from Japan, who can opt out of his $155 million contract this winter, has been at the top of his game in October and showed rare emotion on the mound during this one.
 He worked around a leadoff double in the second, when the Yankees -- with a stingy Keuchel undoubtedly in mind -- successfully played their infield in with Yuli Gurriel on third and one out in a scoreless game. Tanaka later spun around and shouted in excitement after striking out struggling table-setters George Springer and Josh Reddick with two on to end the fifth.
 Tanaka received treatment on his leg between starts after being struck by Reddick's liner in Game 1, but showed no ill effects. Keeping the ball down with his slider and splitter, he struck out eight and walked one.
 Tommy Kahnle tossed two innings to finish the four-hitter.
 Tanaka also beat the Indians 1-0 in the Division Series to save the Yankees' season when they were down 0-2 in that best-of-five playoff.
 "I feel like I'm just keeping it really simple," Tanaka said through a translator. "You go out there and you fight and you empty the tank."