Taking Inventory on Seattle Genetics, Inc. Earnings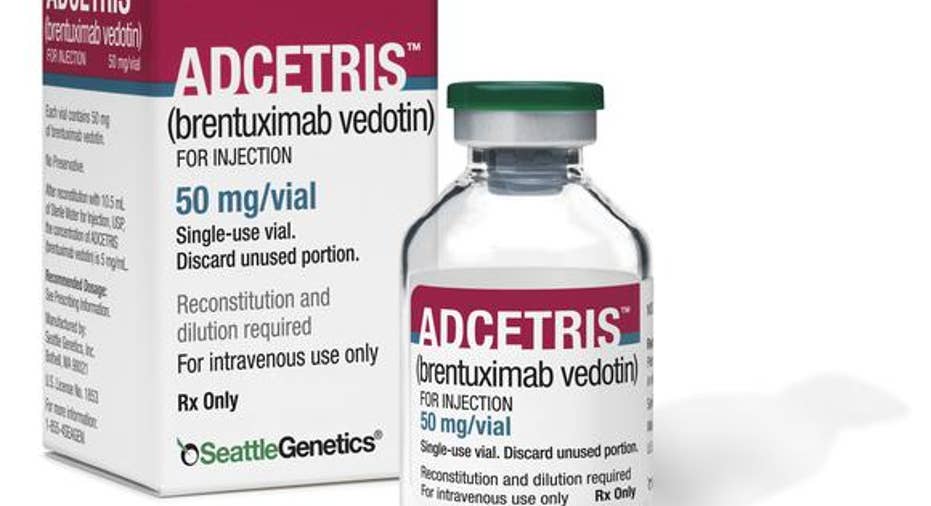 Seattle Genetics released first-quarter earnings results on Thursday, and while sales of Adcetris continued to grow, they weren't quite as robust as investors were hoping for.
Seattle Geneticsresults: The raw numbers
| | Q1 2016 Actuals | Q1 2015 Actuals | Growth (YOY) |
| --- | --- | --- | --- |
| Revenue | $111.2 million | $82.2million | 35% |
| (Loss) from Operations | $(21.0 million) | $(21.7 million) | N/A |
| (Loss) Per Share | $(0.15) | $(0.17) | N/A |
What happened withSeattle Geneticsthis quarter?
IMAGE SOURCE: SEATTLE GENETICS. Sales of Adcetris in the U.S. and Canada, where Seattle Genetics sells the drug, were up 20%, to$58.6 million.
Revenue was hurt by larger gross-to-netdiscounts because a higher proportion of purchases came from sites eligible for government discounts.There was also a little bit of a drawdown of inventory that built up in the fourth quarter ahead of actual demand.
Royalty revenue from Takeda in areas where the Japanese pharma sells Adcetris was up 11% year over year, not including a $20 million one-time payment for reaching annual net sales of $200 million in its territory during 2015.
Seattle Genetics expects top-line data from the ALCANZA trial testing Adcetris in cutaneous T-cell lymphoma in the third quarter of this year. (Previous guidance was for the second half of this year.)
What management had to sayAdcetris is Seattle Genetics' most-important asset because it generates revenue. However, investors shouldn't forget about the biotech's pipeline, especially SGN-CD33A, because it's ready to be tested in a trial that can be used to gain regulatory approval. As president and CEO Clay Siegall explained, "We are on track to advance 33A into a phase 3 registrational trial in frontline older patients with acute myeloid leukemia by the third quarter of this year."
There's also opportunity to expand Adcetris' sales substantially if the ongoing ECHELON-1 (E-1) trial is positive. "So we think that if you look at E-1 and the opportunity in frontline Hodgkin lymphoma, it is well in excess of $1 billion," Siegall said.
Looking forwardManagement stuck by its guidance for Adcetris sales in U.S. and Canada between $255 million to $275 million. To hit that goal, sales will have to pick up from the $58.6 million in the first quarter. Presumably, factors like inventory drawdown won't be an issue in future quarters.
To increase sales substantially from there, Seattle Genetics needs to expand into other patients, so positive data from the aforementioned ALCANZA trial are critical. Further behind, ECHELON-1 trial in frontline Hodgkin lymphoma is set to read out sometime in 2017 through mid-2018, and data from the ECHELON-2 trialin mature T-celllymphoma is expected in 2017 or 2018, depending on when it finishes enrolling patients.
The article Taking Inventory on Seattle Genetics, Inc. Earnings originally appeared on Fool.com.
Brian Orelli has no position in any stocks mentioned. The Motley Fool recommends Seattle Genetics. Try any of our Foolish newsletter services free for 30 days. We Fools may not all hold the same opinions, but we all believe that considering a diverse range of insights makes us better investors. The Motley Fool has a disclosure policy.
Copyright 1995 - 2016 The Motley Fool, LLC. All rights reserved. The Motley Fool has a disclosure policy.