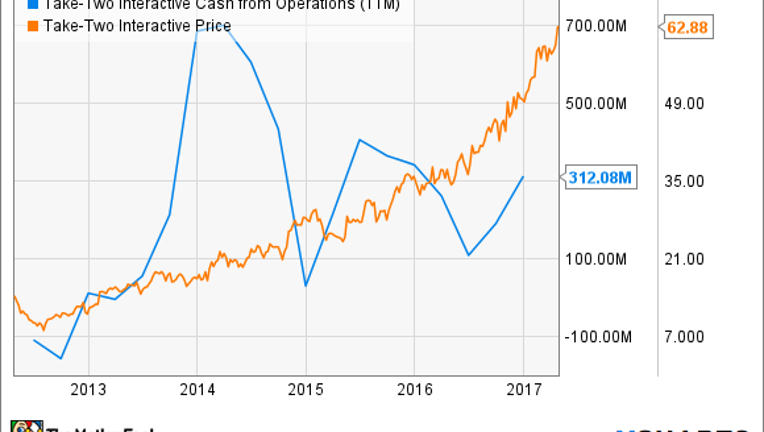 Take-Two Interactive's (NASDAQ: TTWO) stock has rocketed 300% over the past five years, which leaves the S&P 500 Indexreturn of 70% in the dust.
Let's review what happened to assist the stock's rapid ascent, and then we'll evaluate what return investors should expect over the next five years.
What happened in the last five years
Take Two subsidiary Rockstar Games is the maker of the Grand Theft Auto series. IMAGE SOURCE: TAKE TWO INTERACTIVE INC.
Since the end of fiscal 2012 ending in March, Take-Two has continued to produce games from the same franchise brands -- Grand Theft Auto (GTA), NBA 2K, WWE 2K, among a handful of other staple sellers.The latest installment of the popular Grand Theft Auto series,GTA V, infused new meaning in the word "best-seller" with 75 million copies sold since its fall 2013 release. Most game companies are thrilled if a game sells up to 10 million copies. GTA Vhas consistently delivered big sales numbers more than three years after the game was released,and it still ranks, month-in and month-out, on the top ten video game sales charts.
In addition to strong sales ofGTA V, Take-Two'sgross margin has expanded from growing sales of online content, as opposed to reliance on physical sales of game discs which have a lower margin. InGTA V, NBA 2K, and WWE 2Kplayers can purchase in-game virtual currency which unlocks certain features in games. Over the past five years, Take-Two's gross margin increased from 36% to 41.4% as revenue from in-game purchases (or digital revenue) increased from $107 million to $643 million.
| Year | Fiscal 2012 | Fiscal 2017 |
| --- | --- | --- |
| Percentage of digital revenue to total revenue | 13% | 53% (through December 31, 2016) |
| Cash from operations | ($85) | $350 (expected) |
Data source: Take-Two Interactive quarterly earnings press release and 10-K SEC filing. All dollar figures in millions.
Take-Two's cash flowimproved along with gross margin, and the stock price soared.The company's market capitalization increased from $1.5 billion to $6.3 billion. Investors had previously valued the business based on its lumpy past and not on the positive changes the new digital distribution strategy would bring to the industry, which caused Take-Two and other video game stocks to be forgotten.
TTWO Cash from Operations (TTM) data by YCharts
What to expect over the next five years
Investors who didn't catch the stock five years ago should take heart. Take-Two will continue to release new versions of popular games like Grand Theft Auto, which the company refreshes with a new story worldand characters about every five years.By 2022, digital revenue should be a higher percentage of the company's revenue as the digital distribution trend continues to grow.
Take-Two is exploring other revenue channels that could make the company look a lot different (for the better) in five years. The company recently announced the acquisition of Social Point, which signals management's interest in pursuing the profitable growth of the mobile game industry.Take-Two also recently announced theNBA 2K eLeagueto enter the wide-open world ofe-sports.and characters about every five years. By 2022, digital revenue should be a higher percentage of the company's revenue as the digital distribution trend continues to grow.
The stock's PE ratio is 23 times expected earnings for fiscal 2018, in line with the S&P 500 Index. Analysts expect Take-Two to grow earnings 14% per year over the next five years, which I find a reasonable estimate given Take-Two has grown revenue at least as much over the last five years, and there are still opportunities across mobile gaming, e-sports, and in-game content to grow revenue and cash flow.
10 stocks we like better than Take-Two Interactive When investing geniuses David and Tom Gardner have a stock tip, it can pay to listen. After all, the newsletter they have run for over a decade, Motley Fool Stock Advisor, has tripled the market.*
David and Tom just revealed what they believe are the 10 best stocks for investors to buy right now... and Take-Two Interactive wasn't one of them! That's right -- they think these 10 stocks are even better buys.
Click here to learn about these picks!
*Stock Advisor returns as of April 3, 2017
John Ballard owns shares of Activision Blizzard. The Motley Fool owns shares of and recommends Activision Blizzard and Take-Two Interactive. The Motley Fool recommends Electronic Arts. The Motley Fool has a disclosure policy.