Take-Two Interactive Sees Bookings Soar, Posts Narrower Loss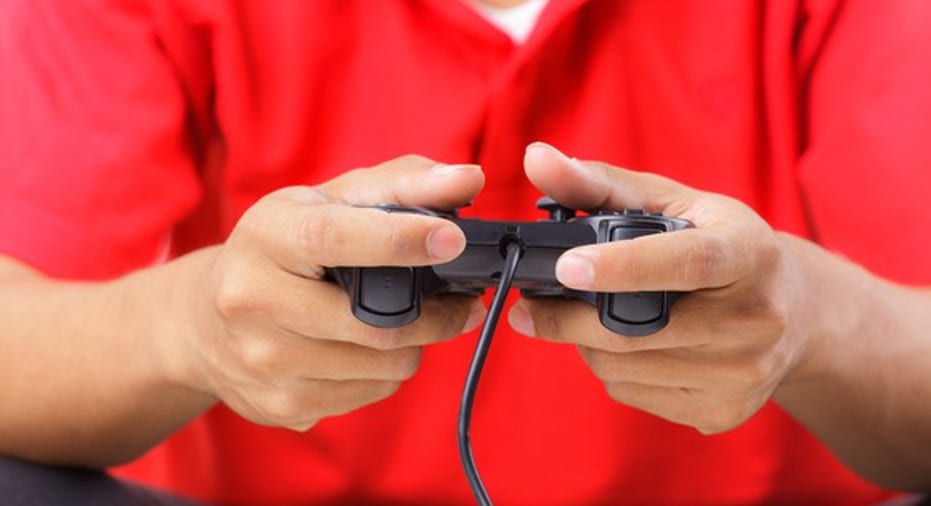 The video-game industry has done well recently, and Take-Two Interactive Software (NASDAQ: TTWO) in particular has used the success of its Grand Theft Auto franchise to generate huge gains over time. Yet the big question lately has been whether Take-Two could take full advantage of its popular games to generate profits. Coming into Tuesday's fiscal third-quarter financial report, Take-Two investors were looking for solid revenue and income gains, and the company definitely delivered on the sales front. Yet with the game maker now reporting earnings only on a GAAP basis, investors had to deal with a net loss for the quarter.
Let's look more closely at Take-Two Interactive Software to see how it did and what lies ahead for the game maker.
Image source: Getty Images.
Take-Two celebrates the holidays
Take-Two's fiscal third-quarter results continued some of the favorable trends that we've seen from the game maker in recent quarters. Net revenue was up 15% to $476.5 million, and after adding in changes in deferred net revenue, the resulting figure of about $744 million was well ahead of the $706 million consensus forecast among investors. GAAP net loss narrowed by about a third to $29.8 million, and that produced a loss of $0.33 per share. Investors had expected a profit on an adjusted basis, but Take-Two has chosen not to report adjusted financials any longer. Nevertheless, based on the additional financial data that the company provided, adding back in about $150 million in gross profit from changes in deferred net revenue and cost of goods sold was more than enough to swing Take-Two to a profit.
Looking more closely at Take-Two's report, the most important figures had to do with the company's operational success. Revenue from digitally delivered content soared 64% to $240.2 million, and recurring revenue sources like buying virtual currency, microtransactions, and downloadable add-on content accounted for fully a fifth of Take-Two's total net revenue. The company called out Grand Theft Auto V, Grand Theft Auto Online, Sid Meier's Civilization VI, and NBA 2K17 as the largest contributors to sales during the quarter. Bookings were up by more than half to $719 million, and digitally delivered booking figures climbed by two-thirds.
Once again, though, Take-Two had trouble keeping its costs down. Software development costs and loyalties soared by more than three-quarters compared to the year-earlier quarter, and selling and marketing expenses jumped by about 60%. Even without the business reorganization costs that Take-Two had to pay in 2015, the company suffered sizable operating losses.
CEO Strauss Zelnick didn't let that stop him from being upbeat about the report. "Take-Two had a highly successful holiday quarter," Zelnick said, as "consumer demand for our new releases and catalog titles was strong throughout the period, and players continued to engage significantly with our games after purchase." The CEO called out recurrent consumer spending as particularly important to Take-Two's results.
What's ahead for Take-Two in 2017?
Take-Two has been smart about its strategic vision, and it believes that its recent moves will pay off in the long run. For instance, Zelnick pointed to the acquisition of mobile game developer Social Point as a way to boost revenue and operating cash flow immediately. The $250 million purchase could add to earnings per share by next year.
However, Take-Two's guidance for the fiscal fourth quarter and full 2017 fiscal year weren't as clearly positive. The company expects GAAP revenue to be between $542 million and $592 million, which appears to be better than the consensus forecast once you take into account a $225 million change in deferred net revenue. Quarterly net income of $1.23 to $1.31 per share is far above investors' expectations for adjusted earnings, but again, the change in the way that Take-Two reports its results obscures comparisons to some extent. For the full 2017 fiscal year, revenue of $1.75 billion to $1.8 billion and earnings of $1.15 to $1.25 per share appear to be fairly comparable to expectations after taking extraordinary items into account.
Take-Two investors weren't entirely happy with the results, sending the stock down more than 1% in after-hours trading following the announcement. It's possible, though, that investors are still getting used to the changes in Take-Two's reporting. If the game maker can keep producing hits, then going from a GAAP loss to a profit could be the next logical step forward for Take-Two.
10 stocks we like better than Take-Two Interactive When investing geniuses David and Tom Gardner have a stock tip, it can pay to listen. After all, the newsletter they have run for over a decade, Motley Fool Stock Advisor, has tripled the market.*
David and Tom just revealed what they believe are the 10 best stocks for investors to buy right now... and Take-Two Interactive wasn't one of them! That's right -- they think these 10 stocks are even better buys.
Click here to learn about these picks!
*Stock Advisor returns as of February 6, 2017
Dan Caplinger has no position in any stocks mentioned. The Motley Fool owns shares of and recommends Take-Two Interactive. The Motley Fool has a disclosure policy.