Taiwan Semiconductor Mfg. Co. Ltd. Plans a $3 Billion Expansion Into China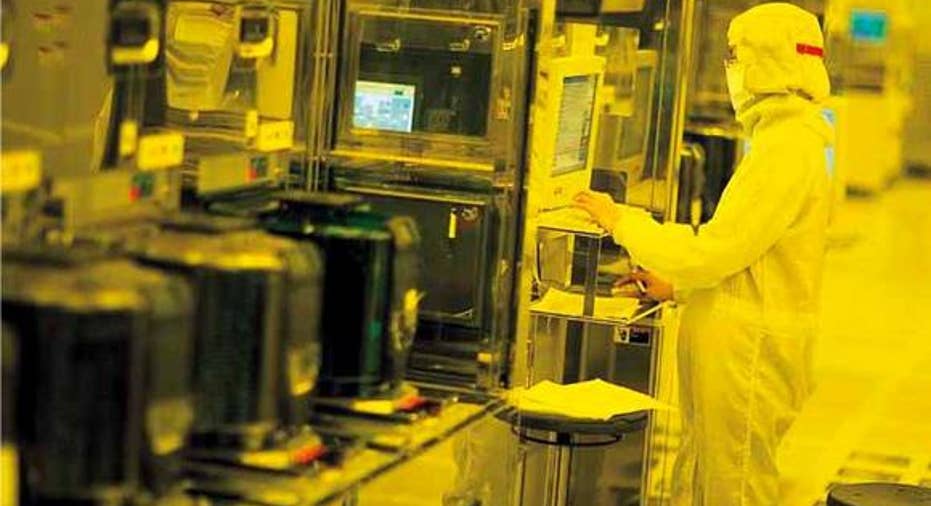 Taiwan Semiconductor Manufacturing Co . recently submitted an application to the Taiwanese government to build a new $3 billion 12-inch wafer factory in Nanjing, China. The move comes after Taiwan's Ministry of Economic Affairs relaxed investment rules and let Taiwanese chipmakers operate wholly owned 12-inch wafer factories in China to protect their intellectual property from Chinese rivals.
Source: TSMC
However, Taiwanese law stipulates that TSMC's Chinese plants cannot manufacture more advanced chips than their Taiwanese counterparts. Therefore, TSMC's new Nanjing plant will start production of 16nm chips -- which will mainly be used in low-end smartphones, wearables, and Internet of Things devices -- in the second half of 2018. TSMC plans to start production of smaller 10nm chips in Taiwan this year and 7nm chips by 2017, which means that the Nanjing plant will remain more than a generation behind the Taiwanese factories.
The gravitational pull of the Chinese chip marketChina surpassed North Americaas the world's largest semiconductor market over two years ago. TSMC's foundry already serves major Chinese customers like Huawei's Hisilicon Technologies, but revenue from the country only accounted for 6% of its top line last quarter. TSMC currently only operates one plant in China, a less advanced 8-inch wafer factory in Shanghai.
With the Nanjing plant, TSMC will become the third Taiwanese chipmaker to open a 12-inch wafer factory in China. Its smaller rivals United Microelectronics and Powerchip Technology both started constructing their first 12-inch wafer factories in China earlier this year. TSMC intends to hire 1,700 workers for its Nanjing plant, which will have a capacity of 20,000 12-inch wafers per month and eventually account for around 2.5% of TSMC's total manufacturing capacity.
Those numbers might seem low compared to United Microelectronic's factory in Xiamen, which will start with a capacity of 50,000 12-inch wafers per month in late 2016. However, UMC only holds a 21% stake in that plant, which is co-owned with Fujian Electronics & Information Group and the Xiamen municipal government. Powerchip's plant, which is being built in Hefei through a joint venture with Hefei Construction Investment and Holding, will have a monthly capacity of40,000 12-inch wafers when it commences operations in 2018 or 2019. Powerchip holdsless than a 50% stake in the plant.
The road aheadTSMC's 12-inch wafer plant will open its doors later than UMC's, but it will provide the company with a bigger capacity boost than its rivals, because it completely owns the plant. That move could help TSMC win more orders from Chinese OEMs since locally produced chips will cost less than ones manufactured in Taiwan and shipped back into China. The Nanjing facility will also include a design center to provide customer support and explore business opportunities in China.
One of TSMC's 12-inch plants. Source: TSMC
The Investment Commission in Taiwan told the Taipei Times that it would make a ruling on TSMC's proposed plans before the Lunar New Year holiday starts on Feb. 8. TSMC's plans will likely be approved, but there are concerns in Taiwan that relaxed cross-strait investment laws are leading Taiwanese companies down a slippery slope.
Taiwan officially entered a recession last quarter, mainly due to intense competition from rival contract manufacturers and supply chain players in China. As major companies like TSMC and Foxconn build plants in China and hire lower-cost Chinese workers instead of Taiwanese ones, the Taiwanese economy will lose potential jobs. The government is also expected to start rationing electricity in 2017 due to environmental concerns, which could force TSMC and other chipmakers to shift more of their advanced operations to China.
If TSMC's Chinese plants are eventually allowed to produce same-generation chips as its Taiwanese ones, trade secrets could leak out via Chinese workers and help Chinese chipmakers catch up to their Taiwanese rivals.
A rosy outlookDespite those long-term concerns, TSMC chairman Morris Chang recently toldreporters that Taiwan's chipmaking technology remains "ten years" ahead of its closest Chinese rivals. Co-CEO Mark Liu also recently offered a rosy sales forecast, declaring that TSMC would see double-digit sales growth in 2016.
That estimate easily outpaces the rest of the industry and crushes the current consensus forecast for 6% sales growth. Liu attributes that growth to the normalization of chip inventories at the end of 2015 and TSMC's ramp-up of its 16nm FinFET manufacturing process. Production of the A10 CPU for the new iPhone is also expected to boost revenue.
The Nanjing plant won't start generating revenue until late 2018, but the $3 billion allocated to its construction should boost its capex (set at just $8 billion in fiscal 2015) over the next two years. In my opinion, that investment should put TSMC on solid ground ahead of its rivals and help it profit from rising semiconductor demand in China.
The article Taiwan Semiconductor Mfg. Co. Ltd. Plans a $3 Billion Expansion Into China originally appeared on Fool.com.
Leo Sun has no position in any stocks mentioned. The Motley Fool has no position in any of the stocks mentioned. Try any of our Foolish newsletter services free for 30 days. We Fools may not all hold the same opinions, but we all believe that considering a diverse range of insights makes us better investors. The Motley Fool has a disclosure policy.
Copyright 1995 - 2015 The Motley Fool, LLC. All rights reserved. The Motley Fool has a disclosure policy.