Taiwan Semiconductor Mfg. Co. Ltd. Announces 7nm+ Technology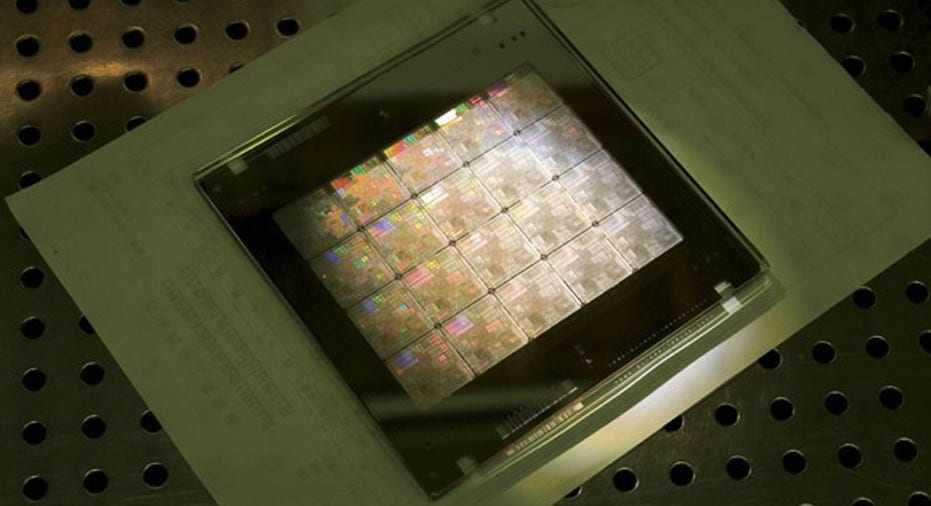 Contract chipmaker Taiwan Semiconductor Manufacturing Company (NYSE: TSM) has been on a roll over the last several years, bringing out new manufacturing technologies and subsequent enhancements thereof like clockwork.
That pace of innovation has been one of the key reasons that smartphones have gotten as "smart" as they are -- those advances in manufacturing have allowed mobile processor designers to build increasingly sophisticated processors while at the same time keeping power consumption low (and thus battery life acceptable).
Image source: TSMC.
TSMC is expected to significantly ramp up shipment volumes on its 10nm manufacturing technology in the second half of 2017 (likely in support of the Apple (NASDAQ: AAPL) A11 chip), and it's likely that we'll see TSMC ship large volumes of its next-generation 7nm technology in the second half of 2018 (in support of the Apple A12 chip).
At a recent event, per EETimes, TSMC just outed information about the follow-on to its 7nm technology, called 7nm+. Let's look at what this technology promises to deliver and what it means for TSMC and its customers, such as Apple.
Area reduction, performance boost
EETimes reports that TSMC is claiming a 1.2 times increase in logic density, 10% more performance, or 15% lower power than the 7nm technology that'll go into production next year.
Such enhancements aren't huge, but both the increased logic density as well as the higher-performance/lower power should be clear wins. The additional logic density should allow companies like Apple to cram in more features and functionality while keeping chip sizes roughly the same and the improved transistor performance/power should directly translate into faster processors (improving user experience) and/or lower power processors (improving battery life).
When will we see it?
According toEETimes, TSMC plans to start risk production -- that is, small volume, trial production -- on this second-generation 7nm+ technology by June 2018. What's interesting is that it often takes about a year for TSMC to go from risk production on a technology to mass production.
If it takes TSMC a full year to start mass production on 7nm+ from risk production in June 2018, that might cause schedule problems for Apple, which will need to receive chips to build up iPhone inventories well in advance of the typical September iPhone launch time frame.
That means finished wafers of chips need to be rolling off the line and being shipped to Apple's contract manufacturers by around June/July 2019, implying production start several months beforehand.
So, if I'm reading what TSMC reportedly said correctly, the chipmaker can't afford to wait a year to go from risk production to volume production on 7nm+ -- it'll need to pull it off in about nine months to meet Apple's needs (assuming, of course, Apple sticks to its typical September iPhone release schedule).
Looking good, TSMC
One of the things that TSMC does well is that it routinely updates the investment community on the progress it is making with respect to future manufacturing technologies on its quarterly earnings calls. I suspect that the information that EETimes is reporting will be repeated on the company's next earnings call (which should be in April), and I bet the company will provide more specific production timelines as well as insight into the kind of demand it is seeing from customers for this technology.
10 stocks we like better than Taiwan Semiconductor ManufacturingWhen investing geniuses David and Tom Gardner have a stock tip, it can pay to listen. After all, the newsletter they have run for over a decade, Motley Fool Stock Advisor, has tripled the market.*
David and Tom just revealed what they believe are the 10 best stocks for investors to buy right now... and Taiwan Semiconductor Manufacturing wasn't one of them! That's right -- they think these 10 stocks are even better buys.
Click here to learn about these picks!
*Stock Advisor returns as of February 6, 2017
Ashraf Eassa has no position in any stocks mentioned. The Motley Fool owns shares of and recommends Apple. The Motley Fool has the following options: long January 2018 $90 calls on Apple and short January 2018 $95 calls on Apple. The Motley Fool has a disclosure policy.