Taiwan boosts domestic arms makers, as China's warnings loom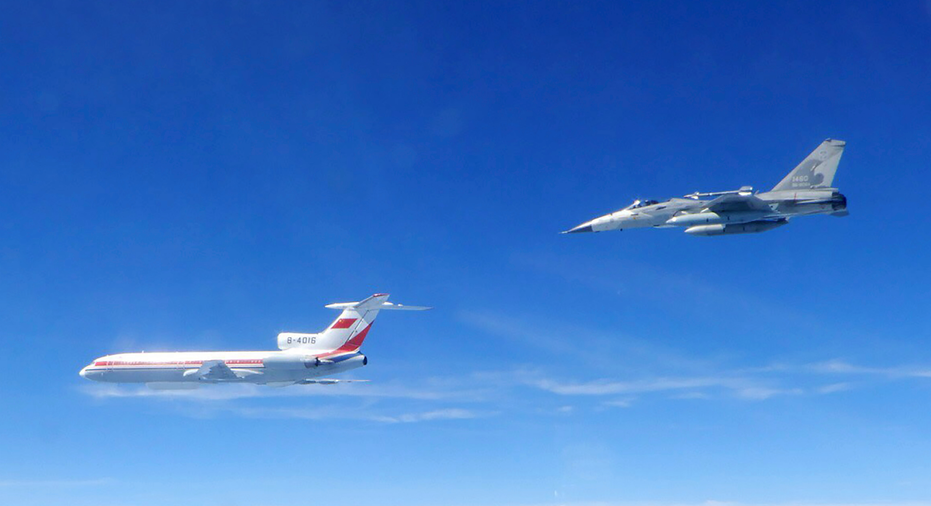 Standing on his company's sprawling campus in central Taiwan, Lin Nan-juh says he's able to make any plane his island's government calls for.
"We can do whatever's asked," says Lin, president of Aerospace Industrial Development Corp., or AIDC, a leader in the defense industry serving the isolated self-governing island that China claims as its own territory to be brought under its control by force if necessary.
It's a bold statement with potentially major significance for Taiwan's democratic survival as it seeks to build up its domestic defense industry in the face of China's warnings and the reluctance of foreign arms suppliers to provide it with the planes, ships, submarines and other hardware it needs to defend its 23 million people.
While the U.S. — which is legally bound to respond to threats to Taiwan — continues to be its main arms supplier, Taiwan is increasingly looking to replace those politically fraught, touch-and-go deals with domestic production that is reliable as well as technologically advanced.
Taiwan's indigenous systems are "both a source of national pride and a product of necessity," said David An, senior research fellow with the Washington-based policy incubator Global Taiwan Institute. "As it's commonly said, necessity is the mother of invention."
The self-reliance policy has been strongly promoted by Taiwan's pro-independence president, Tsai Ing-wen, whose government has been shunned by Beijing since shortly after she took office more than two years ago. Defense is included in Tsai's economic program targeting eight industries for innovation and job creation, with the government helping match its defense needs with the abilities of Taiwanese companies.
China's recent actions have underscored the risk for Taiwan.
Beijing has been upping pressure on the island by cutting its already tenuous diplomatic links and has sent military planes and an aircraft carrier close to the island multiple times. China now has the world's second-largest defense budget behind the U.S., significantly boosting its ability to blockade, attack and possibly invade Taiwan.
Taiwan's domestic arms industry got started in the 1970s, more than two decades after Chiang Kai-shek's Nationalist forces fled to the former Japanese colony after Mao Zedong's Communists seized power on the mainland in 1949.
Adaption and development of foreign technology gave companies such as AIDC much of what they needed to grow and help keep the peace with the mainland, said Mei Fu-shing, director of the Taiwan Security Analysis Center, a research and consulting practice based in New York.
"Indigenously developed and produced weapons have contributed materially to deterrence in the Taiwan Strait over the past three or four decades," Mei said.
Taiwan's capabilities have improved of late in both quality and technical sophistication, Mei said, pointing to the production of air-to-air missiles as an example. "Taiwan's defense industry obviously has progressed," making it less reliant on foreign sources, he said.
Along with protest actions from Beijing — including the suspension of exchanges with the U.S. military after a $6.4 billion arms package for Taiwan was announced in 2010 — U.S. sales are constrained by concerns about the leaking of sensitive advanced technology across the 160-kilometer (100-mile) -wide Taiwan Strait to China.
Despite that, such sales continue, with the Trump administration notifying Congress last year of its intent to approve seven proposed deals for technical support, anti-radiation missiles, torpedoes and other technology valued at around $1.42 billion.
And last month, the administration agreed to allow U.S. firms with the technology to build much-needed diesel-electric submarines. Taiwan's navy today operates just two aging subs bought from the Netherlands in the 1980s.
Analysts say sales of technology are less likely to prompt a strong response from China than those of complete systems such as planes or submarines.
Along with fighter jets and other aircraft, Taiwanese contractors already make anti-ship, surface-to-air and air-to-air missiles, as well as missile boats and Clouded Leopard armored vehicles. Taiwan has long been known worldwide for its civilian high-tech industry and about 200 small and mid-sized companies work in defense.
AIDC and the National Chung-shan Institute of Science and Technology are among the larger contractors. The aerospace firm reported sales income of $235 million and a net profit in the third quarter of 2017, the most recent made public online.
More than 3,000 people work on new aircraft designs at AIDC's tree-lined campus, complete with a restaurant and a swimming pool. One of its planes marks a front entrance.
Despite the advances, Taiwan will never be able to quit buying advanced weapons from other countries, according to Defense Ministry spokesman Chen Chung-chi. Propulsion systems and engines for ships and aircraft are a particular need, and Taiwan sometimes finds that imports cost less than local production.
Yet such sales carry the risk of being used as bargaining chips to gain concessions from Beijing, particularly on trade. Ultimately, officials in Washington might help Taiwan's military again only if they see its capability decline, said Alexander Huang, strategic studies professor at Tamkang University in Taiwan.
"Taiwan worries that there might be a time that we can't buy the weapon system that we want, so we better build up our indigenous defense industry capability," Huang said.