Taco Bell Wants to Boss Chipotle Around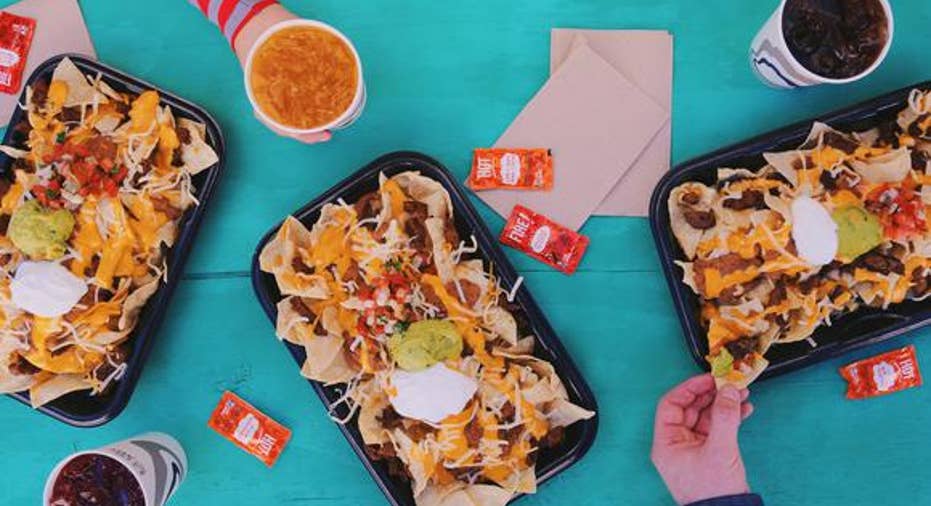 Source: Taco Bell.
There's something new on the menu at Yum! Brands' Taco Bell. The fast-food chain specializing in cheap Mexican grub is introducing BOSS Nachos, expanding on the beefy product line that originally started with wraps.
The new nachos offering features all of the chain's Nacho BellGrande fixings, topped with a doubleportion of either grilled marinated steak, chicken, or ground beef.
The new item is priced at $5.99 -- quite a bit more than most of the items on Taco Bell's typically cheap menu -- but it's also a large order that's fit for sharing.
It's a price point that seems more in line with the menu atChipotle Mexican Grill , but one can't blame Yum! Brands for the strategy. It's doing what it can to gun for Chipotle's audience at a time when the fast-casual darling is somewhat vulnerable.
Comps at Chipotle were starting to decelerate long before the E. coli scare rattled the stock. A big springtime price hike last year -- Chipotle's largest increase in more than three years -- helped fuel five consecutive quarters of double-digit comps, but it's been mortal lately. Comparable-restaurant sales clocked in at a mere 2.6% in its latest quarter. That's not awful, but Taco Bell actually beat it out with a 4% year-over-year uptick.
Taco Bell has tried to buck the prevailing notion that it's the place where millennials can ride out their hangovers by swapping pocket change for sustenance. It's tried to boost its order sizes and appeal to pseudo-foodies by turning to a celebrity chef to introduce the Cantina Bell line of bowls and burritos, a move that prompted billionaire trader David Einhorn to short Chipotle three years ago. It probably wasn't a coincidence that Taco Bell posted stronger comps than Chipotle immediately following the Cantina Bell and Doritos Locos Tacos rollouts, but it didn't last. Chipotle found a way to quickly regain its role as a comps leader.
Will it be different this time? Taco Bell isn't alone in turning to double protein portions and trendier ingredients -- the steak isseasoned in a blend of garlic, chili pepper, and black pepper -- to push average checks higher. El Pollo Loco , the citrus-marinated fire-grilled chicken specialist just introduced a "Double Chicken" line. Most people associate El Pollo Loco with Latin American-style chicken and rice dishes, but the new line is all about poultry-padded enchiladas, burritos, and tostadas. So, yes, even El Pollo Loco is joining Taco Bell in rolling out premium-priced food at a time when Chipotle's going through a mini brand crisis.
Chipotle will be fine. It has always bounced back. However, the competition is getting hungrier and smarter at just the right time.
The article Taco Bell Wants to Boss Chipotle Around originally appeared on Fool.com.
Rick Munarriz has no position in any stocks mentioned. The Motley Fool owns shares of and recommends Chipotle Mexican Grill. Try any of our Foolish newsletter services free for 30 days. We Fools may not all hold the same opinions, but we all believe that considering a diverse range of insights makes us better investors. The Motley Fool has a disclosure policy.
Copyright 1995 - 2015 The Motley Fool, LLC. All rights reserved. The Motley Fool has a disclosure policy.