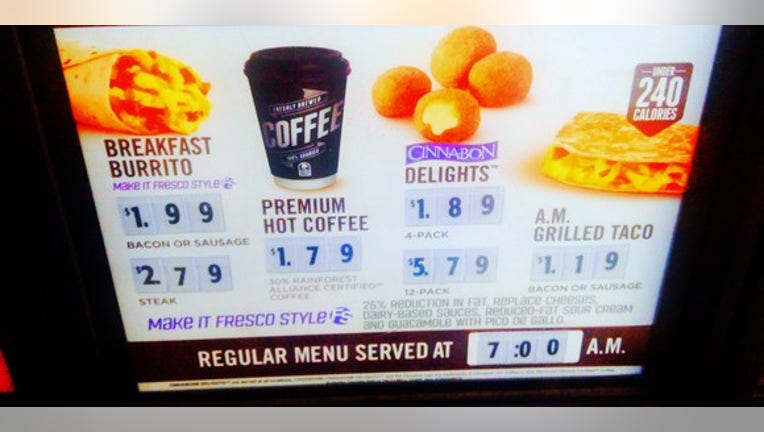 Taco Bell has a diverse morning menu. Image source:Mike Mozart, Flickr.
When Yum! Brands'(NYSE: YUM) Taco Bell launched its breakfast menu in 2014, it promoted the new offering with a series of ads poking fun at McDonald's (NYSE: MCD) even while it tried to cash in on the same morning diners flocking to Mickey D's.
Now the chain appears to be considering taking another page out of its rival's book by considering making its morning menu available all day. That would put items like the Breakfast Crunchwrap and the Grilled Breakfast Burrito on the chain's menu alongside its traditional lineup of tacos, burritos, and various Mexican-like products.
Going all day with breakfast would make sense for a chain that caters to a young clientele. In addition, Taco Bell has pushed the idea of a late-night fourth meal and breakfast would fit well in the late night, when the line between a late dinner and an early morning meal starts to blur.
What is Taco Bell doing?
The company has apparently been testing its breakfast menu all day at one location in Dallas, according to Grubgrade, which got tipped off by one of its readers. A test at a single restaurant, though, does not necessarily mean it plans to take the idea nationwide.
Still, all-day Taco Bell breakfast fits its clientele and would be in line with what many fast-food restaurants have done. Jack in the Box, for example, recently launched an all-day "Brunchfast" menu, featuring breakfast-like items, and Sonic already offers its morning menu all-day long.
Why would this be a good idea?
All-day breakfast has been at least partly responsible for McDonald's turning its fortunes around. It had the advantage that its customers had clamored for the change for literally decades. When the company finally added Egg McMuffins, Hotcakes, and other breakfast staples to its all-day menu, it was not only increasing selection but meeting pent-up demand.
During McDonald's second quarter, comparable sales in U.S. restaurants rose 1.8%, with all-day breakfast citedin itsearnings releaseas one of the things driving growth. That success has led the company to double down on the all-day offering going forward.
"McDonald's U.S. begins the second half of the year focused on adding more breakfast sandwich favorites -- Biscuits, McMuffins and McGriddles -- to the All Day Breakfast menu this fall," the company wrote. "This platform extension will be complemented by initiatives around core menu enhancements and restaurant operations designed to deliver an outstanding customer experience."
This makes sense for Taco Bell
While it may not have the same pent-up customer demand that pushed McDonald's to quick success, Taco Bell does have an audience that would almost certainly respond to all-day breakfast. The chain has marketed itself with a bit of a rule-breaker image, and while ignoring traditional dayparts is not all that rebellious anymore, it does firm up its image.
Offering more choice simply makes sense, and not having a cutoff time for selling certain items removes a pain point in the customer service process. Taco Bell may be early in the testing phase for all-day breakfast, but it should move forward with adding it across the country because it seems a sure thing to drive sales and might keep late-day breakfast seekers from patronizing its burger-based rival.
10 stocks we like better thanMcDonald's When investing geniuses David and TomGardner have a stock tip, it can pay to listen. After all, the newsletter theyhave run for over a decade, Motley Fool Stock Advisor, has tripled the market.*
David and Tomjust revealed what they believe are theten best stocksfor investors to buy right now... and McDonald'swasn't one of them! That's right -- theythink these 10 stocks are even better buys.
Click hereto learn about these picks!
*StockAdvisor returns as of October 3, 2016
Daniel Kline has no position in any stocks mentioned. He had an arepa with chorizo last weekend and thinks some chains need to add them to their menu. The Motley Fool has no position in any of the stocks mentioned. Try any of our Foolish newsletter services free for 30 days. We Fools may not all hold the same opinions, but we all believe that considering a diverse range of insights makes us better investors. The Motley Fool has a disclosure policy.