T. Rowe Price New Horizons Fund: Your Gateway to Tomorrow's IPOs?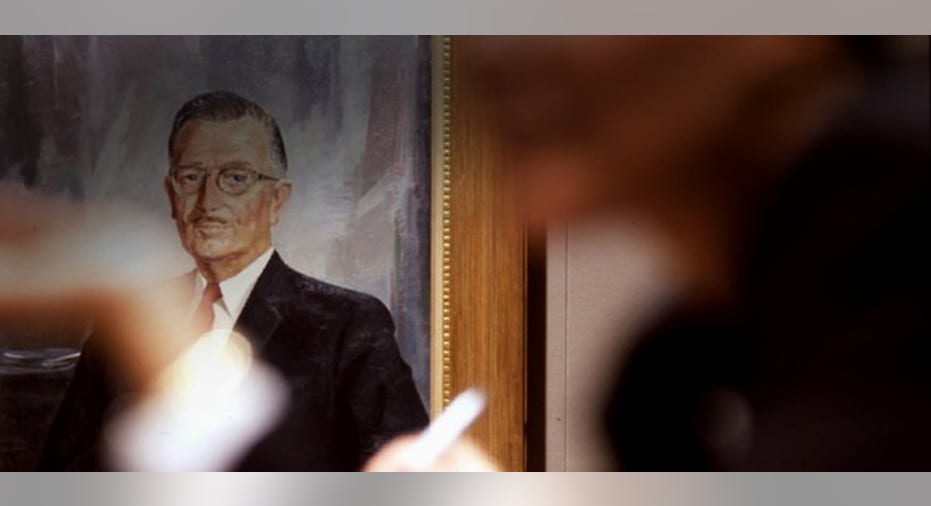 Founder Thomas Rowe Price (1898-1983). Image source: T. Rowe Price.
Many investors invest in mutual funds that have a specific goal of producing strong growth, and the T. Rowe Price New Horizons Fund has put together an impressive track record of performance over its long history. The fund focuses on small companies, investing primarily in small-cap stocks that trade publicly on major stock exchanges. With $15.7 billion in assets as of June 30, New Horizons has become so popular that the fund stopped accepting new retail investors more than two-and-a-half years ago. However, for those who have access through retirement plans like 401(k) accounts, New Horizons still offers an opportunity to look for strong returns from an unusual investing model that includes buying shares of new fast-growing companies that haven't yet gone public.
T. Rowe Price New Horizons' performance
New Horizons has done an exceptional job of delivering strong returns to long-term investors. Over the past 15 years, the fund has produced an average annual return of 10.1%. That puts New Horizons in the top 2% of all small-growth funds, and it has beaten its category peers by more than 4 percentage points per year over the past decade.
New Horizons tends not to invest heavily in stocks that pay dividends, and so it rarely makes distributions of dividend income. The most recent such distribution was for a single penny per share in 2009. Fund investors have benefited from capital gains on the fund's holdings, and distributions have ranged from 6% to 12% of net asset value over the past four years.
Fees and expenses at New Horizons
New Horizons' annual expenses are relatively modest for an actively managed growth fund. Its most recent reported expense ratio was 0.79%, which is about half a percentage point below the category average, according to Morningstar. The fund is also no-load, which means that it doesn't impose any sales charges on investors.
Who manages New Horizons?
T. Rowe Price New Horizons has Henry Ellenbogen as its manager. Ellenbogen took the helm in 2010, taking over from longtime manager John Laporte, who had led the fund for nearly a quarter-century. Ellenbogen has been with T. Rowe Price since 2001, and the Harvard-educated fund manager has sustained for the fund's exceptional track record with five-year returns in the top 1% of the universe of small growth funds.
What New Horizons owns
One of the most interesting aspects of T. Rowe Price New Horizons Fund is its portfolio. On its face, the fund's holdings look reasonably typical, with 80% invested in U.S. companies, 10% in international companies, and the remainder split between cash and various convertible securities. Among its top 10 holdings are well-known companies like Zillow and Vail Resorts, each of which has performed quite well recently.
However, what doesn't show up in its top holdings are New Horizons' positions in privately held companies, especially in the tech sector. For instance, as of its most recent annual report at the end of 2015, New Horizons held shares of daily deal site LivingSocial, digital note-taking service Evernote, online survey specialist SurveyMonkey, and freelancer clearinghouse Upwork.
Is New Horizons a smart buy right now?
Those privately held stakes have given rise to controversy recently. The Securities and Exchange Commission has questioned the inconsistent way in which different mutual fund companies update the values of their stakes in privately held companies. Given the difficulty in establishing a fair market value for these shares, regulators have to be concerned about whether the daily pricing of mutual fund shares accurately reflects the true value of the underlying assets in the fund.
In addition, major writedowns of valuations of certain privately held companies show the dangers of investing in start-ups. Although New Horizons has had substantial success over the years, massive writedowns compared to cost for companies like LivingSocial prove the risk involved for the fund.
However, start-ups make up a relatively small portion of the fund. As a result, even these big losses on certain investments haven't put much of a dent in the fund's overall performance.
For most investors, the fact that New Horizons is closed to new retail purchases makes the question of investing in New Horizon a moot point. However, those who have access to the fund in a retirement plan should consider adding the fund to their portfolio. The reason, though, has nothing to do with privately held start-ups -- and everything to do with the overall performance of the publicly traded companies that have produced the lion's share of New Horizon's stellar returns over the long haul.
The article T. Rowe Price New Horizons Fund: Your Gateway to Tomorrow's IPOs? originally appeared on Fool.com.
Dan Caplinger has no position in any stocks mentioned. The Motley Fool owns shares of and recommends Zillow Group (A shares). The Motley Fool recommends Vail Resorts. Try any of our Foolish newsletter services free for 30 days. We Fools may not all hold the same opinions, but we all believe that considering a diverse range of insights makes us better investors. The Motley Fool has a disclosure policy.
Copyright 1995 - 2016 The Motley Fool, LLC. All rights reserved. The Motley Fool has a disclosure policy.