T-Mobile's Leaving $30 on the Table Every Time You Upgrade Your Phone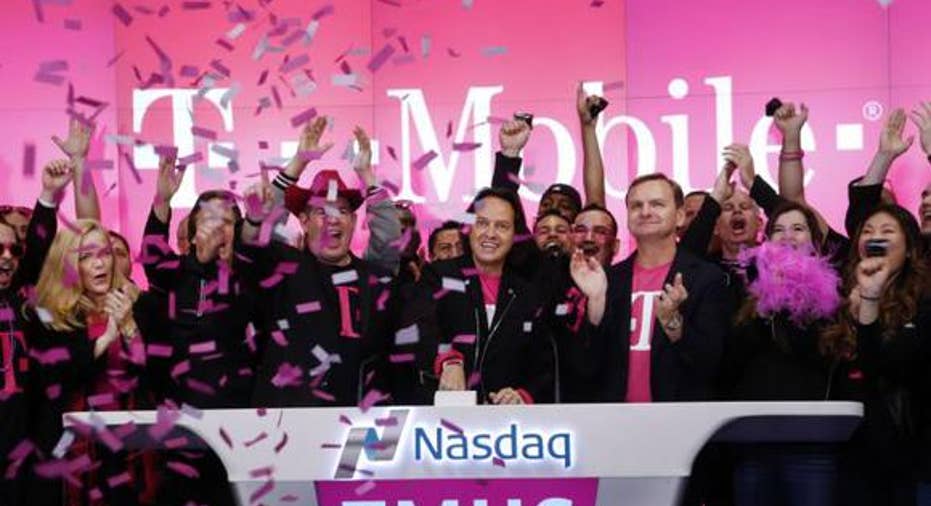 Image source: T-Mobile.
If you ever want to start your own wireless carrier business, the first thing you need to know is that you should always charge extra fees. They don't have to make sense at all, and the price of the fee is up to you, but just remember that anytime you have an interaction with a customer, it's probably a good time to charge a fee.
Unless you want to run a wireless business like T-Mobile , that is.
Sure, T-Mobile charges fees, but there's one big difference between the self-proclaimed Un-carrier and Verizon Communications , AT&T, and Sprint -- the carrier doesn't charge you to upgrade your phone.
Verizon and AT&T currently charge $20 per phone when a customer upgrades, and Sprint charges $30 per phone and caps it at $60 total if there are multiple lines. Meanwhile, T-Mobile doesn't ask for a cent.
Not charging customers to upgrade might not sound like a big deal, but consider that people upgrade their smartphones, on average, every 22 months. And T-Mobile's popular Jump! On Demand program lets customers upgrade their devices three times per year.
If just 25% of T-Mobile's 63 million customers upgraded their phones every 22 months, and if the carrier charged the same $30-per-phone upgrade that Sprint charges, then T-Mobile could make an additional $236 million every year and a half with basically no effort at all.
I'm doing some very basic back-of-the-envelope math here, but it's pretty clear T-Mobile's leaving some money on the table.
So what's T-Mobile's problem? The carrier has built its brand on being the champion of the customer, and upgrade fees don't fit into that persona.
The intangible benefitsIt's always a bit awkward talking about intangibles when it comes to companies and investing. We want our companies to act in ways that we can easily measure and see that their decisions clearly add to their bottom line.
But sometimes companies do things that, instead of directly adding their bottom line, build their brand instead -- and have big payoffs later on.
Think about it this for a second. T-Mobile has built the idea that it's the Un-carrrier, the anti-carrier, the we're-not-going-to-mess-you-over carrier for the past few years. To do that, the company ditched contracts, offered some of the best values in smartphone plans, gives away some of the best perks for music and video streaming, still gives customers rollover data, and offers a host of other freebies. (Full disclosure: I'm a T-Mobile customer, though I had a fling with a Sprint MVNO last summer.)
T-Mobile wouldn't have been able to call itself the Un-carrier if it did business the same way as its competition. Its branding would fall apart, its rivals would call T-Mobile out on its hypocrisy, and yet another wireless carrier would be spurned by its customers.
But instead, what has happened is that T-Mobile's seen an explosion in customer growth, and revenue has followed along.
The very tangible benefitsOver the past two years T-Mobile has added 8.3 million net customers. And for the past 11 consecutive quarters, the carrier has brought in 1 million net customers or more.
Additionally, its churn rate, the rate at which customers leave a carrier, fell to 1.46% for the full year 2015, down 19 basis points year over over.
The carrier's service revenue growth increased by nearly 11% year over year in 2015, total revenue increased by more than 8%, and adjusted EBITDA was up 31% year over year.
At the end of the T-Mobile 2015 annual report, CEO John Legere said, "T-Mobile is No. 1 in postpaid phone growth, No. 1 in service revenue growth, No. 1 in adjusted EBITDA growth, not to mention No. 1 in customer care and No. 1 in network speed. We set out to change this industry, we're well onour way, and we won't stop."
Now, all of T-Mobile's success isn't tied to letting its customers upgrade their phones without a fee, of course. But with the carrier's customer and revenue growth, along with its strong customer brand, it's clear T-Mobile is doing fine without those upgrade fees.
So if it wants to leave some money on the table when customers upgrade, investors should be fine with it. T-Mobile could siphon some more cash from its customers if it wanted, but then it wouldn't be the Un-carrier. If that ever happens, then T-Mobile might start seeing its tremendous growth slow down. And from that perspective, the forfeited upgrade fees seems like a very small price to pay.
The article T-Mobile's Leaving $30 on the Table Every Time You Upgrade Your Phone originally appeared on Fool.com.
Chris Neiger has no position in any stocks mentioned. The Motley Fool recommends Verizon Communications. Try any of our Foolish newsletter services free for 30 days. We Fools may not all hold the same opinions, but we all believe that considering a diverse range of insights makes us better investors. The Motley Fool has a disclosure policy.
Copyright 1995 - 2016 The Motley Fool, LLC. All rights reserved. The Motley Fool has a disclosure policy.