T-Mobile Finally Adds a Big Piece to Binge On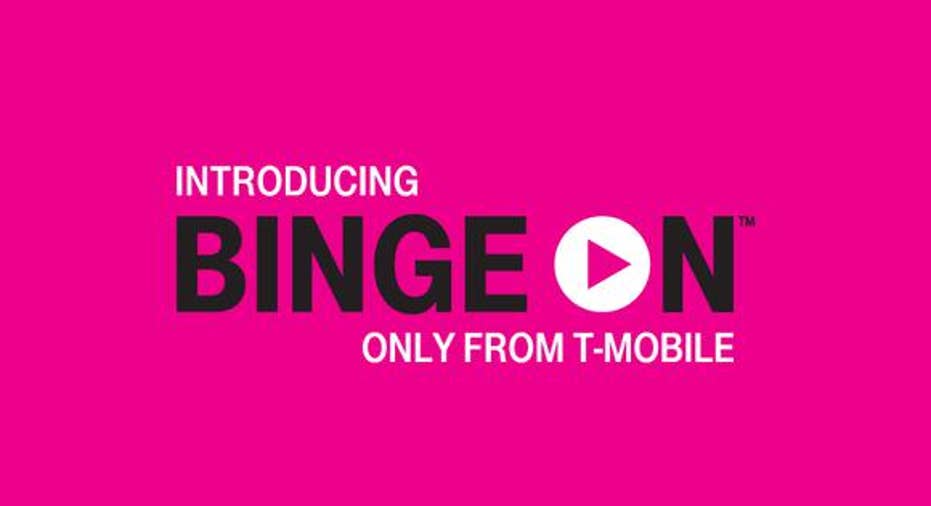 SOURCE: T-MOBILE.
When T-Mobile launched Binge On, it was missing one giant partner. The promotion allows T-Mobile subscribers to stream video on their phones without having the data count against their caps. But YouTube was a glaring exception; the company objected to T-Mobile's terms downgrading the video quality to 480p.
T-Mobile changed its terms, allowing video streamers to "optimize" their video for mobile, and YouTube jumped on board with the program. That's big news for T-Mobile subscribers, but the impact on T-Mobile investors is unclear. YouTube already dominates downstream data over cellular broadband, and zero-rating its data may increase the amount of video users stream from the subsidiary of Google -- an Alphabet company.
What happened with everyone else?In the first six weeks after T-Mobile launched Binge On, subscriber behavior changed drastically. Naturally, subscribers watched more video, but not just on services supported by Binge On. Even YouTube saw an increase in time spent in its app, according to research from P3 Group. In fact, non-video, but still data-heavy apps, like Facebook all saw an increase in usage among T-Mobile subscribers.
Nonetheless, the total data load on T-Mobile's network decreased thanks to T-Mobile's decision to downgrade all video streams to 480p. That includes streams not covered by Binge On.
It stands to reason then that the number of hours streamed on YouTube by T-Mobile subscribers will increase as they learn about its inclusion in Binge On. Considering those streams were already downgraded to 480p to require less data, total data usage on T-Mobile's network should increase. But because T-Mobile is now zero rating that data, it's not going to benefit from the increased data usage.
YouTube is huge and getting biggerUnlike other streaming platforms like Hulu or Netflix, YouTube is perfect for those short moments when you're out and need to kill some time. That's evident in usage patterns, which show that YouTube accounts for 28% of total mobile data, 31% of total downstream data.
The average mobile subscriber uses almost four times as much mobile data streaming YouTube compared to all the services covered by Binge On and Music Freedom (it's music streaming counterpart) combined. And that number may get bigger.
During Alphabet's second quarter earnings call last year, management noted that mobile watchtime doubled year over year. Additionally, the average viewing session on mobile is now more than 40 minutes, up more than 50% year over year. As YouTube expands with its own original content efforts and operating as a music service, the amount of time and data spent on YouTube is only going to increase.
Surely, T-Mobile expected this well before it launched Binge On. And while the addition of YouTube to the program will likely put more strain on its data network, T-Mobile has plenty of capacity available per subscriber. Additionally, it's building up its cash reserves to bid on the upcoming incentive spectrum auction to bolster its license portfolio. Those spectrum license won't become available for three more years and will take some time to deploy, but T-Mobile has the time.
In the meantime, zero-rated YouTube should help T-Mobile attract even more subscribers and make those that already subscribe to T-Mobile even happier, reducing churn. That'll go a long way toward keeping up the streak of adding 1 million customers in each of the past 11 quarters.
The article T-Mobile Finally Adds a Big Piece to Binge On originally appeared on Fool.com.
Suzanne Frey, an executive at Alphabet, is a member of The Motley Fool's board of directors. Adam Levy has no position in any stocks mentioned. The Motley Fool owns shares of and recommends Alphabet (A shares), Alphabet (C shares), Facebook, and Netflix. Try any of our Foolish newsletter services free for 30 days. We Fools may not all hold the same opinions, but we all believe that considering a diverse range of insights makes us better investors. The Motley Fool has a disclosure policy.
Copyright 1995 - 2016 The Motley Fool, LLC. All rights reserved. The Motley Fool has a disclosure policy.