T-Mobile Expects to Have More Phone Customers Than AT&T Within 5 Years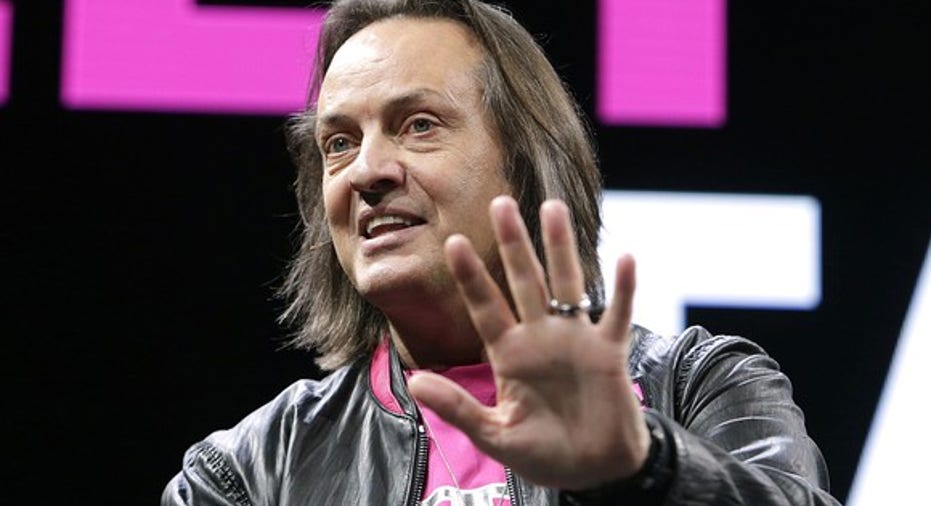 T-Mobile CEO John Legere at CES. Image Source: T-Mobile.
John Legere provided a sneak peak at T-Mobile's (NASDAQ: TMUS) quarterly numbers during his Consumer Electronics Show (CES) presentation. He spouted off numbers like 2.1 million total net adds, 1.2 million postpaid net adds, and 933,000 postpaid phone net adds. But the most interesting thing he said, in my opinion, is that he expects to overtake AT&T (NYSE: T) in total phone customers in around four or five years.
If he had said something similar when he took over as CEO of T-Mobile four years ago, nobody would have believed him. Even today, it's still hard to believe. But he points out that T-Mobile is adding 5 million to 6 million phone customers every year while AT&T is standing still. At that rate, it won't be more than five years before T-Mobile surpasses AT&T's phone base.
Closing the gap
From the first quarter of 2014 through the third quarter of 2016, AT&T managed to add 184,000 net phone subscribers across its postpaid and prepaid brands. In the same period, T-Mobile has added over 10 million new phone customers.
T-Mobile is rapidly closing the gap between itself and AT&T, which currently stands at less than 29 million. That's before counting the nearly 1.5 million phone customers T-Mobile added last quarter and whatever results AT&T posts. Last year, AT&T added just 213,000 phone customers in the fourth quarter.
AT&T has returned to phone subscriber growth in each of the last six quarters, however, largely on the back of its prepaid brand Cricket Wireless. Management says that it's fine trading low-end postpaid customers for prepaid customers, but the claim seems dubious.
T-Mobile, meanwhile, is also experiencing stronger net adds this year. T-Mobile added 1.4 million phone customers last year compared to 1.5 million this year. Additionally, in each of the first three quarters of the year, T-Mobile added more phone customers than in the year-ago period.
Can T-Mobile keep up the pace?
It's impossible to predict what will happen four or five years into the future, but right now, T-Mobile is poised to continue grabbing market share from all three of its major competitors.AT&T and Verizon (NYSE: VZ) are splitting their focuses between their telecom businesses and their newer media businesses. AT&T, in particular, is investing heavily in building out its position in pay-TV with the acquisitions of DirecTV and its plan to acquire Time Warner.
Meanwhile, Sprint (NYSE: S) may find it difficult to hold onto its subscribers as its "Cut Your Bill in Half" promotion expires. The first customers to sign up using that promotion are just now seeing price increases. Conversely, T-Mobile just announced a pledge to never increase prices for any of its customers. Legere said T-Mobile noticed an increase in Sprint customers switching to its services last quarter.
With T-Mobile's focus on providing the best value in wireless, it should continue to attract the vast majority of wireless customers to its service. Only time will tell if it surpasses AT&T's phone customer base, but it's not as crazy of a thought as it once was.
10 stocks we like better than T-Mobile US When investing geniuses David and Tom Gardner have a stock tip, it can pay to listen. After all, the newsletter they have run for over a decade, Motley Fool Stock Advisor, has tripled the market.*
David and Tom just revealed what they believe are the 10 best stocks for investors to buy right now... and T-Mobile US wasn't one of them! That's right -- they think these 10 stocks are even better buys.
Click here to learn about these picks!
*Stock Advisor returns as of January 4, 2017
Adam Levy owns shares of Verizon Communications. The Motley Fool recommends Time Warner, T-Mobile US, and Verizon Communications. The Motley Fool has a disclosure policy.