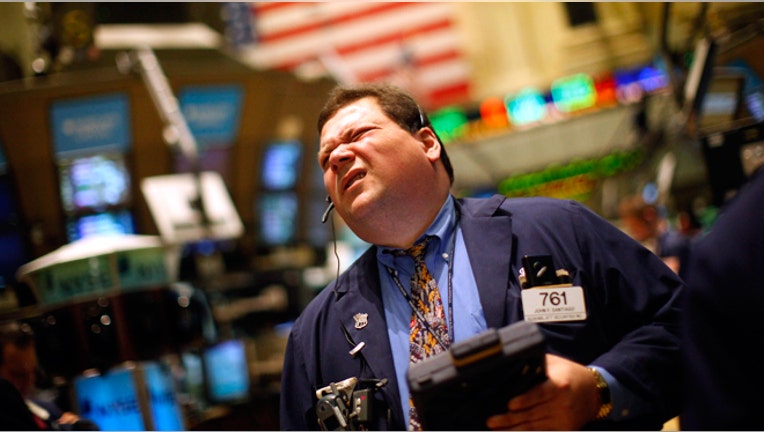 FOX Business: Capitalism Lives Here
Wall Street sustained heavy losses on Tuesday as a U.S.-led military strike in Syria appeared increasingly likely.
Today's Markets
As of 3:00 p.m. ET, the Dow Jones Industrial Average fell 129 points, or 0.86%, to 14817, the S&P 500 slid 19.2 points, or 1.2%, to 1638 and the Nasdaq Composite slumped 58.1 points, or 1.6%, to 3598.
Wall Street has its eyes set on Syria.
Commentary from Secretary of State John Kerry Monday afternoon made it clear that the U.S. believes the Bashar al-Assad regime used chemical weapons in the latest phase of a gruesome civil war in the Middle Eastern nation. The move crossed a "red line" defined by the Obama administration, and, analysts said, could be what forces the country to launch a military strike.
Todd Schoenberger, managing partner at LandColt Capital, said Wall Street is "extremely concerned" with the latest escalation there: "One thing is absolutely certain for the outlook in the equity markets: Chaos is here and not likely to subside any time soon."
In a sign of the mounting tension across world trading desks, oil and gold prices both shot up.
Gold prices recently climbed $21.00, or 1.6%, to $1,414 a troy ounce. U.S. crude oil surged $2.04, or 1.9%, to $107.97 a barrel. Gold is generally seen as a safe-haven asset that investors flock to amid geopolitical turmoil. Meanwhile, oil tends to react to events in the Middle East.
Still, Alastair Newton, an analyst at Nomura, downplayed the impact Syria tension will have on global markets, writing to clients that "it is our view that the sort of limited strike we envisage would have few, if any, direct market implications."
The Street also received two key economic reports on the day. Home prices in 20 major cities rose 2.2% in June on a non-seasonally adjusted basis, according to the S&P/Case-Shiller index. Economists expected a slightly bigger gain of 2.3%. Home prices were up 12.1% from the year prior.
"Coupled with existing and new home sales that neared post-recession highs in early spring, the upward trend in house prices has made it clear that the long-awaited housing recovery has finally kicked in," Erik Johnson, a senior economist at IHS Global Insight wrote to clients.
The report is a lagging indicator, but is seen as giving a broad overview of the strength of the U.S. housing market, which has been a major driver in the economic recovery.
Meanwhile, the Conference Board said its measure of consumer confidence rose in August to 81.5 from 81 in July, beating economists' expectations of 79.
Elsewhere, Tiffany & Co. (NYSE:TIF) revealed better-than-expected quarterly profits and boosted its full-year outlook.
Foreign Markets
The Euro Stoxx 50 tumbled 1.6% to 2777, the English FTSE 100 dipped 0.63% to 6451 and the German DAX dropped 1.5% to 8305.
In Asia, the Japanese Nikkei 225 dipped 0.69% to 13542 and the Chinese Hang Seng fell 0.59% to 21875.