Synchronoss Technologies Moves Forward After Intralinks Acquisition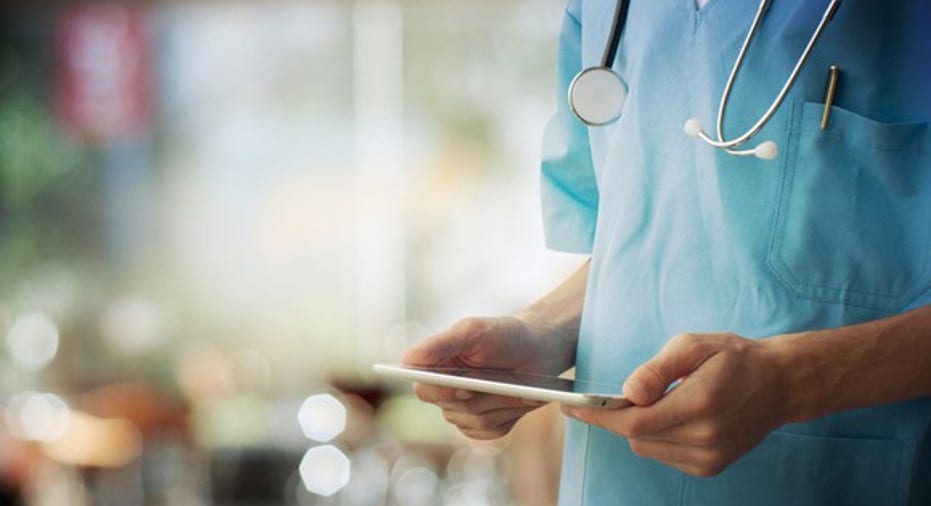 The pitfall of quarterly reporting is that it tends to focus investor attention on short-term thinking. For Synchronoss Technologies (NASDAQ: SNCR), the boom in cloud computing is a long-term opportunity, and strategic moves like the company's recent purchase of Intralinks are aimed at boosting Synchronoss' prospects to capture more of the fast-growing market.
Coming into Wednesday's fourth-quarter financial report, Synchronoss investors were prepared for declines on the top and bottom lines, and Synchronoss wasn't able to avoid them. However, the company remains enthusiastic about its future, and forward-looking investors can see some promising signs on the horizon.
Let's look more closely at Synchronoss Technologies to see how the IT services provider intends to keep moving ahead.
Synchronoss makes it easier for healthcare professionals to keep digital information secure. Image source: Synchronoss.
Synchronoss transforms itself
Synchronoss Technologies' fourth-quarter results showed the extent to which the company's efforts to reinvent itself are moving forward. Combined adjusted revenue from both continuing and discontinued operations came in at $147.8 million, which was slightly less than investors had expected and down about 6% from year-ago levels. After accounting for various extraordinary items, adjusted earnings from continuing operations of $0.24 per share missed the consensus forecast among those following the stock by $0.02 per share, and more importantly, it was down almost 45% from the year-earlier quarter.
Taking a closer look at how the company did, Synchronoss worked hard to discuss its results in the context of its new emphasis going forward on the enterprise and cloud business. After taking out the results from its traditional mobile activation business, Synchronoss reported revenue from continuing operations of $123.9 million. That was up almost 2% from a year ago, and it again showed the relative strength of the cloud side of the business.
Yet the big news came on the merger and acquisition fronts. Synchronoss completed the divestiture of its carrier activation business to Sequential Technology International, and it also sold its SpeechCycle and Mirapoint Software activation businesses. By doing so, the company was able to focus on the cloud, and going forward, Synchronoss won't have to deal with the deteriorating performance that the activation business had contributed toward its overall results.
At the same time, the completion of the acquisition of Intralinks marked a new step forward for Synchronoss. The deal was initially announced in December and involved Synchronoss paying $13 per share for Intralinks, which amounted to a total of $821 million in cash. Under the terms of the agreement, Intralinks CEO Ron Hovsepian became the chief executive officer of Synchronoss, moving former CEO and founder Stephen Waldis into the role of executive chairman of the board going forward.
Can Synchronoss keep making progress?
Both Waldis and Hovsepian supported the deal, with Waldis noting that the combination should "significantly expand the scale and scope of the company's enterprise initiatives." Meanwhile, Hovsepian called Synchronoss "the ideal strategic partner for Intralinks" in pursuing future growth opportunities.
Already, the combination appears to be bearing fruit. Synchronoss said that it has made "strong progress" with its international customers in the Asia-Pacific region and across Europe, the Middle East, and Africa in helping to scale the company's messaging and personal cloud platforms. With a customer base that is broader than ever, Synchronoss hopes to build new economies of scale and take maximum advantage of the investment it has made in creating valuable platforms for clients to use in their enterprise and cloud technology operations.
However, Synchronoss investors chose not to focus on the long-term picture for the company, instead looking more at the short-term earnings miss. The stock fell more than 6% in after-hours trading following the announcement. Yet despite the share-price decline, Synchronoss has made a lot of progress toward potentially streamlining its business to take maximum advantage of cloud opportunities going forward.
10 stocks we like better than Synchronoss TechnologiesWhen investing geniuses David and Tom Gardner have a stock tip, it can pay to listen. After all, the newsletter they have run for over a decade, Motley Fool Stock Advisor, has tripled the market.*
David and Tom just revealed what they believe are the 10 best stocks for investors to buy right now... and Synchronoss Technologies wasn't one of them! That's right -- they think these 10 stocks are even better buys.
Click here to learn about these picks!
*Stock Advisor returns as of February 6, 2017
Dan Caplinger has no position in any stocks mentioned. The Motley Fool owns shares of and recommends Synchronoss Technologies. The Motley Fool has a disclosure policy.