Swelling Spain Woes Sink Wall Street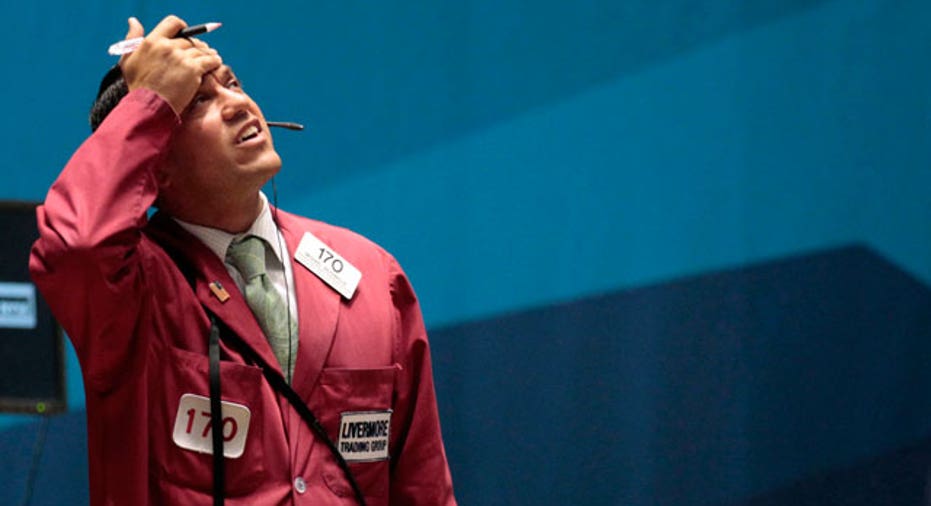 FOX Business: The Power to Prosper
The markets sold off on Friday as worries that Spain, the eurozone's fourth-biggest economy, may get locked out of private debt markets weighed heavily on sentiment.
Today's Markets
The Dow Jones Industrial Average fell 121 points, or 0.93%, to 12823, the S&P 500 dipped 13.9 points, or 1%, to 1363 and the Nasdaq Composite slumped 40.6 points, or 1.4%, to 2925.
Traders have had no lack of headlines to consider this week, although, the pace of economic data releases has slowed down on Friday with no major reports on tap. However, the volatile debt crisis in Europe flared up.
The situation in Spain once again took a downturn, worrying market participants. The country saw its borrowing costs for 10 years rise to 7% again on secondary credit markets even as European Union officials seemed poised to finalize its bank bailout.
The bailout "doesn't change the fact that Spain is going to need more money in the future," said Chris Beauchamp, a market analyst at IG Index in London. He added that the interest rate the country is being forced to pay is "clearly unsustainable."
Spain is the eurozone's fourth-biggest economy, so if it lost access to the private credit markets, a rescue would be extraordinarily expensive, analysts say.
Big tech players Microsoft (NASDAQ:MSFT) and Google (NASDAQ:MSFT) both posted quarterly results that beat expectations after the close of trading on Thursday. Meanwhile, conglomerate General Electric (NYSE:GE) and Schlumberger (NYSE:SLB), the world's biggest oilfield servicing company, each revealed better-than-expected earnings as well.
Oil futures pulled back sharply after seven-straight days of gains. The benchmark contract traded in New York dropped $1.22, or 1.3%, to $91.44 a barrel. Wholesale New York Harbor gasoline rose 0.14% to $2.943 a barrel.
In metals, gold gained $2.40, or 0.15%, to $1,583 a troy ounce.
Foreign Markets
The Euro Stoxx 50 sunk 2.8% to 2237, the English FTSE 100 dipped 1.1% to 5652 and the German DAX slumped 1.9% to 6730.
In Asia, the Japanese Nikkei 225 sold off by 1.4% to 8670 and the Chinese Hang Seng tilted higher by 0.42% to 19641.