Surprise! This Popular Natural Food Grocer Now Ranks Dead Last in Customer Loyalty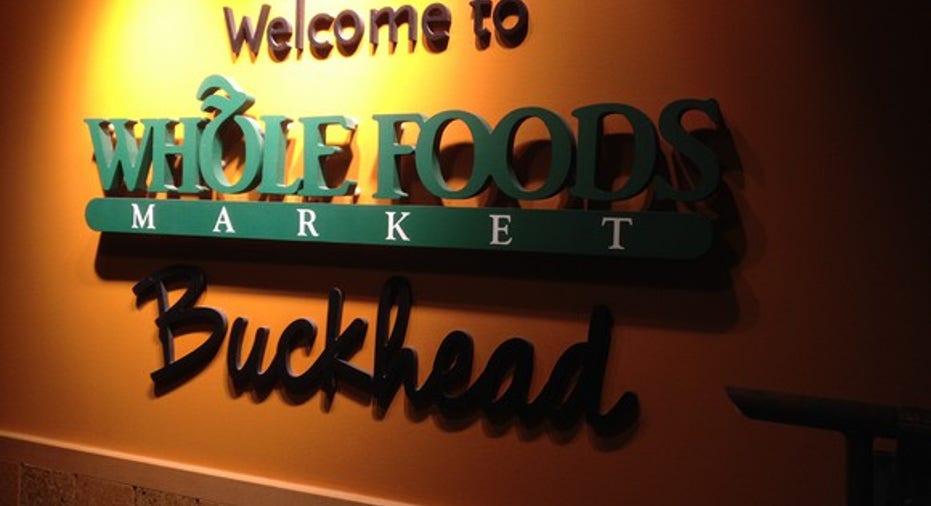 For years, the natural and organic grocery sector was a growth star in an otherwise sleepy industry. Companies likeWhole Foods Market(NASDAQ: WFM) andSprouts Farmers(NASDAQ: SFM) spread like wildfire across the country, trouncing the industry in same-store sales. Through the aughts, Whole Foods' comparable sales were regularly in the double digits as it introduced a new kind of gourmet emporium to much of the country, complete with olive bars and cheesemongers.
More recently, though, things have changed. Mainstream grocers likeKroger, Wal-Mart, andCostcohave caught on to the organic movement, introducing brands and using their economies of scale to undercut competitors like Whole Foods and Sprouts on price.
Image source: Getty Images.
As a result, stocks in the organic segment have plummeted.
As the chart above shows, leading natural foods suppliers likeUnited Natural Foods(NASDAQ: UNFI) andHain Celestial(NASDAQ: HAIN) also took a hit from the industry shift.
Still, another surprising trend appears to be afoot in the industry.
Brand Keys, a consulting firm that does an annual Customer Loyalty Engagement Index, has measured such relationships between consumers and brands for years across several industries. Customer loyalty is a key factor for almost all companies' success, but especially for grocers who rely on repeat customer visits. Without customer loyalty, grocers are much more likely to lose business to competitors.
Surprisingly, Brand Keys found that the company ranking dead last in customer loyalty among natural food stores was Whole Foods, the company generally considered to be the industry leader.
Trader Joe's ranked No. 1 in the survey, followed by The Fresh Market, which was taken private last year by Apollo Global Management, and then Sprouts, and finally Whole Foods.
Is Whole Foods broken?
Perhaps it shouldn't be surprising that Whole Foods would rank last in customer loyalty in its industry. The company has seen comparable sales fall for six quarters in a row as management has struggled to turn around performance. The company, long derided as "Whole Paycheck" by detractors who claimed that their prices were too high, also saw its reputation take a hit when an NYC investigation in 2015 found the company had been mis-weighing some packaged items and was therefore overcharging some customers, which caused a brief sales dip as the news went national.
Whole Foods has not been sitting still as its sales have wilted, though. To combat its reputation for high prices, the company has begun offering more sales and discounts, and it even introduced a loyalty program. CEO John Mackey has said that the company is trying to compete on quality rather than price, but he understands the need to be competitive on pricing.
Image source: They Motley Fool.
Last year, Whole Foods also launched a new budget-priced chain, 365, which is targeted at millennials and bears a close resemblance to Trader Joe's. The new concept heavily features Whole Foods' private-label 365 brand and prepared foods and eschews the specialists like butchers and fishmongers that are found at a traditional Whole Foods.
The company also streamlined its management structure, eliminating the co-CEO positions, along with former co-CEO Walter Robb, in favor of just one CEO.
None of those changes have had a noticeable effect on sales or the bottom line for Whole Foods, though, as the company continues to struggle with headwinds affecting the entire industry like food deflation, which has brought down retail prices across the board.
That the rest of the natural foods sector is challenged may indicate that the company is not fully responsible for its own problems, but the industry is quickly changing. Whole Foods faces competition from more than just traditional grocers. Meal-kit services have popped up lately, allowing to the kind of customers Whole Foods targets to skip the trip to the grocery store and get their weekly dinners in a box. Similarly, farmers markets and community-supported agriculture co-ops have also become more popular, relieving the need for grocery-store visits.Consumers are also increasingly seeking out delivery options as well, and Amazonhas spread its Fresh grocery delivery service to most major metropolitan areas across the country.
Whole Foods' latest guidance was also discouraging as the company sees comparable sales for the fiscal year ending in September falling as much as 2.5%.
Comparable sales will eventually hit bottom, but it's clear from both Whole Foods' and the overall industry's results that the days of double-digit comp sales increases are not coming back. At this point, Whole Foods stock seems unlikely to return to its former heights.
10 stocks we like better than Whole Foods MarketWhen investing geniuses David and Tom Gardner have a stock tip, it can pay to listen. After all, the newsletter they have run for over a decade, Motley Fool Stock Advisor, has tripled the market.*
David and Tom just revealed what they believe are the 10 best stocks for investors to buy right now...and Whole Foods Market wasn't one of them! That's right -- they think these 10 stocks are even better buys.
Click here to learn about these picks!
*Stock Advisor returns as of February 6, 2017.
John Mackey, CEO of Whole Foods Market, is a member of The Motley Fool's board of directors. Jeremy Bowman owns shares of Kroger. The Motley Fool owns shares of and recommends Amazon, Costco Wholesale, Hain Celestial, and Whole Foods Market. The Motley Fool has a disclosure policy.