Surprise! There's a New Bank Atop the Latest Brand Loyalty Rankings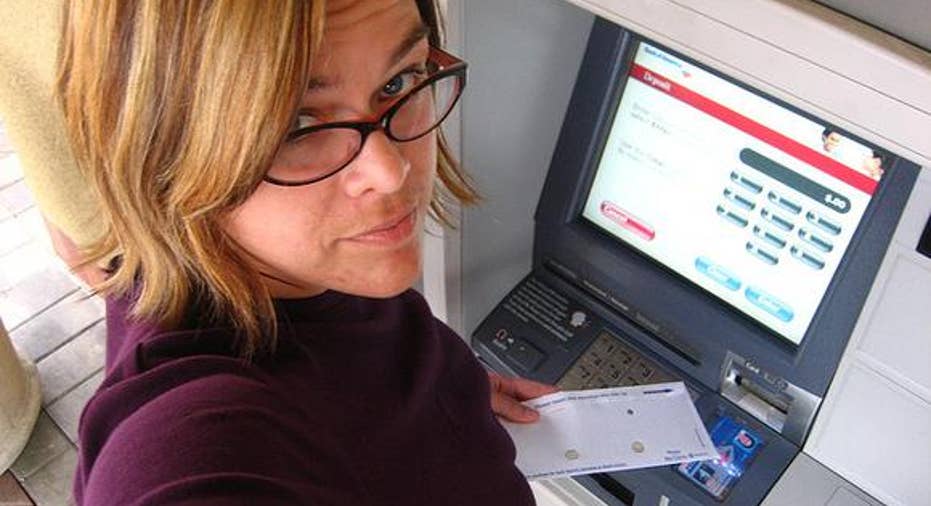 Image source: Flickr user Betsssssy.
There aren't many industries that can cause consumers to instantly cringe in horror, but say the word "bank" and you might just accomplish this feat.
Although customer satisfaction with banks has improved since the Great Recession, consumers still have more than enough reasons not to be trusting of banks in general. As The Huffington Post and others reported, back in 2014, the Department of Justice imposed $128 billion worth of settlements on banks related to practices that led to the real estate collapse and mortgage market meltdown.
Even more recently, a research paper by business school professors at the University of Chicago and the University of Minnesota found that 7% of financial advisors have been disciplined for misconduct. Not exactly a reassuring figure considering that the banking and money management businesses rely on trust and loyalty.
Image source: Flickr user David Goehring.
The importance of brand loyalty in banking Yet the rewards for banks that can gain consumers' loyalty can be enormous. Loyal customers are coveted by all businesses for their free word-of-mouth solicitations to friends and family. Think about it this way: You're far more liable to consider doing business with a company if it comes highly recommended by a good friend or family member than if you've only seen its advertisements in print, on television, or online.
For banks, those loyal customers can significantly enhance profit margins; they tend to be willing to open multiple accounts, take out mortgages, get a home equity lines of credit, business or personal loans, or use wealth management services, beyond just opening simple checking and savings accounts.
But measuring brand loyalty for banks isn't cut-and-dried. This is why we're turning to the 21st annual Customer Loyalty Engagement Index from New York-based research firm Brand Keys. After interviewing more than 42,000 people to get a feel for how banks are engaging with them, Brand Keys recently released its loyalty and engagement rankings for nine large banks, up from six ranked last year.
Let's have a brief look at this year's surprising bank loyalty rankings (including a change at the top), and take a closer look at what the leading bank is doing to keep its customers loyal and happy.
Could have been a contender First, the "could have been a contender" group:
Bank of America : Third
Bank of New York: Fourth
PNC: Fifth
Capital One: Sixth (tie)
TD Bank: Sixth (tie)
HSBC: Seventh (last)
There aren't too many surprises here, even if Bank of New York, Capital One, TD Bank, and HSBC are all new additions to this year's rankings.
Image source: Bank of America.
Bank of America (which owes its third place finish in Brand Keys' rankings in part to a tie for second that we'll get to shortly) continues to suffer from the stigma of its mortgage-related settlements. Because of its untimely purchase of Countrywide Financial after the bursting of the housing bubble, Bank of America has paid far more in settlements than any major bank. It's tough for consumers to remain loyal to Bank of America, oror trust it with so much negative overhead.
However, time has cured such wounds for banks previously, so something says Bank of America could be in much better shape with consumers in a few years. And, on the bright side, it did move up one spot from last year's ranking.
Movement near the topLast year, Citigroup's wound up taking the No. 2 spot, with JPMorgan Chase taking the top honor. In this year's Customer Loyalty Engagement Index, Citigroup and JPMorgan Chase tied for second place.
I believe, as you'll see below when we look at the surprising top bank in terms of customer loyalty in 2016, it was not that Citigroup or JPMorgan regressed in any way, but rather that the leading bank simply overtook them by pressing the gas pedal a little harder.
Image source: Chase Bank.
JPMorgan Chase continues to benefit from its dual focus on millennials and the wealthy. In February 2015, it announced it would be closing about 300 branches by 2017 to align its business with a growing push into online banking. Mobile and ATM-based transactions are substantially cheaper for banks, and JPMorgan is doing everything it can to cater to millennials who demand banking convenience. JPMorgan has also made inroads with wealthier individuals by emphasizing its private client wealth management services.
Citigroup is able to work its magic by tapping into its credit card business, which is the largest in the world with 139 million accounts and $375 billion in annual purchases. Dangling rewards with its branded credit cards can be a strong lure to keep consumers loyal, as well as move them into other branded financial products.
The bank Americans are most loyal to is...After finishing a disappointing fourth in last year's rankings, Warren Buffett's darling financial institution, Wells Fargo , took the top spot.
Why Wells Fargo? I'd opine it's because of a couple of factors.
Image source: Wells Fargo.
First, Wells Fargo has a number of perks in place to reward existing and previous Wells Fargo bank members. As noted by Bankrate, customers who've had a previous relationship with Wells Fargo and enroll in automatic payments can qualify for a quarter-point interest rate discount on auto loans, student loans, and personal lines of credit. Wells Fargo also offers branded credit cards that allow account-holders to accumulate rewards.
Secondly, Wells Fargo employs one of the oldest tricks in the book, cross-selling, a tactic initiated by former CEO Richard Kovacevich back in the 1990s. Rather than attempting to market one financial product at a time and hoping to attract new consumers via marketing, Kovacevich's strategy was to only target existing customers. By targeting existing customers, focusing on their individual needs, and upselling them to additional services, the bank cultivated them into loyal clients. Those loyal and long-standing clients eventually became Wells Fargo banking advocates, doing the job that marketing campaigns might not have done as effectively.
Wells Fargo is also leveraging technology to make banking more convenient. Like its peers, it has focused on beefing up its mobile and ATM access in order to cater to millennials. However, an interesting twist is that Wells Fargo is opening new branches while some of its peers are closing theirs. The reason? While approximately 85% of interactions tend to be self-service via ATMs, online, or through apps, some 85% of consumer sales and referrals -- where the juiciest profits can be earned -- are made within bank branches by tellers and other staff.
Based on these factors, it could be tough to unseat Wells Fargo from the top spot in the coming years. Investors looking to add a solid bank stock to their portfolio may want to consider giving Wells Fargo a closer look (in case Buffett owning a 9.2% stake in the company wasn't reason enough).
The article Surprise! There's a New Bank Atop the Latest Brand Loyalty Rankings originally appeared on Fool.com.
Sean Williamsowns shares of Bank of America, but has no material interest in any other companies mentioned in this article. You can follow him on CAPS under the screen nameTMFUltraLong, track every pick he makes under the screen name TrackUltraLong, and check him out on Twitter, where he goes by the handle@TMFUltraLong.The Motley Fool owns shares of and recommends Wells Fargo. It also has the following options: short May 2016 $52 puts on Wells Fargo, and recommends Bank of America. Try any of our Foolish newsletter services free for 30 days. We Fools may not all hold the same opinions, but we all believe that considering a diverse range of insights makes us better investors. The Motley Fool has a disclosure policy.
Copyright 1995 - 2016 The Motley Fool, LLC. All rights reserved. The Motley Fool has a disclosure policy.