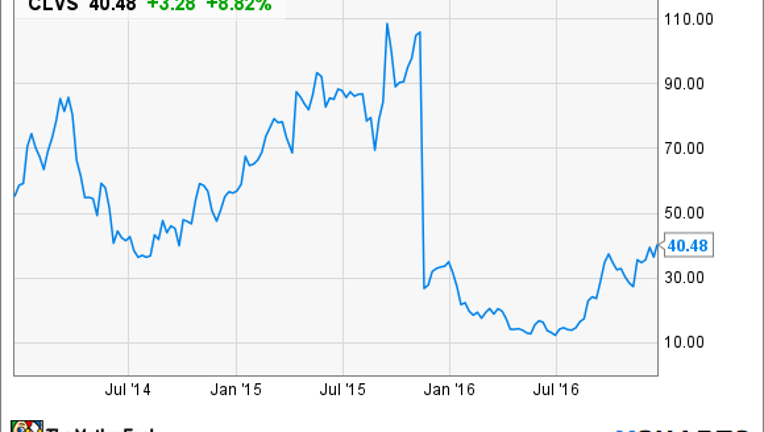 The FDA has given a green light to Clovis Oncology's (NASDAQ: CLVS) ovarian-cancer drug, Rubraca. Its approval offers new hope to ovarian-cancer patients who have seen their disease progress despite prior treatment, and it positions Clovis Oncology to compete against AstraZeneca's (NYSE: AZN) Lynparza, a drug that works similarly.
Will Clovis Oncology be able to outmaneuver Lynparza? And should investors be buying this stock?
IMAGE SOURCE: GETTY IMAGES.
New advance
PARP and BRCA are key cogs the body uses to repair cell damage, including damage that chemotherapy does to cancer cells.
In patients with BRCA mutations that prevent BRCA repair, inhibiting PARP encourages cancer cell death.
AstraZeneca's Lynparza was the first PARP inhibitor to win FDA approval, securing the go-ahead in 2014 for use in ovarian-cancer patients who have tried three or more chemotherapies.Today, the FDA has approved Rubraca for use in ovarian-cancer patients who have tried two or more chemotherapies.
The approval allows the use of PARP inhibition earlier in patient treatment and potentially allows Rubraca to leapfrog over Lynparza use.
Rubraca's approval was based on phase 2 trials showing an overall response rate of 54%. Sixty-one percent of patients experienced a severe adverse event, meaning grade 3 or higher; however, dose adjustments or interruption can help manage many of the risks. For perspective, Lynparza's approval was based on a 34% overall response rate in trials.
Angling for market share
About 25% of ovarian-cancer patients have BRCA mutations that make them amenable to PARP inhibitors, and roughly 23,000 American women are diagnosed with ovarian cancer every year. Sadly, many ovarian-cancer patients see their disease progress despite treatment, and survival rates for those that fail to respond to existing therapies is poor.
Because there's a significant need for new therapies, PARP inhibitors could generate significant revenue for drug developers.Lynparza, for example, costs about $13,000 per month, and its sales were $58 million in Q3, up 107% year over year.
Initially, the Rubraca sales run rate could be similar to Lynparza's, because Clovis Oncology has priced the drug close to Lynparza, at $13,740 for a 30-day supply.
However, it's not clear how market share will shape up over time. AstraZeneca expects to file for second-line use of Lynparza in the first half of next year, and a trial that could elevate Lynparza back ahead of Rubraca in treatment will read out results next year.
Further, a third contender, niraparib, is under FDA review, with a decision expected next year, and in trials, it appeared effective in both BRCA mutation and non-BRCA mutation patients.A fourth PARP inhibitor, talazoparib, is being studied in phase 3 breast-cancer trials byPfizer, which acquired it in its $14 billion acquisition of Medivation earlier this year.
Looking ahead
Clovis Oncology's shares suffered a big setback last year, when the company shuttered development of a lung-cancer drug that had once been promising, but now that it has an FDA approval to its record, confidence in its R&D team should increase, helping support its shares.
Undeniably, the company's got stiff competition in the PARP space, but since there isn't a cure for BRCA cancers, there may be room for multiple PARP inhibitors in this market. Given that itsnine-figure sales potential should go a long way toward strengthening the company's financials, this approval makes Clovis Oncology a stock worth watching.
10 stocks we like better than Clovis Oncology When investing geniuses David and Tom Gardner have a stock tip, it can pay to listen. After all, the newsletter they have run for over a decade, Motley Fool Stock Advisor, has tripled the market.*
David and Tom just revealed what they believe are the 10 best stocks for investors to buy right now... and Clovis Oncology wasn't one of them! That's right -- they think these 10 stocks are even better buys.
Click here to learn about these picks!
*Stock Advisor returns as of Nov. 7, 2016
Todd Campbell owns shares of Pfizer.Todd owns E.B. Capital Markets, LLC. E.B. Capital's clients may have positions in the companies mentioned.Like this article? Follow him onTwitter where he goes by the handle@ebcapitalto see more articles like this.
The Motley Fool has no position in any of the stocks mentioned. Try any of our Foolish newsletter services free for 30 days. We Fools may not all hold the same opinions, but we all believe that considering a diverse range of insights makes us better investors. The Motley Fool has a disclosure policy.