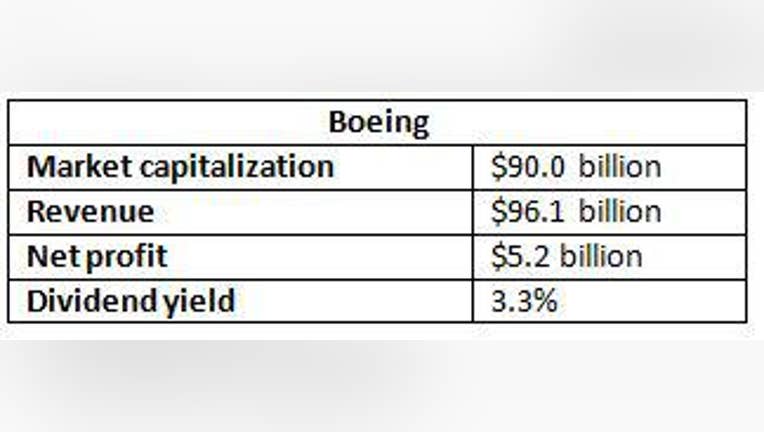 CH-47 Chinook in flight. Image source: Boeing.
April 1 is just around the corner, and if you're at all familiar with the workings of the U.S. federal government, you know what that means: Another fiscal quarter is coming to a close -- and anyone who wants to get their contracts signed, and their money spent, before the books close on the quarter, had better act fast.
Which is great news for Boeing stock.
The newsLast week, in one of the bigger defense contracts we've seen lately, the U.S. Pentagon announced a blockbuster purchase of CH-47F Chinook cargo helicopters for the U.S. Army. According to the announcement, which appeared in the Pentagon's daily contracts update on March 15, the Army will purchase 27 overhauled "renew" helicopters and 12 brand-new "new build" helicopters from Boeing.
In total, Boeing's helicopter contract is valued at $896.9 million. That's more than half the $1.73 billion in contracts that the Pentagon announced on March 15. But it's still a bit of a discount to what it would ordinarily cost the Army to buy 39 all-new Chinooks, which sell for about $30 million apiece, according to the military hardware analysts at BGA-Aeroweb.
Follow the moneyAccording to BGA, roughly 74% of the flyaway cost of a Chinook is attributable to the helicopter airframe itself. Thus, Boeing, which builds the Chinook, will benefit more than anyone else from this contract. (The next most valuable parts are the helicopter's twin T55-GA-714A engines, which come from Honeywell , and sell for $1.06 million each.)
Data source: Yahoo! Finance.
Boeing's Military Aircraft division builds the Chinook. This is Boeing's second-largest business, and took in $13.5 billion in revenues last year --14% of companywide revenues. It's also one of Boeing's more profitable divisions, earning pre-tax profit margins of 9.8%.
Thus, even if we assume that Honeywell will ultimately receive part of the funds under this contract as the engine subcontractor, the likely profit for Boeing still works out to just under $88 million -- or about $0.13 per share. Should you buy Boeing stock?Within the big bucket of $5.2 billion that is Boeing's annual profit, $88 million will barely make a "splish." Huge as it is, even this contract is not in and of itself a reason to buy Boeing. Instead, you need to take a look at the valuation of Boeing stock as a whole.
Data sources: Yahoo! Finance, S&P Global Market Intelligence
At the same time, the stock has relatively low price-to-free cash flow and price-to-sales ratios, which both clock in below 1.0, suggesting the stock is in fact underpriced. This is particularly true for a defense stock which, as I've pointed out in the past, generally sell for prices of about one-times sales.Valued on its price-to-earnings (P/E) divided by growth, Boeing has a PEG ratio of 1.8. That's right in line with the rest of the S&P 500, and suggests that at the very worst, Boeing stock is not overvalued today.
Accordingly, I'm going to give Boeing the nod this week. The stock's not quite as cheap as it was a few weeks ago. But if you're looking to own a piece of a dominant business selling for a reasonable price, Boeing stock is a very good place to start.
The article Surprise! Boeing Lands About $1 Billion in Chinook Helicopter Contracts originally appeared on Fool.com.
Rich Smithdoes not own shares of, nor is he short, any company named above. You can find him onMotley Fool CAPS, publicly pontificating under the handleTMFDitty, where he's currently ranked No. 288 out of more than 75,000 rated members. Follow him on Facebook for the latest defense news.The Motley Fool has no position in any of the stocks mentioned. Try any of our Foolish newsletter services free for 30 days. We Fools may not all hold the same opinions, but we all believe that considering a diverse range of insights makes us better investors. The Motley Fool has a disclosure policy.
Copyright 1995 - 2016 The Motley Fool, LLC. All rights reserved. The Motley Fool has a disclosure policy.