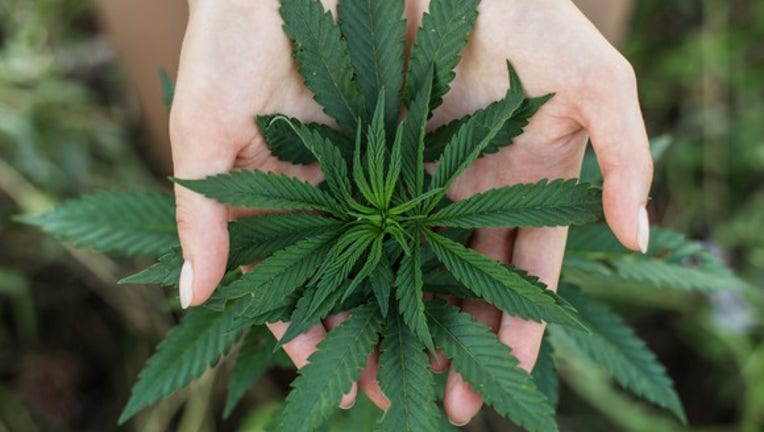 There aren't many industries out there that can claim the type of consistent growth that the marijuana industry has been delivering for the past couple of years. In 2016, according to cannabis research firm ArcView, legal sales of pot grew by 34% in North America to $6.9 billion. Yet with $46.4 billion of sales still tied to the black market, there's a bounty of opportunity for growth, mostly on the recreational, adult-use side of the equation.
According to investment firm Cowen & Co., the legal marijuana industry could gobble up a majority of black market sales by 2026, assuming marijuana continues to expand organically within legal states, and inorganically through its legalization in new states. Cowen & Co. anticipates legal sales of $50 billion by 2026. That represents a better-than-23% annualized growth rate based on this estimate, which was released last year.
Image source: Getty Images.
Marijuana's rapid growth still stymied by Washington
The biggest constraint for growth in the marijuana industry remains its Schedule 1 status at the federal level. As long as marijuana retains its Schedule 1 status, it's labeled as having no medically beneficial properties, and it hinders businesses trying to take advantage of the so-called "green rush."
For example, since marijuana is a Schedule 1 substance, and financial institutions almost always answer to the federal government, most banks won't offer basic financial services to pot-based businesses. This means no access to checking accounts and no lines of credit. Because of this, many marijuana businesses are forced to deal in cash, which is a major security concern and a potential inhibitor of growth.
Marijuana-based businesses also get hit come tax time. Section 280E of the U.S. tax code disallows businesses that sell a federally illegal substance from taking corporate tax deductions, including for ordinary business expenses. As a result, pot businesses pay far more tax to the federal government than other types of companies do.
The best bet for the industry at this point is to attract Congress's attention by getting new states onboard with legalization. Since we're still a ways off from election season, any sort of marijuana bills introduced at this point in time would likely come from a state's legislature. Last week, we saw just that.
Image source: Getty Images.
Surprise! Illinois lawmakers want to legalize recreational pot
On Wednesday, March 22, co-sponsors Sen. Heather Steans (D-Il.) and Rep. Kelly Cassidy (D-Il.) introduced legislation in Illinois that would legalize recreational marijuana. It should be noted that both Steans and Cassidy aren't planning to bring their bill to vote immediately. Instead, using the move to gauge interest. They plan to hold feedback hearings later this year, with the expectation of putting a bill in front of the Illinois legislature in 2018.
According to the proposal, adults 21 and up would be allowed to possess, grow, and buy limited amounts of cannabis. The limit would be set at 28 grams, which is just about an ounce, and people would be capped at growing five plants. The bill proposes taxing pot at $50 per wholesale ounce, with the standard state tax rate of 6.25% also applying.
The Marijuana Policy Project has estimated that legalizing recreational cannabis in Illinois could generate sales of between $350 million and $700 million per year. Illinois would funnel half of the revenue it receives from tax and licensing fees to the state's General Fund, while the other half would go toward schools and drug abuse treatment and education programs.
An approval of recreational pot in Illinois would also be intriguing because it would be the first state in the Midwest to do so. Illinois could thus open the door for other Midwestern states to take the plunge.
For what it's worth, the state's governor and House speaker didn't comment on the newly introduced bill, but the Illinois Association of Chiefs of Police came out firmly against the idea of legalizing recreational marijuana, according to the Chicago Tribune.
Image source: Getty Images.
Don't hold your breath
On one hand, it's encouraging for proponents of marijuana to see the legislatures of a number of states considering some form of legalization. Nebraska, Rhode Island, and Vermont have all recently been discussing legislation that could make medical or recreational marijuana legal within their respective states.
However, industry proponents and investors shouldn't hold their breath, because marijuana's expansion could soon slow to a crawl.
In February, White House press secretary Sean Spicer said that the White House would not be as lax on regulating marijuana as the Obama administration had been. The apparent good news for medical patients and the 28 states that have legalized medical cannabis is that President Trump hasn't wavered in support for pot's medical uses (as determined by the states). But, recreational marijuana could come under fire, though the extent to which the federal government plans to regulate the recreational industry remains uncertain.
The industry could also be nearing a plateau with regard to medical marijuana legalizations. Roughly two dozen states only have the initiative and referendum process available, meaning a state's legislature (not residents voting on a ballot) is responsible for passing laws. A number of these states are currently led by Republicans, who maintain a conservative view of marijuana's expansion and legalization.
Long story short, the robust growth estimates for legal pot may be a bit utopian. When you add the fact that nearly all marijuana stocks are losing money, on top of the uncertainty surrounding Spicer's comments in February, there are genuine reasons to be skeptical of the industry and keep your distance.
10 stocks we like better thanWal-MartWhen investing geniuses David and TomGardner have a stock tip, it can pay to listen. After all, the newsletter theyhave run for over a decade, the Motley Fool Stock Advisor, has tripled the market.*
David and Tomjust revealed what they believe are theten best stocksfor investors to buy right now... and Wal-Mart wasn't one of them! That's right -- theythink these 10 stocks are even better buys.
Click hereto learn about these picks!
*StockAdvisor returns as of March 6, 2017The author(s) may have a position in any stocks mentioned.
The Motley Fool has a disclosure policy.