Supercharger Costs Are Still Relatively Small for Tesla Inc.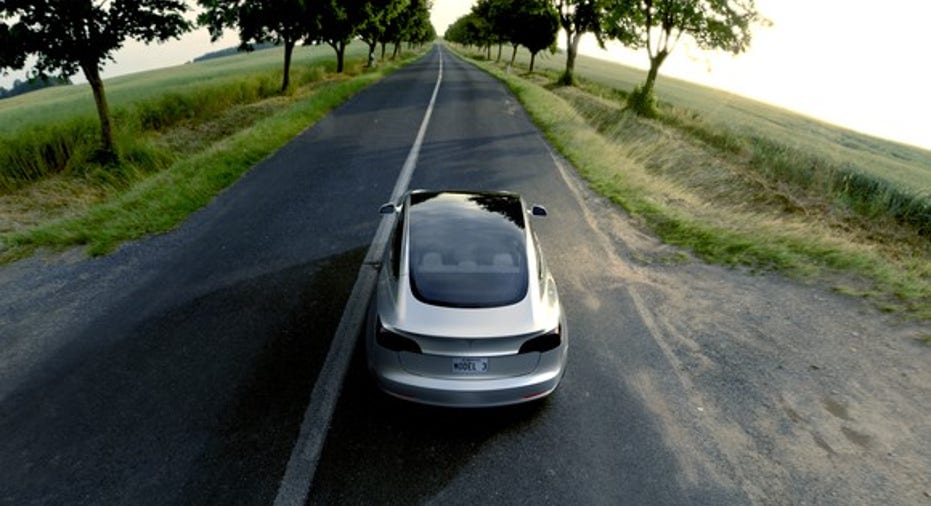 Tesla (NASDAQ: TSLA) was undoubtedly a pioneer when it came to building out a charging network for electric vehicles that truly enables long-distance travel across the country. And the network remains a top priority for Tesla today, particularly ahead of its Model 3 launch later this year. The electric-car maker wants to be sure the network is prepared to handle higher demand from a larger fleet of fully electric vehicles.
Some investors might wonder just how costly it is for Tesla to build new Superchargers and to maintain them. Fortunately, Tesla provided some insights into the costs of Superchargers in its most recent annual report. As it turns out, the costs involved with building out the world's largest network of fast-charging stations are not only reasonable, but also sustainable.
Tesla Supercharger. Image source: author.
What Tesla said about Supercharger costs
There are essentially two main types of costs for Tesla's Supercharger expansion: up-front capital outlay and operating costs. Here's what Tesla said about each in its most recent annual report.
Capital outlay: Regarding up-front spending on Supercharger stations in 2016, Tesla said it represented only a "minimal portion of total capital spending." Assuming Tesla accounts for the book value of its Supercharger locations on par with the amount it spends to build them, this amount was probably about $40.6 million, since the net book value of Tesla's Supercharger network increased from $166.6 million in 2015 to $207.2 million in 2016.
While $40.6 million might seem like a lot, it's a tiny portion of Tesla's total capital expenditures. Tesla spent about $1.3 billion on capital expenditures in 2016.
Since Tesla's total Supercharger locations expanded from 584 to 790 during this period, the company likely spent around $194,000 per new Supercharger location during the year.
Operating costs: Though there aren't any figures available on the operating costs of maintaining Superchargers and footing their electric bills, Tesla does give investors some context. The company says it allocates Supercharger operating costs to automotive cost of goods sold and selling, general, and administrative expenses, which makes sense since the Supercharger experience is ultimately one of the key selling points for a Tesla vehicle. These costs "were immaterial for all periods presented," Tesla said in its 2016 annual report.
Overall, therefore, Supercharger costs are relatively small for Tesla -- at least as a portion of total capital expenditures, cost of goods sold, and operating expenses.
Tesla's Supercharger expansion
Even as Supercharger spending has remained nearly unnoticeable, Tesla's Supercharger network is growing rapidly. Measured by total connections (instead of total locations), Tesla said last March it planned to double connections globally, from 3,600 to 7,200 by sometime in 2017. Tesla has already made significant progress toward this target, with total Supercharger connections today at 5,295.
Model 3. Image source: Tesla.
However, though Supercharger costs have been manageable amid this rapid expansion, Supercharger utilization per dollar of revenue from vehicle sales is bound to increase as the company begins selling its Model 3 later this year for half the price of its Model S and Model X. Fortunately, Tesla has a solution for this. The company has been rolling out a number of key changes to its Supercharger program, including a fee for idle vehicles at Superchargers and fees per kilowatt-hour of charging after about 1,000 miles of free charging for each customer each year.
With Tesla's Supercharger network expansion already looking like a feasible expenditure for the company to maintain as it continues to grow, these new fees for Supercharging should easily be enough for Tesla to keep the network from being a burden on financials in the years to come.
10 stocks we like better than TeslaWhen investing geniuses David and Tom Gardner have a stock tip, it can pay to listen. After all, the newsletter they have run for over a decade, Motley Fool Stock Advisor, has tripled the market.*
David and Tom just revealed what they believe are the 10 best stocks for investors to buy right now... and Tesla wasn't one of them! That's right -- they think these 10 stocks are even better buys.
Click here to learn about these picks!
*Stock Advisor returns as of February 6, 2017
Daniel Sparks owns shares of Tesla. The Motley Fool owns shares of and recommends Tesla. The Motley Fool has a disclosure policy.