SunPower's Slashing Costs in a Bid to Survive 2017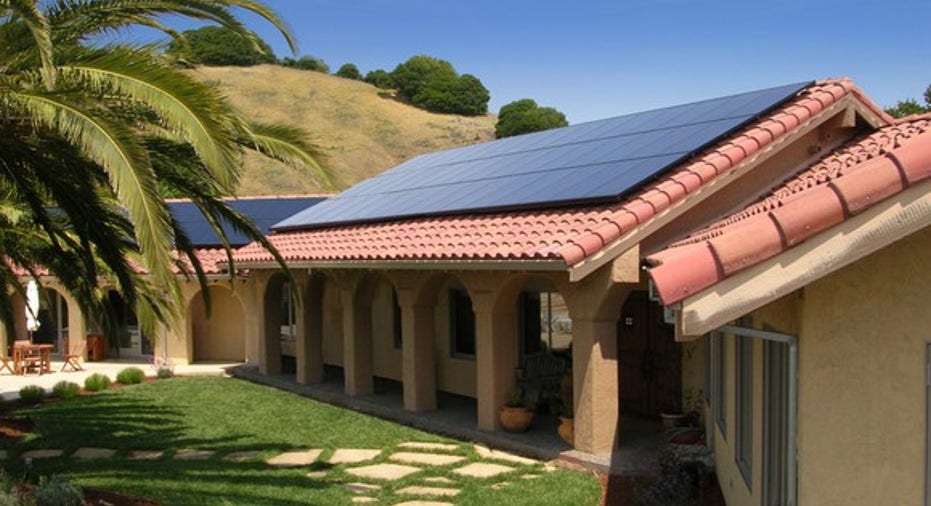 SunPower Corporation (NASDAQ: SPWR) is cutting costs to the bone in preparation for an abysmal 2017. We've know for a while, based on projections from SunPower and competitorFirst Solar (NASDAQ: FSLR), that 2017 was going to be bad -- but SunPower's cost reduction plans show just how bad it's expected to be.
There are a lot of moving parts here, so below I'll outline what the moves are, how different market segments are playing out, and what investors should look for in the future.
Image source: SunPower.
The cost reduction plan
We've known since third quarter earnings were released that SunPower was planning on reducing costs and moving around manufacturing. But we got a better idea of what that meant on Wednesday. The company will close the Fab 2 manufacturing facility, shutting down 700 MW of E-Series capacity and affecting about 1,800 employees.
Workforce reduction will total 2,500 people, or about 25% of the total workforce, and about a quarter of that will come at the corporate level. These reductions will help bring operating expenses below $350 million in 2017, which management hopes will give the business a lot of leverage once market conditions improve.
2017 capital expenditures are also expected to be about $100 million as management focuses on cash preservation. They expect to be slightly cash flow positive on an operating perspective, so keeping capital expenses in check will be essential.
In the future, SunPower will shift a larger percentage of its production to the high efficiency X-Series product and phase out a lot of lower efficiency E-Series. At the same time, the P-Series, which is lower efficiency than E-Series but also lower cost, will ramp up to 400 MW by the end of 2017, with the potential to increase production further with capital costs of just $0.05 per watt and a 6 month lead time.
Management also said it will integrate further with majority owner Total (NYSE: TOT), which will help with solar solutions like storage (see Total's acquisition of battery maker Saft this year) and could potentially develop more utility scale projects in international markets.
Overall, you can think of this strategy as moving to two major product lines: a high value, high efficiency solar panel for distributed markets, and low cost panels made for utility projects. And this brings me to how we should look at this as two very distinct businesses today.
Distributed generation is the growth story
What's become clear over the past six months is that any premium E-Series panels (which are 18% to 20% efficient) commanded on the market has evaporated. As commodity solar panels (around 15% efficient) sell at dramatically reduced prices and higher efficiency products like mono PERC technology (17% to 19% efficient) expand, the advantage E-Series had is gone. That's the real reason Fab 2 is being shut down, although about 500 MW-800 MW of E-Series panels will still be produced in 2017.
Image source: SunPower.
What's replaced E-Series is the X-Series panels, which are already achieving 23% efficiency. And the cost structure is already competitive in the market, leading to strong margins in residential solar this year.
The commercial Helix design and residential Oasis design are built around X-Series, and are expected to grow in 2017. And management is hoping to improve the cost structure of Helix, which will help margins. Commercial and residential solar combined are a growth story for SunPower, and will be well over half the business from a revenue standpoint next year.
But utility solar is another story.
Utility solar is in survival mode
E-Series panels are struggling in residential and commercial solar, but the problem is even worse in utility scale solar. Costs are much more important and efficiency doesn't have the same impact, so SunPower is moving to its new P-Series product for most utility projects going forward.
On top of that operational challenge, the utility market is in a major trough right now. The U.S. market is in a slump -- there's a lack of urgency due to the ITC extension a year ago, along with most renewable portfolio standards being met and China's market cratering after installing 20 GW in the first half of 2016. Demand will return, but between the middle of 2016 and the middle of 2017 there's going to be only a small number of utility scale contracts signed, and that's what's hurting SunPower and First Solar right now. They're adjusting costs to get to 2018, when they already have contracts signed and are expecting more to come down the pipeline around the world.
Here's the crazy thing with the utility market: It can go from bust to a massive explosion very quickly. It's very possible that by the end of 2017 we'll see China, India, and Latin America all contract a large number of solar projects, leading to a surge in demand overall. That's why the low cost of P-Series capital expansion is important, and a 6-month turnaround to expand could be important if the market opens up again.
What to think about SunPower today
I've been writing for a while now that SunPower is in survival mode for the next 6-18 months. It's going to cut costs and reallocate production to where management thinks demand will be in the future, including layoffs. But until we start to see more demand in the solar industry overall, the financials will be tough.
What investors will want to watch for in the coming year is stable to growing sales and margins in residential and commercial markets with new project signings in utility projects. If both of those things happen, the business will be heading in the right direction.
I still think this is still one of the best positioned companies to capitalize on the industry's potential long-term, but that doesn't mean there won't be challenges. And until we start to see revenue and margins turn around, investors should understand that this is a high risk stock. But at least we know there's a plan to get through the next year and come out on the other side better off -- or at least that's the hope for today.
10 stocks we like better than SunPower When investing geniuses David and Tom Gardner have a stock tip, it can pay to listen. After all, the newsletter they have run for over a decade, Motley Fool Stock Advisor, has tripled the market.*
David and Tom just revealed what they believe are the 10 best stocks for investors to buy right now... and SunPower wasn't one of them! That's right -- they think these 10 stocks are even better buys.
Click here to learn about these picks!
*Stock Advisor returns as of Nov. 7, 2016
Travis Hoium owns shares of First Solar, SunPower, and Total. The Motley Fool recommends Total. Try any of our Foolish newsletter services free for 30 days. We Fools may not all hold the same opinions, but we all believe that considering a diverse range of insights makes us better investors. The Motley Fool has a disclosure policy.