SunPower's Big Play for the Rooftop Solar Market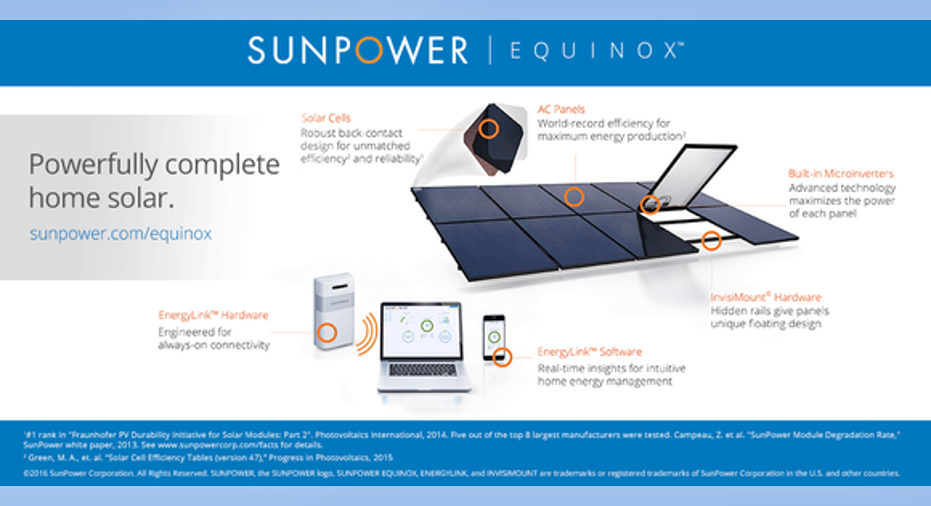 SunPower is betting that aesthetics will help it sell the Equinox solar power system to homeowners. Image source: SunPower.
SunPower Corp has quietly built a booming residential solar business, and it should take another big step forward in 2016. As competitors like SolarCity and Vivint Solar deal with slowing growth and falling confidence in their business model, SunPower is gaining market share,and just announced its next-generation residential solar product.
SunPower's new product, called Equinox, should help the company's drive to expand in rooftop solar, making it cheaper to install solar and leaving a more attractive installation.
Leveraging design and efficiency The core of SunPower's entire business model is its high-efficiency solar cells. The Equinox product comes with X22 solar panels, which lead the industry at over 22% efficiency in converting the sun's energy to electricity, and also have an all-black look. Combined that with an all-black low-profile mounting system and included microinverters, which eliminate the need for a large inverter to be installed at the home, and you have the sleekest design in the industry -- and the most energy production, too.
According to SunPower, the Equinox system will produce 70% more energy over 25 years than the same-size installation of standard solar panels.
Image source: SunPower.
With the microinverter, installation times should be shorter than with traditional string inverter technology, which will save even more money.
Another tailwind SunPower has is its flexible financing model. SolarCity and Vivint Solar are almost entirely reliant on long-term leases or power-purchase agreements, which are high margin for solar companies, but are becoming less competitive as more consumers choose to own their solar systems.
SunPower's play for the cost-conscious homeowner The biggest difference between SunPower's residential solar business model and SolarCity's or Vivint's is that it doesn't own the installation network. It works with local contractors, who get a fee for installing and maintaining each solar system. This contributes to the company's decision to offer leases, loans, and cash sales to customers.
Since more and more customers are now choosing to buy solar systems with cash or a loan, it makes the cost of installation and the energy production from a system more critical to the customer. That's why the Equinox system's simple design, high-energy production, and good looks are a key selling point. Solar is now about more than just what customers are paying for energy.
Watch out for SunPower in rooftop solar Not only is SunPower investing in gaining market share in residential solar, its Helix product for commercial solar has brought standardization that reduces installation times and lowers costs. The combination of the two products should help the company gain market share in the U.S. as customers put more stock in how a solar power system looks and what its energy production is.
For investors, I think this will help the company expand margins as it boosts growth. High efficiency has always been SunPower's advantage, but standardizing installations is key to turning that efficiency into growing profits, which we should see grow rapidly over the next five years.
The article SunPower's Big Play for the Rooftop Solar Market originally appeared on Fool.com.
Travis Hoium owns shares of SunPower. The Motley Fool owns shares of and recommends SolarCity. Try any of our Foolish newsletter services free for 30 days. We Fools may not all hold the same opinions, but we all believe that considering a diverse range of insights makes us better investors. The Motley Fool has a disclosure policy.
Copyright 1995 - 2016 The Motley Fool, LLC. All rights reserved. The Motley Fool has a disclosure policy.