Sunoco LP's Stock Got Hammered in 2016. Is the Worst Over?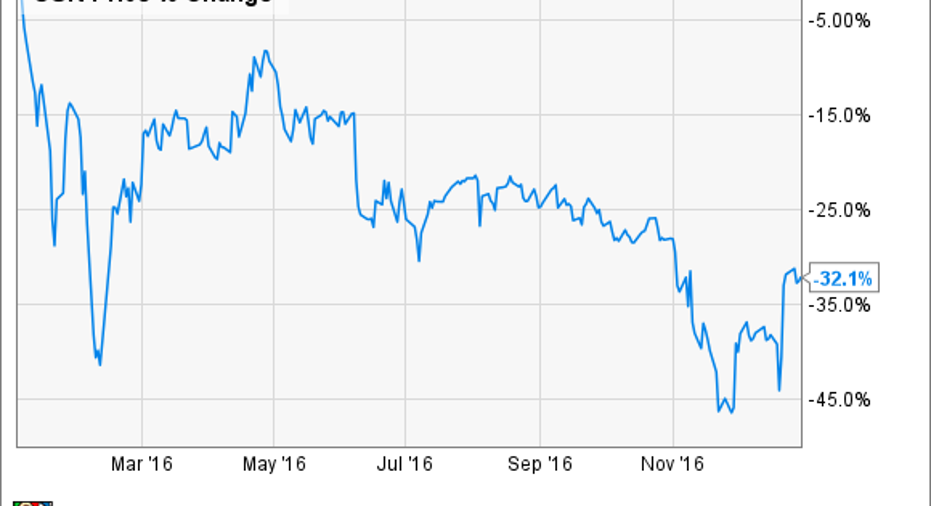 Investing in the energy industry was a pretty good bet in general for 2016, but that certainly wasn't the case for Sunoco LP (NYSE: SUN) as its stock dropped more than 32% last year. Unfortunately, a lot of the pain that Sunoco's stock felt last year was self-inflicted.
Let's take a look at what happened last year to send shares of Sunoco plummeting and whether we can expect anything better in 2017.
Image source: Getty Images.
Not sticking to the plan
2016 was a transformative year for Sunoco. In March, the company completed a $2.226 billion dropdown acquisition from its parent company,Energy Transfer Partners (NYSE: ETP). That deal completed a series of moves where Energy Transfer Partners moved all of its retail fueling stations and wholesale fuel distribution businesses under one roof.
Dropping down all of those assets was part of Energy Transfer Partners and Sunoco's plan all along. However, that appears to be the only thing that went according to the initial plan. During the company's analyst day presentation in 2015, management stated it planned to maintain a target debt-to-EBITDA ratio of 4.0-4.5 times throughout the dropdown process and maintain a distribution coverage ratio in excess of 1.1 times.
When the rubber hit the road, tough, the company blew past that target debt range. After that major dropdown this past year, the company's net debt-to-EBITDA ratio ballooned up to 7.5 times. Also concerning was that the company struggled to meet its distribution coverage ratio target. In the second quarter, Sunoco's distribution coverage ratio dropped to an eyebrow-raising 0.9 times. Basically, it was burning through cash to pay its shareholders.
As a result, management has had to put the brakes on growing its distribution. That is in stark contrast to the 22% compounded annual growth rate investors had enjoyed up until this year.
Despite these signals that the business wasn't as robust, management continued to make acquisitions. On top of the large dropdown, Sunoco inked another four acquisitions in 2016 that totaled more than $300 million combined. These moves seemed to be blind to the underlying issues facing the company.
This has put Sunoco in a bit of a quandary. The company can't take on any more debt. In fact, last month its creditors forced Sunoco into a debt reduction plan because it was violating some of its debt covenants. In exchange for raising its current covenant of funded debt-to-EBITDA ratio -- different from the total debt-to-EBITDA measure already given -- to 6.75 times, Sunoco has to lower its debt levels on the following schedule.
6.50 times at March 31, 2018
6.25 times at June 30, 2018
6.00 timesat Sept. 30, 2018
5.75 timesat Dec. 31, 2018
5.50 timesatMarch 31, 2019and thereafter
At the same time, however, shares of Sunoco currently carry a distribution yield just north of 12%. While it has been able to cover its current payment with distributable cash flow for the year, it's not generating enough excess cash to either pay down debt or grow the business. Issuing shares is an option to do that, but with such a high yield, it's prohibitively expensive.
What a Fool believes
Sunoco has two options: It can continue to limp along at its current payout and hope some small organic investments can grow EBITDA enough to bring it in compliance with its debt covenants over the next year, or it can bite the bullet and make a more drastic move such as cut its payout to fund growth and debt reduction. While no investor wants to see his or her income payment slashed, it would appear that the market is already pricing in a sizable cut.
We can expect 2017's performance to hinge very much on this decision. Maintaining the status quo will likely mean we won't see much change in stock prices for the year. If the company were to cut its payout and start to show some improved financials throughout the year, though, then investors may be willing to jump back into this stock. After all, beneath that large debt load is a pretty stable cash-generating business.
But until we see those changes take place, investors should probably shy away from this stock. The fact that management wasn't able to hold itself to targets made less than a couple years ago is a little concerning when so much of a long-term investing thesis lies in being able to trust management to make the right decisions. Until management shows us it has learned its lesson, 2017 isn't going to be much better than 2016.
10 stocks we like better than Sunoco When investing geniuses David and Tom Gardner have a stock tip, it can pay to listen. After all, the newsletter they have run for over a decade, Motley Fool Stock Advisor, has tripled the market.*
David and Tom just revealed what they believe are the 10 best stocks for investors to buy right now... and Sunoco wasn't one of them! That's right -- they think these 10 stocks are even better buys.
Click here to learn about these picks!
*Stock Advisor returns as of January 4, 2017
Tyler Crowe has no position in any stocks mentioned.You can follow him at Fool.comor on Twitter@TylerCroweFool.The Motley Fool has no position in any of the stocks mentioned. The Motley Fool has a disclosure policy.