Sunoco LP's Recent Acquistion Shows Its Next Chapter in Growth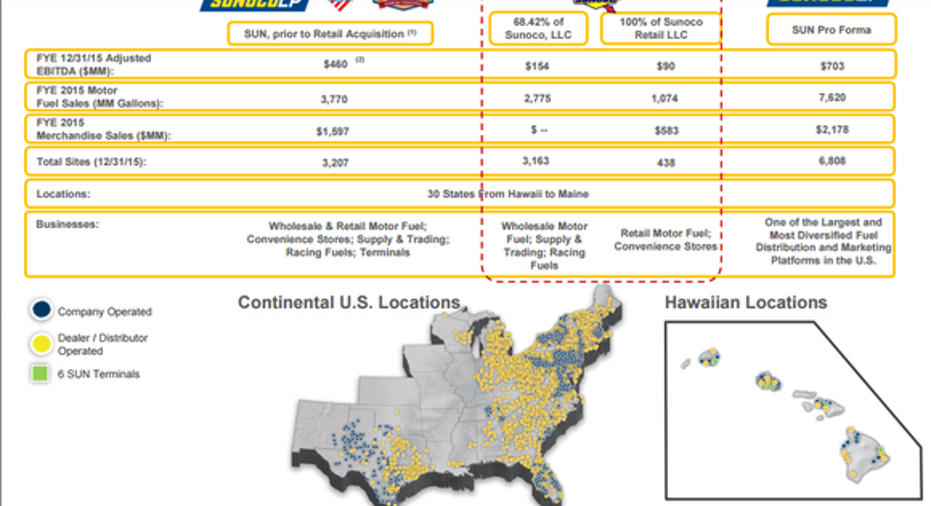 Image source: Sunoco LP corporate website
With Brexit dominating the headlines, the announcement that Sunoco LP acquired Emerge Energy Services' fuels business really flew under the radar. For investors, though, the deal was much more important to Sunoco's future than anything that is going on across the pond. Let's take a look at the details of the recent deal to see if Sunoco got a decent deal and examine why this deal is indicative of the kind of growth Sunoco investors should expect in the coming years.
By the numbers
On Friday, Sunoco announced that it had come to an agreement to acquire Emerge Energy Services' fuels segment for $178.5 million. The details of how Sunoco would finance the deal were not given.
Emerge's fuels business consists of two transmix facilities and about 800,000 barrels of refined petroleum product terminals. The two facilites are in Birmingham, Alabama and the Dallas, Texas metro area. Sunoco already has significant operations in the Dallas area and should help support its large retail network there, and the Birmingham facility could provide a springboard to help grow in other southeast states where it doesn't have much presence.
Image source: Sunoco LP investor presentation
Transmix facilities are used to separate out the various refined products -gasoline & diesel -- that get sent through the same pipeline. Here's how Emerge's fuels segment has performed over the past few years
| | | | | |
| --- | --- | --- | --- | --- |
| Emerge's Fuels Segment (in millions) | LTM | FY 2015 | FY 2014 | FY 2013 |
| Adjusted EBITDA | $9.9 | $10.6 | $18.5 | $22.9 |
Source: Emerge Energy Services earnings releases
If we average these annual results and compare them to the $178.5 million price tag, it implies that Sunoco paid about 12 times EBITDA for these assets. Sunoco didn't exactly fleece Emerge on this deal, but it didn't overpay, either. Also, wholesale fuel terminals and transmix facilities make much more sense in Sunoco's asset portfolio and the company will likely be able to get better results out of them as a part of its greater system. If that is the case, then today's price looks like a decent buy.
Slow & steady will win the race
Once Sunoco completed the acquisition of all of Energy Transfer Partners wholesale and retail fuel segment, the company has needed to find a new strategy to grow. In the retail fuel business, there aren't a whole lot of big fish that can be devoured and there isn't a booming demand for more stations across the country. Rather, this extremely fragmented market is more suited for a company that invests in a few organic expansion opportunities and makes several smaller scale acquisitions.
A deal of this size fits that description rather well. It's small enough that the company should be able to pay for a decent chunk of it with excess cash flow. That is, of course, if management doesn't decide to push its payout to investors so high that it leaves nothing left to make these sorts of deals. It would likely be in their best interest to not push its payout to the limit in order to finance these kinds of deals without having to tap the debt or equity market every time.
What a Fool believes
To say that the deal was a win-win is a little too cliche. Sure, Emerge gets the much needed cash infusion and Sunoco gets some assets fitting its business at a decent price, but both companies probably would like to see the sticker price change in their favor.
For Emerge, this deal means its completely reliant on its sand production business. There are some small glimmers of hope that drilling activity and hydraulic fracturing will pick back up relatively soon, but it will take a large jump to return Emerge to profitability and its financial statements suggest it won't be able to hang on for much longer.
For Sunoco, this deal won't move the needle in a huge way initially, but these assets make more sense in Sunoco's hands and should help them expand operations where these facilities are located. Going forward, investors should expect Sunoco to make acquisitions of similar size. As long as it can make these deals without overpaying and having to get outside capital to fund them, then it should be a long term benefit for investors.
The article Sunoco LP's Recent Acquistion Shows Its Next Chapter in Growth originally appeared on Fool.com.
Tyler Crowe has no position in any stocks mentioned.You can follow him at Fool.comor on Twitter@TylerCroweFool.The Motley Fool has no position in any of the stocks mentioned. Try any of our Foolish newsletter services free for 30 days. We Fools may not all hold the same opinions, but we all believe that considering a diverse range of insights makes us better investors. The Motley Fool has a disclosure policy.
Copyright 1995 - 2016 The Motley Fool, LLC. All rights reserved. The Motley Fool has a disclosure policy.