Suncor Energy's Earnings Had a Helpful Boost From Foreign Exchange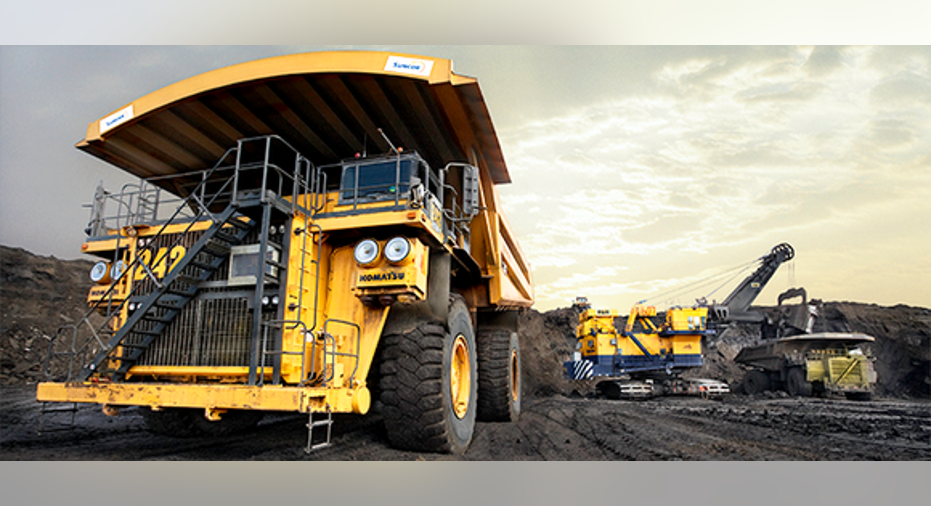 Image Source: Suncor Energy corporate website.
As oil and gas prices have declined, one of the assumptions Wall Street has made about oil and gas companies is that those with exposure to oil sands will be some of the most deeply affected. Based on Suncor Energy's recent results, though, it would seem that this isn't necessarily the case. Sure, cheap oil has taken its toll on earnings, but beneficial factors such as foreign exchange rates and improving performance at Suncor's oil sands facilities has helped mitigate some of the pain.
Let's take a quick look at the numbers for this past quarter, and check in on some of the company's most-recent moves to see what investors can look forward to in the future.
By the numbers
| | | | |
| --- | --- | --- | --- |
| Results (in millions, except per share data) | Q1 2016 | Q4 2015 | Q1 2015 |
| Revenue | $5,577 | $6,593 | $7,386 |
| EBITDA | $871 | $1,352 | $1,867 |
| Net Income | $257 | ($2,007) | ($341) |
| Earnings per share | $0.17 | ($1.38) | ($0.24) |
Source: Suncor Energy earnings release, S&P Capital IQ.
As you might expect, lower oil prices had an impact on the company's business, but there were some things that were working in Suncor's favor that helped to generate profits this quarter. A large part of it had to do with an $885 million non-cash gain on the revaluation of its debt denominated in U.S. dollars. That gain was in the company's corporate, energy trading, and eliminations segment, so it didn't really change the earnings performance of the individual segments. Here's how those segments did.
Source: Suncor Energy earnings release, authors chart.
With so many charges related to foreign currencies and asset writedowns, Suncor's earnings can look pretty skewed from a quarter-to-quarter basis, but it's much harder to skew figures like operational cash. For the quarter, the company's operational cash flow declined 53%, to $682 million. This decline in cash is a rather inopportune time for Suncor, as it is just now ramping up construction of its Fort Hills oil sands project that is expected to be operational by 2017.
The operational highlights
The company also announced this past quarter that it will acquire Murphy Oil's 5% stake in the Syncrude oil sands project for $937 million. The deal will increase Suncor's stake in the Syncrude project to 53.7%.
Suncor was able to lower its cash operating costs at its oil sands facilities by 15%, to $24.25 per barrel.
Total production from oil sands came in at an all-time high of 453,000 barrels per day. Exploration and production volumes were also up 10%, to 72,000 barrels per day, as its Golden Eagle offshore facility doubled its production capacity.
Refining and marketing results declined as Suncor's refineries saw lower refining margins across the industry, and total refining input declined modestly.
The company spent $1.4 billion in capital expenditures for the quarter compared to $1.23 in the first quarter of 2015. Most of the gains in spending went to Suncor's oil-sands business
Straight from managementLike other oil and gas companies that have assets across the value chain in oil, Suncor CEO Steve Williams was quick to point out in his statement that the company has been able to keep from suffering deep losses thanks to its more-diversified business model:
One thing that you have to give Suncor credit for is going out and making some moves while oil prices remain disastrously low. By acquiring a much-larger stake in Syncrude through both the Murphy Oil and Canadian Oil Sands Limited acquisitions without stretching itself too far with debt, the company should be able to reap strong rewards from this move when oil and gas prices rebound.
OutlookThe increased stake in Syncrude, and the development of the Fort Hills project, will fuel some pretty significant increases in production for Suncor. Management expects these two projects and other smaller additions will generate 6% production growth annually until 2019.
On top of that, Suncor expects to reduce its operating costs by $500 million this year, and that's on top of the $900 million in savings the company realized between 2014 and 2015. These moves aren't leading to large profits today, but they will do wonders for the income statement as oil and gas prices rise.
The article Suncor Energy's Earnings Had a Helpful Boost From Foreign Exchange originally appeared on Fool.com.
Tyler Crowe has no position in any stocks mentioned.You can follow him at Fool.comor on Twitter@TylerCroweFool. The Motley Fool has no position in any of the stocks mentioned. Try any of our Foolish newsletter services free for 30 days. We Fools may not all hold the same opinions, but we all believe that considering a diverse range of insights makes us better investors. The Motley Fool has a disclosure policy.
Copyright 1995 - 2016 The Motley Fool, LLC. All rights reserved. The Motley Fool has a disclosure policy.