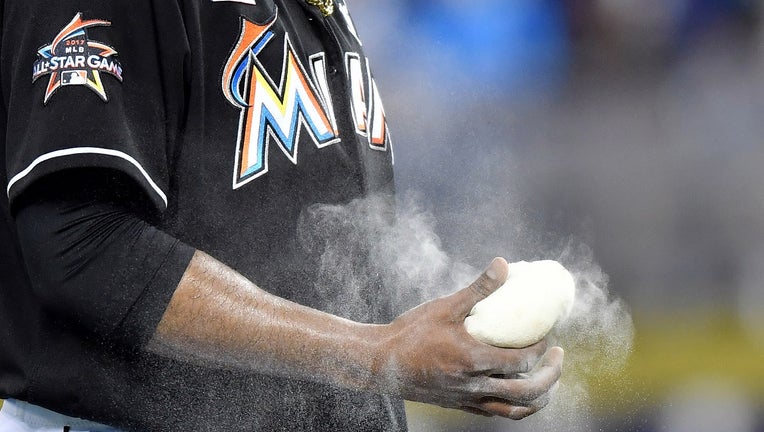 At Sun Valley, the epicenter of the media and tech world, one major deal is on the table, while another has been taken off.
Major League Baseball Commissioner Rob Manfred made a surprise visit to the media mogul summit and, in an interview with FOX business, said three bidders are still in play for the purchase of the Miami Marlins.
"We have three bidders. Everybody essentially is in the same spot on price. The diligence and the legal work is being done. I expect a decision in the relatively near future," Manfred said.
As FOX business has been reporting, a bidding war has emerged over the struggling franchise, which, because of its scarcity value, has been priced at $1 billion by owner Jeffrey Loria.
The leading contender is Miami businessman Jorge Mas, who is willing to pay $1.17 billion for the team. Other potential bidders include groups led by former New York Yankees all-star Derek Jeter and hedge fund executive Tagg Romney, the son of 2012 presidential candidate Mitt Romney.
Sports teams earn lucrative revenues by selling their programming through cable distributors, which is why Manfred and New England Patriots owner Robert Kraft are both attending the conference.
Meanwhile, in an exclusive interview with FOX business, CBS CEO Les Moonves, ruled out interest in conducting a major merger with another company or an acquisition of some kind.
While rumors have swirled that CBS could merge with a major cable distributor or is on the hunt to purchase distribution, Moonves tells FOX business that's not happening anytime soon.
"We're just always looking to expand our content, but we have no plans to make a move for a company at the moment," he said.
Moonves also expressed optimism over the Trump administration's regulatory review of AT&T's purchase of Time Warner. He believes the president's dislike of Time Warner's cable news channel, CNN, won't stop the deal from going through and that it should see approval in the "next few months."
During the presidential campaign Trump criticized the deal, saying it represented too much concentration of programming given AT&T's vast distribution and Time Warner's lineup including Trump antagonist CNN.
However, Trump has embraced a more free market approach to the business community since assuming the presidency, which many industry observers see as one reason why the administration will allow the AT&T, Time Warner deal to go through unscathed.