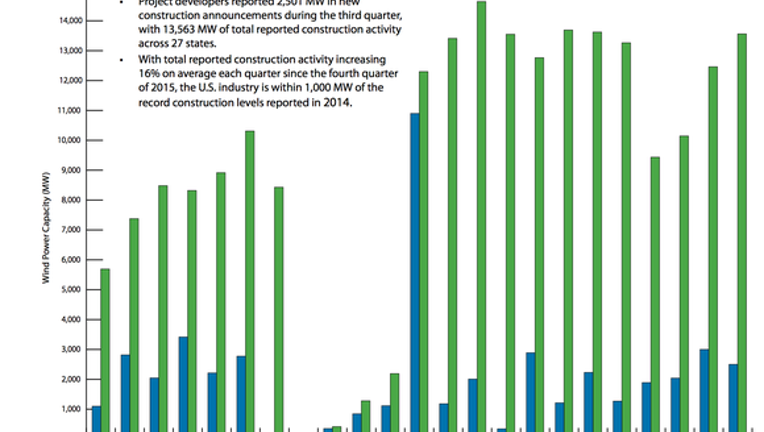 The rush to get wind projects under construction in 2016 is under way and there are millions, if not billions, at stake for developers working to get shovels in the ground. The reason is a step down in the U.S. Production Tax Credit (PTC), which pays wind turbine owners 2.3 cents per kWh for wind energy that's produced in the U.S. In 2017, the subsidy falls 20%, which will be the decline every year until it's gone.
The result is a big incentive to get projects started this year. All else being equal, a 2 MW wind turbine with a 35% capacity factor (meaning it generates 35% of its capacity energy production per year) that starts construction in December will generate $28,207 more in revenue per year than the same turbine starting construction in January. And when you multiply that revenue times 10 years of the PTC and thousands of wind turbines being installed, you have millions of dollars at stake.
Image source: Vestas Wind Systems.
Warren Buffett and the PTC
The wind subsidy deadline isn't lost on Warren Buffett's MidAmerican Energy, a subsidiary of Berkshire Hathaway (NYSE: BRK-A) (NYSE: BRK-B). Last week, the company ordered 153 MW of wind turbines from Vestas Wind Systems for the 2,000 MW Wind XI project in Iowa. The project will cost $3.6 billion to build and, when completed in 2019, will bring the utility's wind generation up to 85% of total load. Given the subsidies involved, though, it's important to get parts of the project started now. And this isn't the only company betting big on wind right now.
MidAmerican Energy has 4,048.2 MW of wind generationalready installed, more than 5% of the 75,716 MW of U.S. wind installed at the end of the third quarter, according to the American Wind Energy Association. In total, there are another 13,563 MW under construction and 6,717 MW in advanced development at the end of the quarter. By the end of the year, 20 GW of wind could be under construction to take advantage of the PTC.
Wind turbines make a comeback
The boom in demand will be great for wind turbine manufacturers Vestas, General Electric (NYSE: GE), and Siemens (NASDAQOTH: SIEGY). GE has the biggest market share in the U.S. with 40%, followed by 19% market share for Vestas and 14% at Siemens. These contracts often come with maintenance deals as well, so the revenue impact can be long lasting.
But this massive investment has been driven by the PTC. You can see in the chart below that a short expiration of the PTC at the end of 2012 resulted in a plunge in installations.
Image source: American Wind Energy Association.
The most recent PTC extension calls for a slow reduction in the subsidy as well as commence construction language, meaning that shovels need to be in the ground by the end of the year, whereas previously the project had to be completed. This provides stability long term, but also means a regular rush to get projects started at year's end.
Looking forward, the industry may slow down slightly in 2017 as the PTC declines, but there's definitely some visibility for the industry, which is a positive over years past. And the near-term growth in installations will be a nice win for everyone involved, particularly those getting in ahead of 2016's commence construction deadline.
10 stocks we like better than General Electric When investing geniuses David and Tom Gardner have a stock tip, it can pay to listen. After all, the newsletter they have run for over a decade, Motley Fool Stock Advisor, has tripled the market.*
David and Tom just revealed what they believe are the 10 best stocks for investors to buy right now... and General Electric wasn't one of them! That's right -- they think these 10 stocks are even better buys.
Click here to learn about these picks!
*Stock Advisor returns as of Nov. 7, 2016
Travis Hoium owns shares of Berkshire Hathaway (B shares) and General Electric. The Motley Fool owns shares of and recommends Berkshire Hathaway (B shares). The Motley Fool owns shares of General Electric. Try any of our Foolish newsletter services free for 30 days. We Fools may not all hold the same opinions, but we all believe that considering a diverse range of insights makes us better investors. The Motley Fool has a disclosure policy.