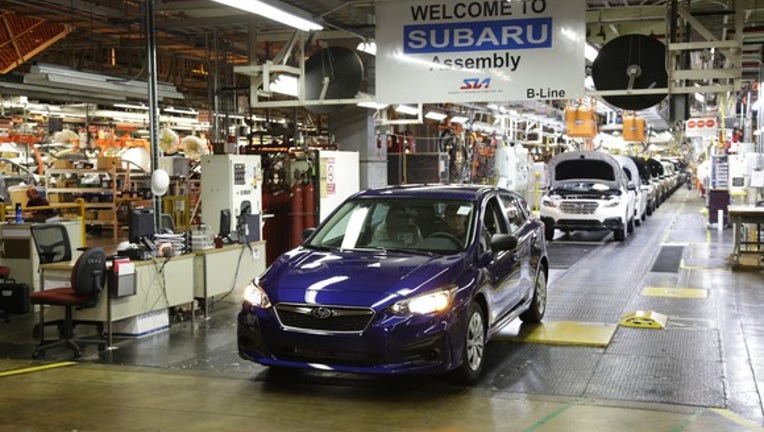 Japanese automaker Subaru Corporation (NASDAQOTH: FUJHY) said its operating profit fell 27% in the fiscal year that ended on March 31, as rising costs and unfavorable exchange-rate movements more than offset record sales and revenue totals.
Subaru also forecast a slight year-over-year decline in operating profit for the fiscal year ahead, to 410 billion yen ($3.6 billion). That was well below the consensus estimate of 538.5 billion yen among Wall Street analysts polled by Thomson Reuters.
Subaru's shares fell over 4% after the news was released.
The product highlight of Subaru's fiscal 2017 was the launch of an all-new version of its compact Impreza sedan. Image source: Subaru Corporation.
Subaru earnings: The raw numbers
Like many Japanese companies, Subaru's fiscal year runs from April 1 to March 31. The quarter that ended on March 31, 2017, was the fourth quarter of Subaru's fiscal 2017.
All financial numbers are shown in yen.
Data source: Subaru Corporation. Vehicle sales are rounded to the nearest thousand. Exchange rates shown are the averages for the period as reported by Subaru. PPTS = percentage points.
Subaru's fiscal year: The highlights
At first glance, Subaru had a good year, as overall sales were up 11.1%. But on closer examination, the picture was mixed:
Sales in North America rose 14.3% on continued strong demand for Subaru's crossovers.
Sales in Japan rose 9.4%, driven by strength in Subaru's passenger-car range.
But sales fell in Europe (down 2.6%) and China (down 0.9%), markets where Subaru had been hoping to find growth.
That overall global sales gain drove a modest bump in revenue and was helped by 32.2 billion yen ($281.9 million) in cost reductions. But its impact on Subaru's full-year operating profit was more than offset by a few factors:
The Japanese yen's appreciation versus the dollar (impact on operating profit: 143.8 billion yen ($1.29 billion) from a year ago).
Higher research and development expenses related to Subaru's advanced-technology push (impact: 11.8 billion yen, or $103.3 million).
Capital spending related to factory expansions and retooling (impact: 30.6 billion yen, or $267.9 million).
Other expenses, including higher incentives and costs related to the Takata airbag recalls (impact: 138.5 billion yen, or $1.21 billion).
Subaru's spending on incentives in the U.S. has always been among the lowest in the industry on a per-vehicle basis. But even Subaru has had to boost discounts: Its incentives in the U.S. rose to an average $1,450 per vehicle in fiscal 2017, up from just $900 per vehicle the year prior.
All of that said, it's worth noting that Subaru's operating profit margin for the full year was still very strong, at 12.4%. Contrast that with the first-quarter results atGeneral Motors(NYSE: GM) (8.2%),BMW AG(NASDAQOTH: BAMXF) (9%), andFord Motor Company(NYSE: F) (an unusually low 5.4%).
Didn't Subaru's parent company have a different name?
Yes. The parent company used to be called Fuji Heavy Industries, but it changed its name to "Subaru Corporation" effective April 1, 2017.
Years ago, Fuji Heavy was an aerospace supplier with a sideline building cars. It still produces some aircraft parts, but its auto business (Subaru) has grown to the point where it dominates results: Almost 97% of the company's operating income was generated by its auto business in the fiscal year that ended on April 1.
Subaru is now gearing up to launch an all-new seven-passenger SUV called the Ascent. It's expected to begin production of the new SUV at its Indiana factory next year.
Looking ahead: Subaru's guidance for 2017
During Subaru's earnings presentation, CEO Yasuyuki Yoshinaga expressed some pessimism about the U.S. market, saying that demand appears to have peaked. He said Subaru will "take the necessary steps" to maintain sales, including additional increases in incentives as warranted.
Despite those concerns, Subaru's guidance for the year ahead anticipates some sales growth, along with a somewhat weaker yen. For fiscal 2018, it expects:
Revenue of 3.42 trillion yen (up 2.8% from fiscal 2017).
Global sales of about 1,105,500 vehicles (up 3.8%).
Operating income of 410 billion yen (down 0.2%).
Net income of 285 billion yen (up 0.9%).
Subaru expects its sales growth to be driven by incremental increases in North America and Japan.
10 stocks we like better than Subaru CorporationWhen investing geniuses David and Tom Gardner have a stock tip, it can pay to listen. After all, the newsletter they have run for over a decade, Motley Fool Stock Advisor, has tripled the market.*
David and Tom just revealed what they believe are the 10 best stocks for investors to buy right now...and Subaru Corporation wasn't one of them! That's right -- they think these 10 stocks are even better buys.
Click here to learn about these picks!
*Stock Advisor returns as of May 1, 2017.
John Rosevear owns shares of Ford and General Motors. The Motley Fool owns shares of and recommends Ford. The Motley Fool recommends BMW. The Motley Fool has a disclosure policy.